The broader topic of housing is a community-wide issue that directly impacts people's physical and social health. As part of the Healthy City Strategy, City of Kelowna community planners and Interior Health public health practitioners are working together with a focus on the second of six theme areas: Healthy Housing.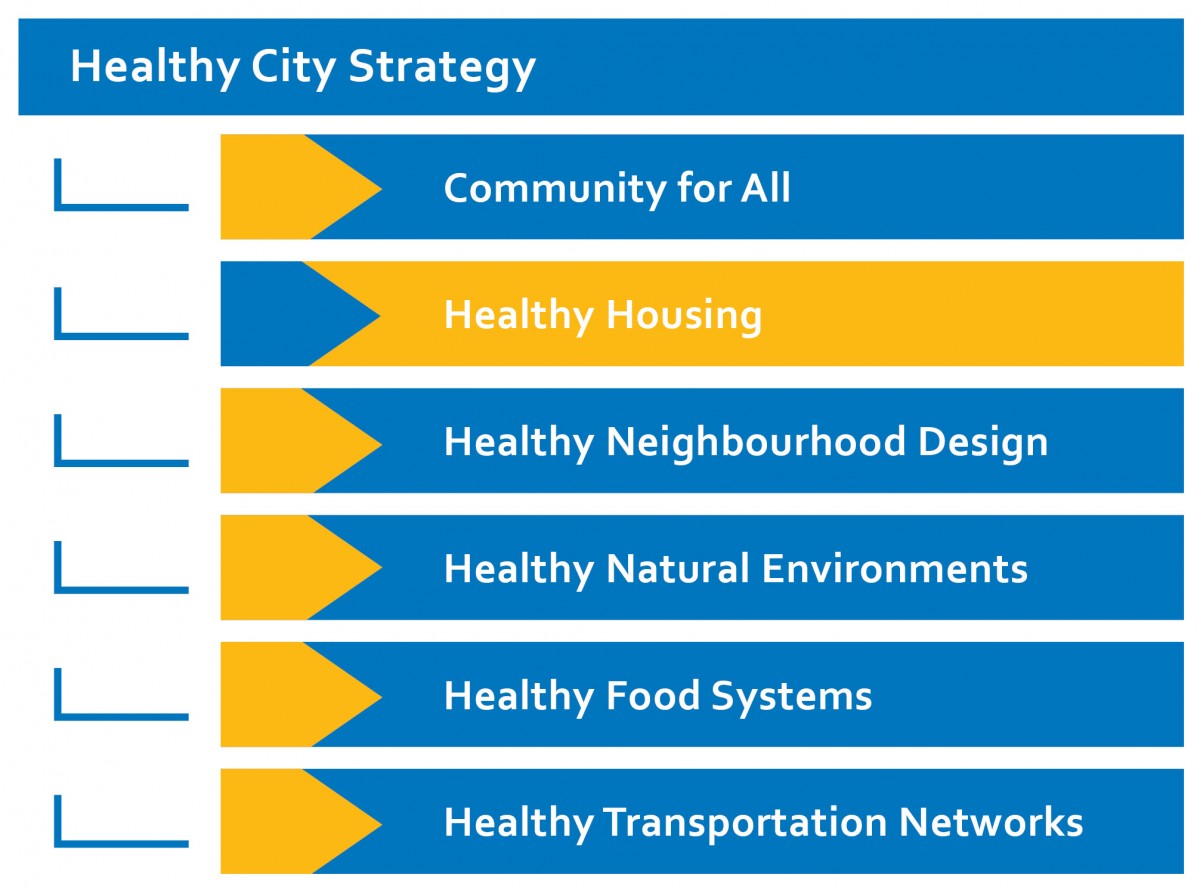 Healthy Housing will build on the Healthy City Strategy's Community for All Plan in which housing was identified as an issue for seniors, children and those with diverse abilities. A Healthy Housing Strategy will be developed and will include recommendations for the City of Kelowna, Interior Health and select community stakeholders that will guide policies, regulations and programs to achieve healthy housing options that are diverse, affordable and attainable.
The City recently completed a Housing Needs Assessment which paints a picture of Kelowna today, in the short‐term, and long‐term (2040) in order to understand what our housing needs are today and how they may shift over time.  This Housing Needs Assessment builds an important foundation for action – a strong base of knowledge contributes to robust and appropriate strategies and actions that seek to have real, measurable and positive impacts on our housing challenges. 
The Housing Needs Assessment recommendations will help to influence the Healthy Housing Strategy and the Journey Home Strategy. The Journey Home strategy focuses on the system of services supporting those who are homeless and those at  risk of homelessness, making recommendations for appropriate housing in the spectrum of emergency, transitional and supportive housing.  The Healthy Housing Strategy will focus on policies, zoning and procedural recommendations for appropriate housing in the spectrum of subsidized housing, rental market and home ownership. 
A survey is now available online at the City's public engagement website, getinvolved.kelowna.ca, which asks residents about the state of housing today and priorities for the future.
Further, results from the 2017 Citizen Survey demonstrate that investment in housing is one of the top priorities identified by residents.
The housing survey is available until Jan. 15, 2018. Residents will have an opportunity to review the draft Healthy Housing Strategy in the spring once input from residents and stakeholders is completed and the Healthy Housing Strategy is developed.
Background
Healthy City Strategy
How communities are planned and built, and the services and resources provided within them, directly impacts people's physical and social health. When strategically designed, built environments like homes, neighbourhoods, schools, streets and workplaces, can reduce obesity and chronic diseases, like heart disease and diabetes.