2020-2025 Cultural Plan Update
We are currently working on updating the Cultural Plan. We are nearing the final stages and will be presenting the plan for Council's endorsement in September of 2019. Stay tuned for more updates about the launch of the Cultural Plan and how to get involved in implementing those strategies!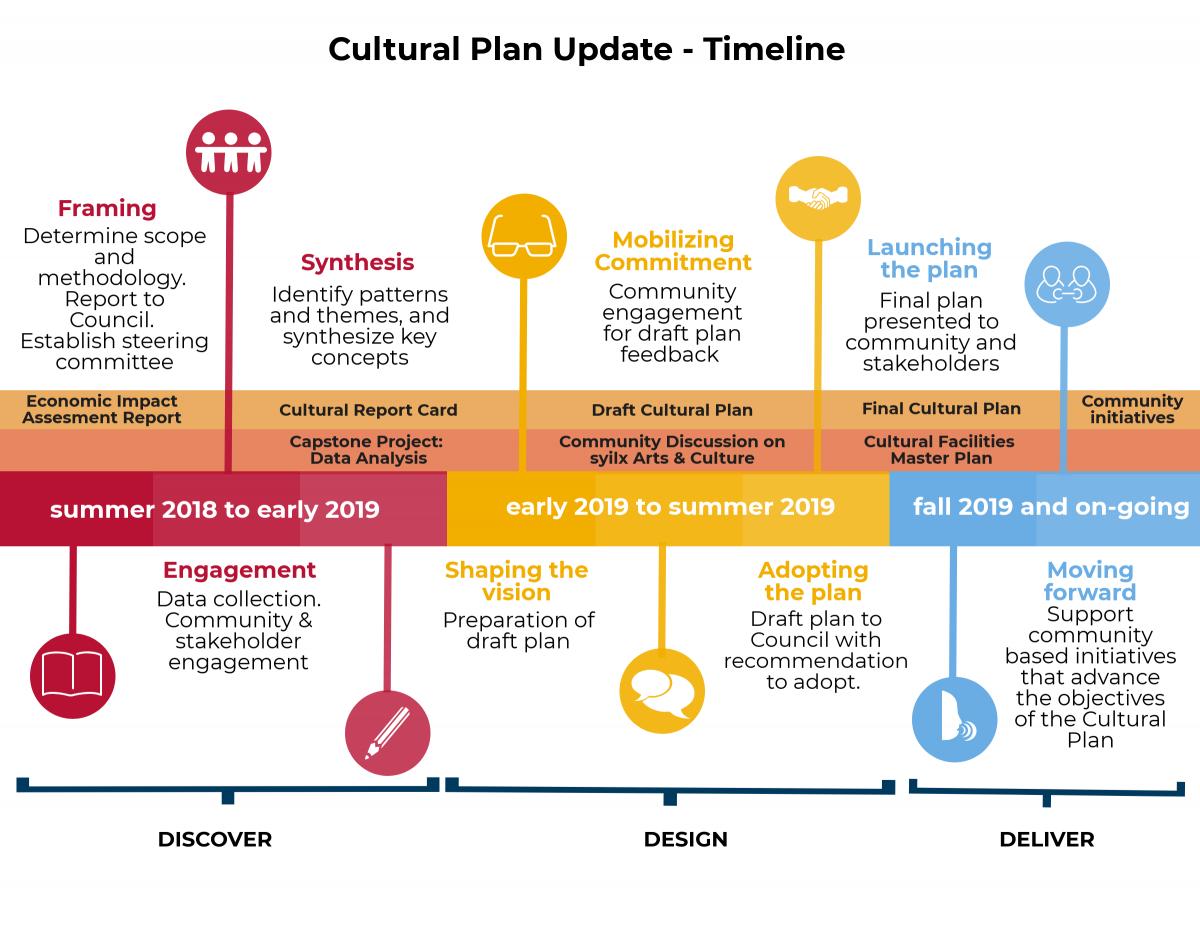 July 16, 2018
In July of 2018, we officially began the process of updating the Cultural Plan. Review the Report to Council to learn more about the Cultural Plan engagement process.
Visioning Survey - Completed
July 16 - September 3, 2018
We sought your feedback on how the community defines and experiences culture. Questions focused on defining culture, what parts of culture are going well in Kelowna, where people participate in culture and any room for improvements. Survey responses helped us develop an understanding of what culture means to the community, what the community enjoys and what the community would like to see more of.
Goals and Strategies Survey and Events - Completed
September 15, 2018-March 31, 2019
We sought community input on the 2012-2017 Cultural Plan's goals, how they are prioritized, and if anything needed to be added. We also collected feedback on strategies on how to work towards the goals - what can residents, organizations, businesses or what we can do.
Host Your Own Engagement Grants - Closed
January 14 - March 31, 2019
We invited individuals, organizations, businesses and collectives of diverse histories and practices to play an active part in the process of shaping the 2020-2025 Cultural Plan by "Hosting Your Own Engagement" event with their staff, board, volunteers, members or the general public.
A total of 13 conversations received grants but many more conversations occurred. The conversations were held in many different forms and drilled down into a variety of important topics such as live music, literary arts and integrating culture with well-being.
Information collected from these events will be used in the development of the goals and strategies.
Thank you to all of our "Host Your Own Engagement" hosts!
BC Interior Jazz Festival
Cental Okanagan Heritage Society
Craig Siemens and Kris Hargrave
Dena Milanese
Festivals Kelowna
Inspired Word Cafe Society
Jo McKechnie
Kelowna Arts Council
Kelowna Art Gallery
Kelowna Community Resources
Kelowna Museums Society
Kelowna Visual and Performing Arts Centre Society
New Vintage Theatre Society
Okanagan coLab
Tourism Kelowna
UBCO African Caribbean Student Club
If you are interested in learning more about the Host Your Own program, check out the Host Your Own Event Program Guidelines and read through the Frequently Asked Questions.
Confirmation & Commitment Engagement - July and August 2019
July 19-August 5, 2019
A draft of the Cultural Plan was completed and we brought it to the community for feedback. Items for feedback included the vision, guiding principles, key themes, goals and strategies. Feedback was collected in-person at a variety of events around the community, and an online survey and discussion platform.
Information collected from these events will be used to solidify the major components of the Cultural Plan and assist in the preparation of a final draft. In September, we will seek Council's endorsement of the 2020-2025 Cultural Plan.
Cultural Plan Capstone Project: Data Analysis
With support from the University of British Columbia Okanagan, we used data analytics and machine learning to identify trends, patterns and insights into citizen's engagements with culture in Kelowna from an unbiased lens. These outcomes will help to develop the 2020-2025 Cultural Plan.
Creative Sector Economic Impact Assessment
In support of the development of the 2020-2025 Cultural Plan, a consultant was hired to complete an economic impact study of the creative sector of Kelowna. The assessment includes analysis of available statistical data, a confidential online survey, and information from public sources to generate estimates of employment, revenue, and income.
Key highlights from the report include:
Kelowna's creative sector more than doubled in size from 2009 to 2018
1.5 million people per year, or just over 4,000 people per day on average, attend some type of cultural facility or event
3,168 full time employees work in the creative sector, up from 1,279 in 2009
60% of those working in the creative sector are self employed
In 2018 alone, 380,000 volunteer hours were contributed to arts, culture and heritage organizations
There are 626 creative sector establishments in 2018, up from 342 in 2009
The creative sector saw an income growth of 43% from 2009-2018
Information in this report will support the development and implementation of the 2020-2025 Cultural Plan.
Kelowna Creative Sector Economic Impact Assessment Report
Slides from Kelowna Creative Sector Economic Impact Presentation
Along with the Capstone Project Data Analysis Report, Creative Sector Economic Impact Assessment and the Cultural Report Card, two other complimentary reports are still underway:
Community Discussion on syilx Arts and Culture
Cultural Facilities Master Plan
On October 31, 2011 council reviewed the plan and directed staff to move forward with non-monetary recommendations and return with recommendations from the plan during annual budget deliberations and as needs and opportunities arose.
Starting in 2018 through to July of 2019, we reviewed the progress made based on the goals laid out from the 2012-2017 Cultural Plan. Based on our findings, we produced the 2012-2017 Cultural Plan Report Card to demonstrate the progress our community has made towards achieving the goals of the 2012-2017 Cultural Plan.
Policy establishment and history
Cultural development in Kelowna began in the early 1970's when a committee formed to study the possibilities of developing a 'Cultural Arts Centre' in Kelowna. In 1989, a Mayor's Task Force was established to create our first cultural policy. Updated most recently in 2010, this policy gives form, support and provides direction for the cultural development in the city. 
Over the past 20 years, significant progress has been made to integrate arts and culture into overall community planning and deliver cultural services to residents and visitors.  Early work led to the establishment of a number of cultural facilities, the Cultural District, a granting process, and the establishment of a Cultural Services branch in 2001.
As the fourth pillar of sustainability, we take culture seriously and strive to weave it into all aspects of civic planning and life in Kelowna. To achieve this, Kelowna's first Cultural Plan (2012-2017) was launched in 2012 to encourage and integrate local culture within all neighbourhoods of Kelowna. Since then, significant progress has been made in implementing 2012-2017 Cultural Plan goals and strategies. Many organizations continue to thrive, and new organizations and venues have emerged. Major initiatives such as the Bernard Avenue revitalization, the Civic Block Plan, the relocation of the RCMP, completion of new parkades and the opening of the Okanagan Centre for Innovation have had an impact on the landscape of the Cultural District.
Affordability of spaces for living, working and creating is an issue for many artists. In addition, key buildings in the City's inventory of cultural infrastructure such as the Kelowna Community Theatre and the Okanagan Heritage Museum continue to age, with mounting structural deficits, as new buildings go up around them.
While we realize that as an organization we do not create culture, our role is to facilitate and promote culture by providing vision, goals and adopting strong policies. An update to the Cultural Plan is intended to respond to changes and challenges and set a direction for the next five years from 2020-2025.