Smart and intelligent city initiatives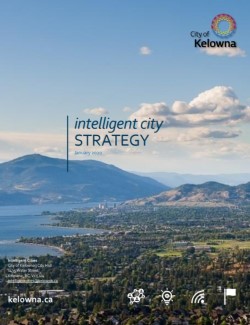 We're a smart city looking to be an intelligent one, and our Intelligent City Strategy will guide us on this path.
Our Intelligent City vision is to find ways to improve the lives of residents through access to online services, technological innovation and collaborative problem-solving, creating local solutions to local problems. 
Our community is full of smart, talented people who are already working on ways to make Kelowna a better city, and we want to find ways to work with and support them. To learn more, check out our interactive Intelligent City Strategy executive summary.
Collaborate with us
If you're working on creative solutions to some of our shared challenges in the community (particularly those listed in the Council priorities 2019-2022 document), there may be an opportunity for us to work together!
Pilot project highlight: 5G smart city partnership
Over the weekend of March 27, 2020, nearly 50 University of British Columbia students got together as part of a virtual hackathon. They explored how new technologies and improved wireless connectivity could help the City find ways to improve how people move around downtown and increase pedestrian and cyclist safety through design.
One of the winning ideas from the hackathon is being implemented as a pilot project in downtown Kelowna through a partnership between Rogers, UBC and the City. On June 1, 2020, two LiDAR sensors (powered by the Rogers 5G network) were installed at the intersections of Bernard Avenue and Water Street, and Bernard Avenue and Pandosy Street. UBC research students will use anonymous data from the sensors to answer questions about: 
What modes of transportation are being used in Kelowna and where (i.e. on streets and sidewalks)?
Where near misses are occurring between different modes of transportation?
How are transit users navigating other corridors when arriving at their stop?
How effective are unsignalized crosswalks?
What parts of a block lend themselves best for pick/up drop off, especially with ride sharing coming to our community?
How can we increase the knowledge of emergency responders reporting to a crash scene (i.e. details about speeds, types of vehicles involved and what equipment to bring to be prepared for a specific incident)?
For more information, read the news release, for the record and review answers to some frequently asked questions below.
Considered the next generation of internet access, 5G uses a different frequency than 4G or LTE coverage to transmit data through the air, which reduces disruptions, increases speeds and improves reliability.
The two LiDAR sensors for this pilot project are powered by one Rogers tower with three 5G radios leveraging 2.5 GHz spectrum, which is the same radio frequency as the current 4G/LTE networks, but it has  the capabilities to operate in additional low-band frequencies (600MHz-3500MHz). For more information about the Rogers 5G network, visit www.rogers.com/5G. 
Are there health concerns with 5G?
We take the health and safety of our residents and visitors seriously. This pilot project and all future technologies put in the public area strictly adhere to Safety Code 6 - Health Canada's Radiofrequency (RF) Exposure Guidelines. The code sets the limits of the radiofrequency (RF) emissions (i.e. for FM/AM Radio, TV, our current and future networks) that wireless service providers and others must meet, and is among the most strict set of standards in the world. 
The 5G radios used in this pilot project operate on the 2.5 GHz spectrum band, which is currently used for our 4G and LTE networks. These radios operate well below the RF standards in Safety Code 6 and do not pose a danger to the public.
There's a lot of information about 5G on the internet and across social media. A bulletin from Health Canada states that "[m]isinformation and opinions on the health risks from exposure to radiofrequency fields are increasing on social media and on the Internet. There have been claims linking the deployment of 5G networks to the novel coronavirus (COVID-19) and to increased risks of cancer. Health Canada confirms there is no scientific basis to these claims." For more information, please visit the Government of Canada's Radiofrequency Energy and Safety and Cell phones, cell phone towers and other antenna installations webpages.
For more information, read the For the record: 5G pilot project, published Aug. 5, 2020.
LiDAR stands for Light Detection and Ranging and uses invisible light beams to create a 3D reflection of objects. Its often used to accurately measure distances. 
Unlike traffic cameras, the resolution of the LiDAR data is insufficient to capture or reveal identifying details about people or permit facial recognition. 
Blue City Technology, a Canadian company that has received funding through ENCQOR, is providing LiDAR sensors as well as software and support to the UBC researchers for this pilot project.
Are you tracking me and storing my personal information?
The technology in this pilot project is unable to collect personal information by nature. The resolution of the LiDAR data is insufficient to capture or reveal identifying details about people or permit facial recognition. 
Rogers is collecting the data on behalf of City, and it will be stored securely using Microsoft Azure until Dec. 31, 2020, when the pilot ends. 
Who are the partners involved in this project?
Rogers, UBC and the City are working with Microsoft and Blue City Technology. 
Microsoft is providing edge compute and cloud infrastructure storage for the data on Microsoft Azure.
Blue City Technology, a Canadian company that has received funding through ENCQOR, is providing LiDAR sensors (which use invisible light instead of the traditional radio frequencies in radar) as well as software and support to UBC researchers.
The LiDAR sensors are powered by the Rogers 5G network using Ericsson technology.
Current intelligent city initiatives
These are just a few of the things that we're currently working on:
Intelligent City Strategy review
Involving internal & external stakeholders – our Intelligent City Strategy (developed in 2019 and presented to Council on Jan. 20, 2020) guides how we will become an intelligent city, including a short- and longer-term roadmap. The strategy supports multiple Council priorities. In 2021, we will provide a progress update.
CCTV camera registry program
Through this 2020 pilot program, businesses within the Downtown Kelowna Association boundary can voluntarily register their security camera locations and contact information with the City through a secure database. This will provide Kelowna RCMP with quicker access to potential sources of video evidence. Phase 2 is scheduled for 2021 and will see the program expanded.
City online service – development of chat bots (website plug-in using artificial intelligence) that can help quickly and efficiently connect residents, businesses and visitors to the information that they're looking for. This initiative supports the Corporate result that services, processes and business activities are transformed. The Kelowna International Airport chatbot, Link, was launched in October 2020 and the City of Kelowna's Citybot (answering questions about COVID-19), launched in December 2020. Ongoing expansion of the Citybot is taking place in 2021.
Online service improvements
City services, involving internal & external stakeholders – review and redevelopment of our online services using user-centred design thinking and processes. Projects include:
Improving how we deliver e-updates to our subscribers
Providing more online options for building permit applications
Redeveloping our service request system
Based on deep understanding of our user groups, we find ways to improve the service through co-creation, iterative development and ongoing feedback. Check out this short interactive story about service design, in honour of #ServiceDesignDay (June 1, 2019). Online service improvements support the Corporate result that services, processes and business activities are transformed.
Our story as a Smart City