Smart and intelligent city initiatives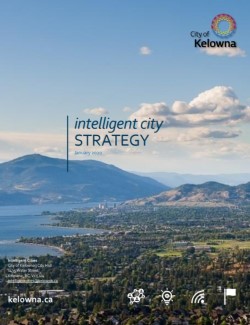 Our Intelligent City vision is to find ways to improve the lives of residents through access to online services, technological innovation and collaborative problem-solving, creating local solutions to local problems. We're a smart city looking to be an intelligent one, and our Intelligent City Strategy guides us on this path. 
Our community is full of smart, talented people who are already working on ways to make Kelowna a better city, and we want to find ways to work with and support them. To learn more, check out our interactive Intelligent City Strategy executive summary.
Collaborate with us
If you're working on creative solutions to some of our shared challenges in the community (particularly those listed in the Council priorities 2023-2026), there may be an opportunity for us to work together!
Our story as a Smart City
Current intelligent city initiatives
These are just a few of the things that we're currently working on:
City online service – development of chat bots (web- and voice-based) that can help quickly and efficiently connect residents, businesses and visitors to the information that they're looking for, whenever they are looking for it.
Web-based chatbots
The Kelowna International Airport chatbot, Link, was launched in October 2020. Visit ylw.kelowna.ca and click on the chat icon in the bottom right corner to give it a try.
Our Citybot (initially answering questions about COVID-19), launched in December 2020, but has since evolved to handle more topic-specific questions about property taxes (including utility billing and more), Glenmore Landfill and your waste needs, recreation and snow (now taking a needed rest). Just click on the chat icon in the bottom right corner of this page (and any page across kelowna.ca) to get chatting.
Voice bots
Our snow bot launched just in time for the 2022/2023 snow season and helped callers 24/7 to find out when the last time their road was plowed or when a plow might be coming by, and more important snow removal information. Right now, our snow bot is resting until the snow flies again.
Our revenue bot is ready to take your property tax, utility billing and other cashier-related questions. Just dial the revenue line at 250-469-8757.
Our landfill bot, lovingly named Oscar, can answer all kinds of questions about your waste disposal needs. Give Oscar a call at 250-469-8880.
Under development: An AI-powered Development Services bot that will help you gather all the information you need to successfully submit a building permit.
Involving internal & external stakeholders – Living Labs are open innovation ecosystems using iterative feedback to create sustainable impact. These tend to involve interdisciplinary collaboration and can use research funding. Intelligent Cities shift the focus to creating new knowledge within the community. This allows cities to effectively tackle complex issues while generating new revenue streams.
We're creating a platform to get data in the right hands as fast as possible. This includes a searchable data inventory, and real time alerts.
By using city data to measure the current state of problems, we can accelerate pilots, verify their effectiveness, and scale up impact.
By consolidating data intake and IoT use cases, we're dismantling existing silos and preventing new ones from emerging as technology evolves.
With the ability to monitor and create alerts for environmental data, we're improving our ability to forecast and respond to emergencies (flooding, etc.).
Online service improvements
City services, involving internal & external stakeholders – review and redevelopment of our online services using user-centred design thinking and processes. Projects include:
Providing more online options for building permit applications
Redeveloping our service request system
Based on deep understanding of our user groups, we find ways to improve the service through co-creation, iterative development and ongoing feedback. Check out this short interactive story about service design, in honour of #ServiceDesignDay (June 1, 2019). Online service improvements support the Corporate result that services, processes and business activities are transformed.
Intelligent City Strategy review
Involving internal & external stakeholders – our Intelligent City Strategy (developed in 2019 and presented to Council on Jan. 20, 2020) guides how we will become an intelligent city, including a short- and longer-term roadmap. The strategy supports multiple Council priorities. In 2023, we will provide a progress update.