Anita Tozer Memorial Award - bestowed by Mayor & Council
2022 Anita Tozer Memorial Award Recipient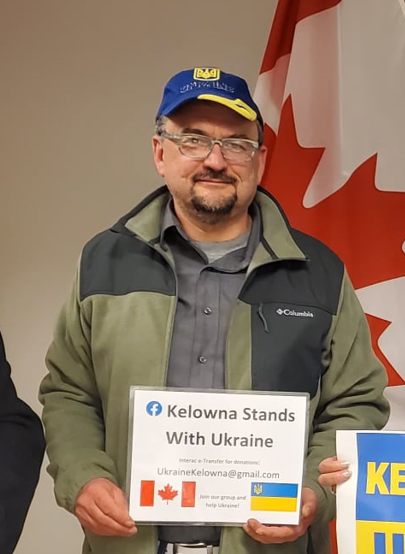 Denys Storozhuk
Denys is co-founder and President of Kelowna Stands with Ukraine (KSWU), a volunteer led non-profit organization created during the very first days of the attack on Ukraine. Denys was born in Kiev, Ukraine and immigrated to Canada, settling in Kelowna in 2000. Since the beginning of the war, Denys has dedicated himself to helping civilians and those on the front lines in Ukraine, raising the awareness of the country's dire situation through more than 100 fundraising and community events, and welcoming and assisting over 125 displaced Ukrainians and families who continue to arrive in the Central Okanagan, fleeing their war-torn country. Denys and his organization's dedication and commitment to the cause resonated with the community and led to many residents stepping up to help by volunteering, hosting, or donating money and supplies. Denys and his team of volunteers continue to work tirelessly to bring support and hope to the people of Ukraine. 
---
About the Award
Anita Tozer was best known as a humanitarian devoted to the welfare of others.  She dedicated the last third of her life to volunteering, most notably with the United Way of the Central & South Okanagan/Similkameen.  She served the United Way in almost every position over a period of 25 years.  Anita Tozer was a recipient of the Sarah Donalda Treadgold Memorial Award in 1991.
Anita Tozer passed away on July 10, 2000 at the age of 72. 
Award Criteria
The Anita Tozer Memorial Award is awarded to an individual or group in recognition of an extraordinary and positive contribution to the quality of life in Kelowna.
This award is not open to the public for nominating, as each year it is selected and presented by Mayor and Council.
Past Recipients of the Award
2021 - Edna Terbasket
2020 - Rolli Cacchioni
2019 - Randy Benson
2018 - Journey Home Task Force
2017 - Jimmy LeGuilloux
2016 - Murli Pendharker
2015 - Sharon Shepherd
2014 - Arion Therapeutic Farm
2013 - Gospel Mission Dental Clinic
2012 - Tim Schroeder
2011 - Dr. Barry Urness
2010 - Beryl Itani
2009 - Herb Sullivan
2008 - Reverend Albert Baldeo
2007 - Clarence Johnson
2006 - Fernbrae Manor & Quigley Elementary
2005 - Gordon Hartley
2004 - Mastercard Memorial Cup 2004 Society
2003 - Emergency Operations Group
2002 - Mike Roberts
2001 - Tom Rothery
2000 - United Way of the Central & South Okanagan/Similkameen