Downtown plans
Great cities have great downtowns. Downtown Kelowna's waterfront amenities combine with historic charm to attract people to dine out, attend cultural events, shop and work in the heart of our city: the largest centre in the B.C. Interior. 
Kelowna's city center is continuing to experience significant investment, which is adding to the economy and building on the vibrancy of our city as identified in the Downtown Plan. Our Downtown Plan Brochure also contains information on the plan. The first completed project from the plan was the Bernard Avenue Revitalization.
Following on the heels of the Downtown Plan is the Civic Precinct Plan which outlines long-term land use plans for the area between Clement Avenue to the north, Queensway Avenue to the south, Water Street to the west, and Ellis Street to the east, more broadly known as the Cultural District.
Downtown development policies
From encouraging public art to preserving views, development policies have been created to give downtown Kelowna a unique sense of place.
Downtown projects benefit from 29 per cent lower development cost charges and priority processing of rezoning applications that are consistent with adopted plans. Properties may qualify for exemptions of up to 100 per cent of incremental property taxes, and we also offer $200,000 in annual grants to encourage construction of affordable rental housing. Additionally, only one parking stall is required per dwelling unit regardless of the unit's size.
The C7 Zone Design Guidelines contains important information on design principles.
Low development cost charges
Revitalization Tax Exemption Program
Rental housing grants
Low parking requirements
Cash in lieu of parking provisions
Heritage Tax Incentive Program
Heritage conservation grants
Supporting economic partnerships
Both private and public investments are making a mark on downtown Kelowna.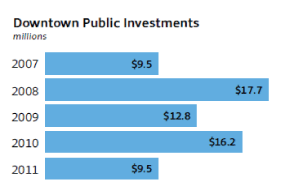 Main streets and downtowns are at the heart of communities big and small across British Columbia. Our downtown generates tourism, attracts new residents and encourages investment by creating spaces for smaller businesses and start-ups. From the marquee Prospera Place built in 1999 to the newer development of a public pier and marina, we support many economic partnerships in downtown Kelowna.
Our downtown skyline is continuing to evolve through recent development approvals including One Water, Ellis Park and Bernard Block. We're also investing in our public spaces downtown, such as the multi-million-dollar Stuart Park project, which added an outdoor skating rink as well as pedestrian and cycling connections. Additionally, investments in the Queensway Transit Exchange created a hub for public transit in our community. There is now an extensive bike network that extends from downtown, making the area a quick 15-minute trip for the neighbouring 50,000 residents.
$3.2 million public pier and marina
$2.2 million Stuart Park Phase 2 and promenade
$2 million Kerry Park upgrade
$2 million Queensway Transit Exchange
With arenas, galleries and venues for performing arts and festivals, the area is seeing the results of over $100 million of public investments since 1995.
Partners Collaborate