Bryan Couling Memorial Athletic Team of the Year Award
2021 Bryan Couling Athletic Team of the Year Award Recipient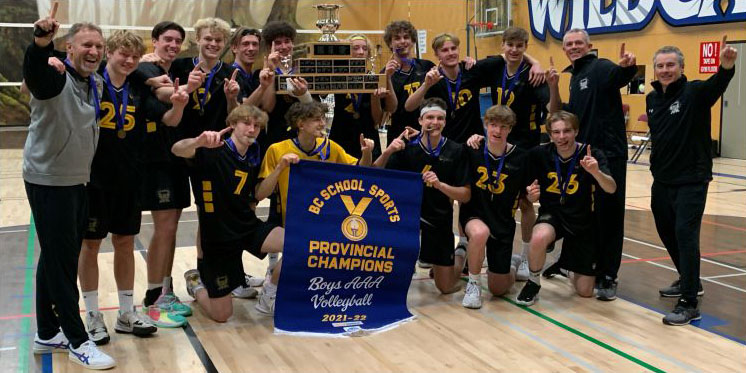 KSS Owls Boys Volleyball Team
2021 was a massive year for the KSS Owls Boys Volleyball Team bringing home numerous championships and gold medals as they toured across BC last season. The Owls season record was an astonishing 48 wins and only one loss, while capturing an unprecedented 6 Championships Tournaments throughout the 2021 volleyball season. This group of boys have shown tremendous dedication training and playing 6 days a week plus individual training sessions, club volleyball, Volleyball Camp and BC Volleyball.
The KSS Owls also organized, facilitated, and officiated several youth volleyball tournaments to help promote and encourage sport participation for junior and elementary experiences. This dedicated team worked hard and in true team fashion to earn their victorious season.
About the Bryan Couling Memorial Athletic Team of the Year Award
Bryan Couling, sports director for CKIQ radio during the late 1970's and 1980's, became known as the "Voice for Sports" in Kelowna.  After suffering a debilitating stroke in 1986, Bryan continued to volunteer and keep up with local sports.  Bryan, a sportsman's sportsman, always recognized the effort of the athlete, along with the coaches, parents and managers.  
Bryan passed away in April of 1997.
Award Criteria
Awarded to the Kelowna based team (amateur or professional) who brought the greatest amount of recognition to Kelowna.
Past information (awards and achievements) may be included, but should primarily be regarding the current award year.
Finalist selections are based solely on the information in the completed nomination package.
Nominations for the 48th annual Civic & Community Awards will open Dec. 5, 2022.
Past Recipients of the Award
2019 - KSS Owls AAAA Girls Volleyball Team
2018 - Kelowna Ringette U16A Elite
2017 - Kelowna Secondary School Owls Boys Curling Team
2016 - KSS Owls Senior AAAA Boys Basketball Team
2015 - The Kelowna Rockets 2014/2015 Hockey Club
2014 - Okanagan Rockets, Major Midget Hockey Club
2013 - Kelowna Christian School Senior Boys Basketball Team
2012 - Okanagan Mission Secondary School Senior Boys Soccer Team
2011 - Kelowna Senior Secondary School 4A Girls Volleyball Team
2010 - UBC Okanagan Heat Women's Volleyball Team
2009 - UBC Okanagan Heat Women's Volleyball Team
2008 - UBC Okanagan Men' Volleyball Team 
2007 - Team Scott, Team Canada Women's Curling (Kelly Scott, Jeanna Schraeder, Sasha Carter, Renee Simmons, Michelle Allen and Gerry Richard)
2006 - Team Scott, Team Canada Women's Curling (Kelly Scott, Jeanna Schraeder, Sasha Carter, Renee Simmons, Michelle Allen and Gerry Richard)
2005 - Kelowna U14 Boys Soccer Team
2004 - Kelowna Rockets Hockey Club
2003 - Kelowna Rockets Hockey Club
2002 - Kelowna Stingers U16 Soccer Team
2001 - KSS Owls Girls Field Hockey Team
2000 - Okanagan Sun Football Team
1999 - Kelowna Grizzlies Special Olympic Softball Team