2040 Transportation Master Plan
Implementation

The 2040 Transportation Master Plan (TMP) is designed to guide our actions over the next 20 years. It was developed using a financial lens to ensure it is realistic, as well as with input from the public to ensure we are balancing the community's desire for improved service levels with the need to manage costs responsibly. It also lays out ways to measure our performance as we go, to ensure we are making progress toward our vision.
This section discusses how actions recommended in the TMP can be funded. The TMP is a guide for long-term investment. Annual budget decisions that influence the funding of the TMP recommendations will be made each year by Council.
Kelowna's transportation budget
Transportation is one of the most significant items in the City budget. We currently spend an average of about $40 million each year on operating, maintaining, and expanding our transportation system. To support the 2040 OCP and work towards the Imagine Kelowna vision, it will be necessary to increase investment in our transportation system.
In Phase 3 we asked the public to weigh in on transportation investment by participating in a budget allocator exercise. On average, residents supported an increase in annual transportation funding that works out to an average annual property tax increase of about 0.2 per cent. The actions recommended in the TMP were chosen to fit within this budget, with investments gradually ramping over time, and funded primarily by increases to property taxes and development cost charges (DCCs).
Funding from the DCC Program is coordinated through the 20-Year Servicing Plan. It will be up to Council to decide on increased funding from property taxes each year as part of the annual budget. 
Where the money comes from
The chart below provides a summary of the funding sources we anticipate will fund the recommendations in the Transportation Master Plan:
Funding sources 2021-2040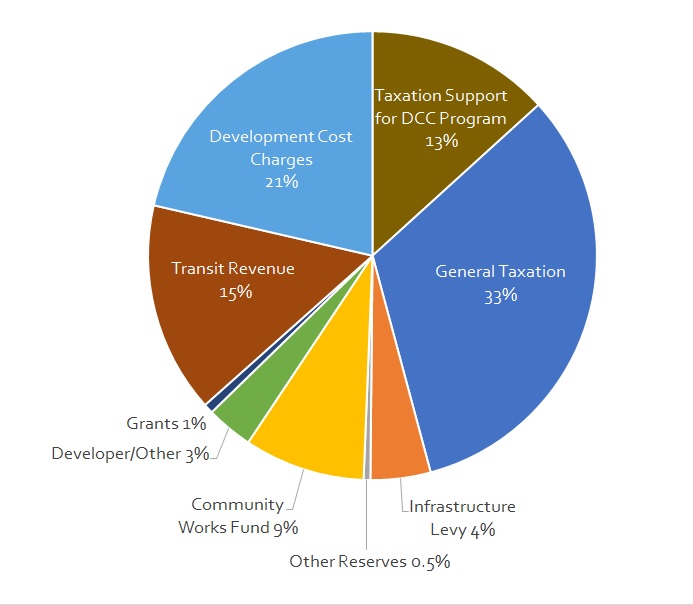 Property taxes – Roughly half of our transportation funding comes from property taxes. Property taxes are the most flexible source of revenue. They are often used to match or leverage funding from other sources, such as senior governments. Transit, maintenance and renewal, and education are the areas that are most dependent on taxation. A significant portion of taxation also goes towards supporting the Development Cost Charge (DCC) Program.
Development cost charges – Developers pay these fees to cover some of the City's costs related to servicing growth with infrastructure like sewers and roads. DCCs can only be used for certain types of infrastructure, and not for operational expenses such as transit service or on-going maintenance. Together with taxation support, these funds are used for projects in the DCC Program.
Infrastructure levy – This levy was introduced in 2019 to address the backlog of infrastructure renewal projects. The levy funds projects such as road repaving, sidewalk repairs and the replacement of bridges.
Transit fare revenue – Just over half of the City's transit operating costs are recovered from fares and advertising. Transit routes with higher ridership generate more revenue, meaning they require less of a subsidy from property taxes.
Senior government grants – Funds from provincial and federal grants help us stretch our resources. Senior governments have announced major stimulus funding in response to the pandemic. The TMP puts Kelowna in a good position to take advantage of these opportunities. These funds are limited to specific uses or projects. To take advantage of grant funding opportunities, the City must have its portion of funding committed.  However, we are taking a conservative approach to financial planning and are using historical averages when estimating contributions from senior governments.
Gas tax – There is a common misconception that fuel taxes pay for roadways. The federal government does return a share of fuel taxes collected in Kelowna through the Community Works Fund. However, the amount we receive only covers one-fifth of our annual spending on roads.
As electric vehicles become more common, gas tax revenues will fall. This is an international issue for governments. Future trends are likely to include charges for road usage. While no recommendations on mobility pricing are included in the TMP, the concept should be considered as a potential future opportunity.
The chart below shows the investment proposed for each category and compares them to current averages. While funding increases are proposed across all categories to help keep Kelowna moving, the highest levels of investment are proposed for maintenance and renewal, and transit. This is because during our public engagement, residents told us that maintaining and renewing existing infrastructure and investing in transit are top priorities. Investing in transit is also critical for supporting the 2040 OCP and helping Kelowna grow without gridlock.
Proposed funding by category
Average annual budget 2021 to 2040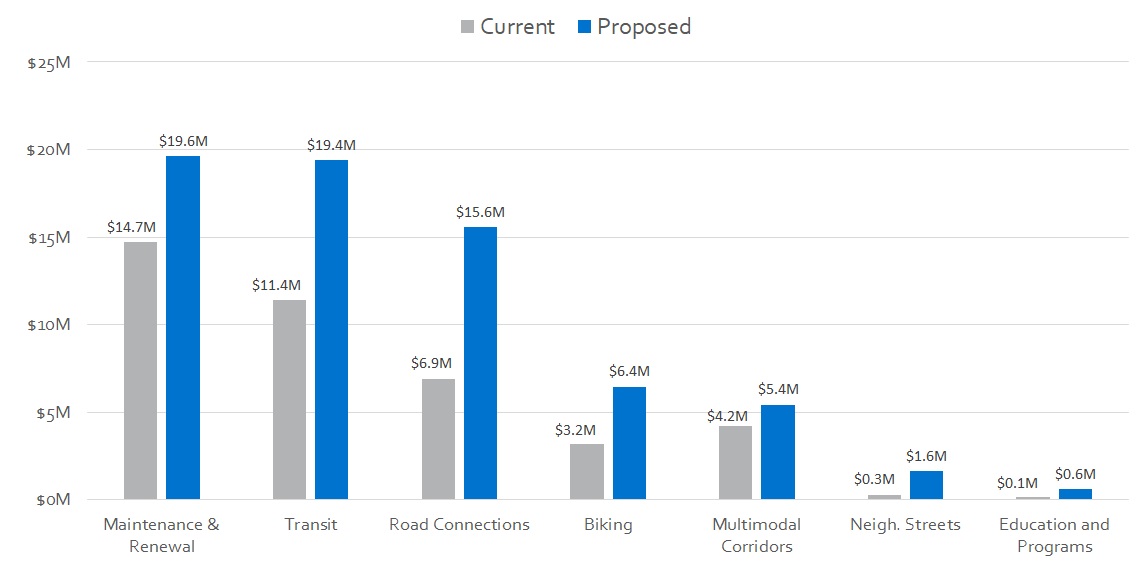 This next chart puts it all together and shows the proposed annual transportation budget in 2040. Since there are different eligibility requirements for the various funding sources, it is important to consider the funding sources for each category. The chart below highlights the different sources that are needed to fund each category of investment:  
Proposed spending by funding source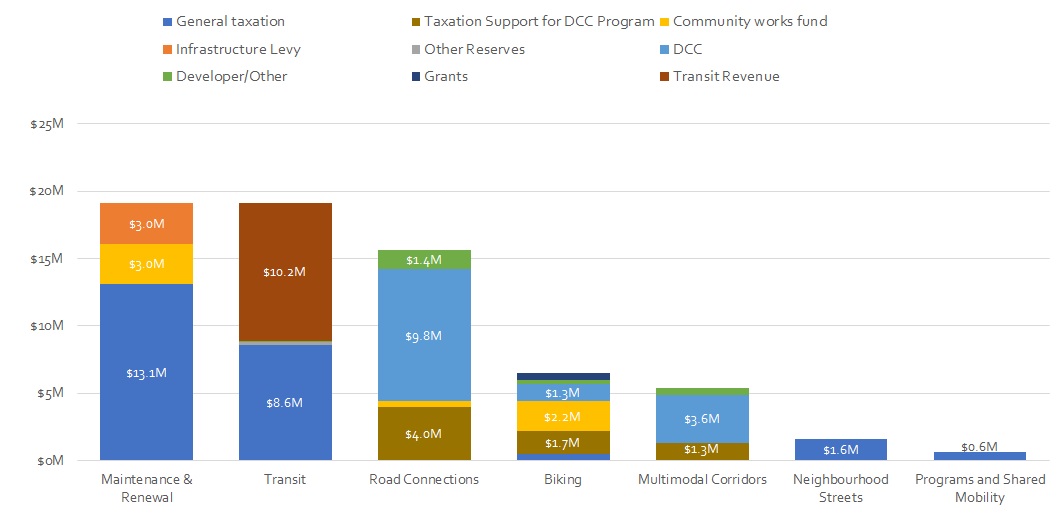 Senior government investment
The provincial and federal governments play major roles in funding transportation. It is estimated the TMP action list will leverage around $370 million of investment by senior governments. For example, the provincial government provides roughly half of the transit operating costs through BC Transit.
Historically, provincial and federal governments have helped pay for large transit infrastructure projects. This trend may continue and provide opportunities for transit projects such as Kelowna's new operations facility and new exchanges. Senior governments have also funded walking and biking projects through grant programs.
Highways 97 and 33 are critical pieces of Kelowna's transportation network but both are under provincial jurisdiction. We work closely with the Ministry of Transportation and Infrastructure to maximize the movement of people and goods along both corridors. Projects that benefit provincial highways will likely be funded and delivered in partnership with the province.
It is important that we monitor our progress to make sure we keep moving toward our shared vision. The performance measures below are organized around the 12 TMP goals to reflect the many ways that transportation affects life in Kelowna. Where feasible, the TMP performance measures have been aligned with the metrics identified for the 2019 - 2022 Council priorities, to reduce duplication.
Some measures can be tracked on an annual basis, while others, such as those that rely on census or household travel survey data, can only be updated every five years. It is anticipated that staff would provide an update on the TMP performance measures annually, with a larger, more comprehensive report every five years.
The Transportation Master Plan sets out a long-term vision for changing how Kelowna residents get around. However, it is important to set realistic expectations for how much can change in 20 years.
The targets below were developed through detailed modelling and analysis. They are intended to be ambitious, yet achievable with the actions proposed in the TMP. The targets are based on key metrics that help us understand broad trends in travel behaviour and provide a snapshot of the direction Kelowna is heading.
Mode share is a term for the portion of trips that happen by different means of travel. Mode share changes slowly. Current travel patterns in Kelowna are the result of decades of land use and infrastructure decisions, economic forces, and societal trends that reinforce each other.
Kelowna residents currently make 85 per cent of their trips by vehicle, either as a driver or a passenger. The remaining 15 per cent of trips are made by other means (e.g. biking, walking, transit) and comprise our sustainable mode share.
We are working toward a target of 79 per cent of trips made by vehicle (21 per cent by sustainable modes) by 2030, and 75 per cent of trips made by vehicle (25 per cent by sustainable modes) by 2040.
This is a conservative estimate that considers population growth, demographic trends, and actions recommended in the TMP. Reaching this target will mean doubling transit ridership and quadrupling the number of bike trips made by Kelowna residents.
The CleanBC Roadmap proposes to move sustainable mode share from 24 per cent to 30 per cent by 2030 (i.e. a 6 percentage point increase). This target is a provincial average, and different regions will have different opportunities to shift modes. While it is not possible to match the provincial average of 30 per cent by 2030, the TMP aligns with the CleanBC 2030 mode share target by matching the 80 increase in sustainable mode share of 6 percentage points. This means Kelowna would move from 15 per cent to 21 per cent and will be doing our part to improve the provincial average.
Aligning with CleanBC's 2040 target of 40 per cent in the same way would require Kelowna to increase sustainable mode share by 16 percentage points. We estimate the TMP could achieve a 10 percentage point increase citywide, from 15 per cent to 25 per cent. While further work is needed to align with the 2040 provincial mode share target on a citywide basis, some parts of the city will be able to surpass it. For example, in the area comprised of Downtown, Pandosy, and Landmark sustainable mode share is projected to increase by 20 percentage points (from 25 to 45 per cent by 2040). This speaks to the importance of focusing growth in our Core Area to help shorten trip distances and make it easier for people to get around using sustainable modes of travel.
The table below shows the existing mode share for driving by neighbourhood and what we think can be achieved by 2040:
| | | |
| --- | --- | --- |
|   | Current (2018) | 2040 Target |
| Citywide | 85% | 75% |
| Downtown/Pandosy/Landmark | 75% | 55% |
| Midtown | 80% | 70% |
| Rutland | 85% | 75% |
| Glenmore | 90% | 85% |
| The Mission/Southeast Kelowna | 90% | 90% |
| North Kelowna | 90% | 90% |
| Black Mountain | 95% | 95% |
The total distance driven (also referred to as vehicle kilometres travelled) is a better measure for congestion and emissions than mode share. This is because mode share does not consider the length of a trip, so it does not distinguish between driving a few blocks or all the way across town.
Our population is expected to grow by approximately 40 per cent. Based on the 2040 OCP, total distance driven is anticipated to increase by 25 per cent (if we make no additional investments in transportation). We can reduce the average distance driven per person by locating growth closer to jobs and destinations and providing more transportation options.
Based on the actions recommended in the TMP, we are working to reduce the average distance driven per person by 20 per cent. This would keep the increase in total distance driven to approximately 10 per cent.
While not costed for in this plan, there are additional measures that can be taken to reduce VKT in Kelowna from 10 per cent to 5 per cent growth. These actions are described as options in the Recommended Actions Chapter (see Project IDs 15, 18, 20, and 24) and position the City to be ready should there be investments from senior governments to achieve these goals.
The CleanBC Roadmap proposes a 25 per cent province-wide reduction in total distance travelled by light-duty vehicles by 2030. Some parts of the province may be better able to meet this target than others. While reducing the total distance driven is desirable, the reality is that it is extremely challenging in the face of population growth. All future trips would need to be accommodated by other modes besides driving. This is not yet realistic given Kelowna's current layout and continued growth in neighbourhoods that depend on cars.
It should also be noted that the 20 per cent reduction in driving per capita is meant to be an average. Some people will have more opportunities to drive less than others, depending on where they live, their occupation, their family commitments, and their physical ability.
Injuries and fatalities resulting from traffic collisions have a devastating impact on the people involved and on the community. The TMP aims to reduce the number of injuries and deaths on our roads through targeted interventions such as the proposed Road Safety Program and traffic safety audits when designing major capital projects.
The TMP recommends developing a Transportation Safety Strategy to set specific targets and outline the actions necessary to reduce injuries and fatalities on our roadways.