Augie Ciancone Memorial Award - Young Female Athlete
2020-21 Augie Ciancone Memorial Award Recipient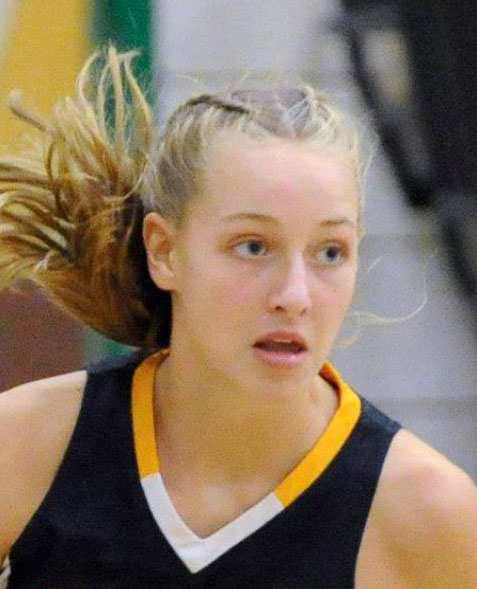 Whether on the track field or on the basketball court, Tatum Wade is a super star in the making. This cross country and track and field athlete is a champion in the 1500 metre steeplechase – and plays a key role on the OKM Sr Girls Basketball Team, while still finding time to give back to the community. Last year Tatum had the honour of being mentioned as one of the "Top 15 Players to Watch out for in BC." She is a hard-working student and achieved Principal's List status throughout her high school career. As a Link leader for grade 9 students, she mentors with maturity and positivity. Tatum has signed on to the University of Calgary for basketball, we wish her all the best!
About the Augie Ciancone Memorial Award for Young Female Athlete
Augie Ciancone was instrumental in setting up Kelowna's first formal sports and recreation program for youth.  He was an all-around athlete, excelling in gymnastics, lacrosse, boxing and horsemanship.
Augie's greatest gift was his ability and personal desire to encourage the young people of Kelowna to get involved in sports.  He also challenged them to achieve their personal best.  His goal was to turn their lives around by instilling the desire to challenge and achieve personal satisfaction through sports.  
Augie passed away in January of 1952.
Award Criteria
Awarded to the most outstanding female high school athlete in the area of the Central Okanagan.
Winner is chosen by the Okanagan Central Schools Athletic Association.
Nominations for the 48th annual Civic & Community Awards will open Dec. 5, 2022. 
Past Recipients of the Award
2019 - Madelyn Hettinga
2018 - Lonica McKinney
2017 - Taryn O'Neill
2016 - Ashlyn Day
2015 - Ellie McCarthy
2014 - Emma Johnson
2013 - Jacqueline Sellers
2012 - Olivia Johnson
2011 - Justine Drosdovech
2010 - Jonel Boileau
2009 - Sydney Mullen
2008 - Abigail Raye/Chantal McFetridge
2007 - Danielle Hennig
2006 - Kayla Ungaro
2005 - Robyn Buna
2004 - Samantha Aynsley
2003 - Katie Woodman
2002 - Alison Pendray / Kyla Jones
2001 - Tara Murphy
2000 - Kirby Dow/Carly Czuba
1999 - Heather Mandoli / Rachelle Thomas
1998 - Olivia Smoody
1997 - Malindi Elmore
1996 - Jill Friend
1995 - Kim Buker
1994 - Dallas English
1993 - Kelly Hill
1987 - Robin Vinge
1986 - Tania Jones
1985 - Jacquie Semeniuk
1984 - Brenda Shakleton
1983 - Joni Franks
1981 - Ermenia Russo
1980 - Wanda Richardson
1979 - Donna McIntyre
1977 - Cathy Treadgold
1976 - Barb Young 
1974 - Dorothy Schwaiger
1972 - Jane Collingwood
1971 - Janice Buchner
1964 - Helgi Westenberger
1955 - Beverly Pitt