Corporate Community of the Year Award
2021 Corporate Community Award Recipient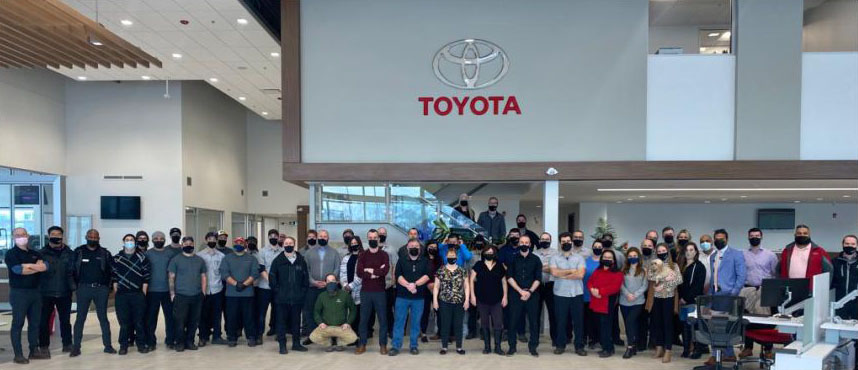 Kelowna Toyota
In 2021, Toyota Kelowna was busy, directly supporting numerous fundraising efforts including initiatives in support of the new Health Sciences Centre at Okanagan College along efforts to support the BC SPCA, Okanagan Food Bank, Starbright and the BC Cancer Foundation. Their support and generosity have helped mental health care, children's social services and students pursuing health care education.
Kelowna Toyota also partnered with Motionball for Special Olympics making the largest donation in event history. In addition to the monetary donation, Kelowna Toyota also donates a car to be raffled onsite at the event. You can always find their amazing staff involved in their volunteer and community projects and fundraisers. This corporate community really does believe in giving back to their community!
Award Criteria
Awarded to a Kelowna business that has provided outstanding support for employee volunteerism in addition to financial contributions and initiatives having had a direct benefit on residents in Kelowna. 
Selections are based on the business' volunteer support and/or financial contributions for the year 2022.
Past information and history of community involvement may be included, but should primarily be regarding the current award year.
Nominations for the 48th annual Civic & Community Awards will open Dec. 5, 2022. 
Past Recipients of the Award
2020 - Peter's Your Independent Grocer
2019 - Avalon Event Rentals
2018 - Secure-Rite Mobile Storage Inc. (Small Business)
2018 - Raymond James - Kelowna Corporate Branch (Medium to Large Business)
2017 - Scotia McLeod/Scotia Wealth Management (Small Business) 
2017 - Crowe MacKay LLP (Medium to Large Business)
2016 - Third Space (Small to Medium Business)
2016 - Costco Whole - Kelowna  (Large Business)
2015 - Boyd Autobody & Glass (Small to Medium Business)
2015 - Valley First  (Large Business)
2014 - Wentworth Music (Small to Medium Business)
2014 - Save on Foods (Large Business)
2013 - Mavazi Apparel (Small to Medium Business)
2013 - Cooper's Foods Rutland Store (Large Business)
2012 - Loyal Hair Therapy (Small to Medium Business)
2012 - Interior Savings Credit Union (Large Business)
2011 - The Women's Place Fitness Centre (Small to Medium Business)
2011 - BMO Bank of Montreal (Large Business)
2010 - Prospera Credit Union, Kelowna
2009 - MacKay Chartered Accountants
2008 - Telus
2007 - Scotiabank Group
2006 - Pushor Mitchell, LLP
Award sponsored by: