As part of the Healthy City Strategy, City of Kelowna community planners and Interior Health public health practitioners worked together with a focus on the first of six themes areas: a Community for All.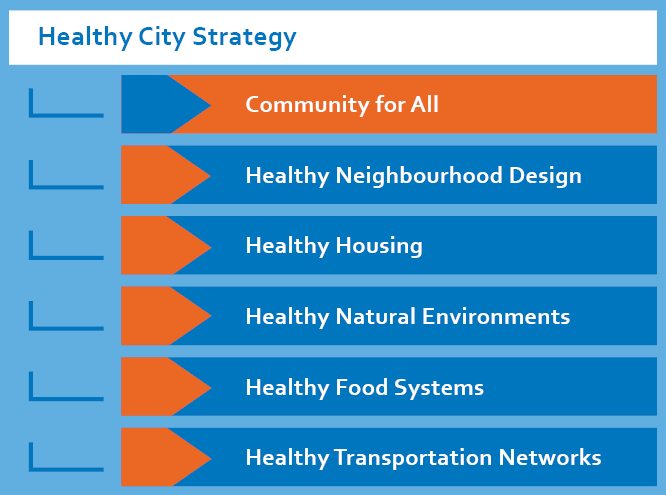 Demographic shifts across the globe are having a profound impact on community age relations and Kelowna is no different.
The Community for All Action Plan identifies areas to adapt policies, plans and programs to respond to the evolving needs of our community as actions for healthier seniors will provide co-benefits to children and residents with diverse abilities enabling them to be active and engaged within our community.
In 2017 the City of Kelowna completed an assessment of City Parks and Buildings as they relate to age and ability friendly design.  Information regarding the accessibility and age friendly amenities of Kelowna's parks and buildings, please refer to People in Motion's Accessibility Guide. 
Background
Community for All Action Plan Implementation Progress Update Council Report and Status of Actions (June 2018)
Community for All - Parks and Building Assessments Council Report and Parks and Buildings Assessment Report (April 2018)
Community for All, Parks and Building Assessments Council Report (August 2017)
Community for All Action Plan Council Report (Dec 2016)
Community for All Ages Council Report (May 2016)
Healthy City Strategy Phase 1 Council Report (Feb 2016)
Age-friendly Community Planning Council Report (Oct 2015)
Fast facts
Kelowna's senior population is growing and will increase from the current rate of 20 per cent to 24 per cent by 2040 as predicted in City of Kelowna Community Trends Report.
1 in 3 people in B.C. are living with one or more diagnosed chronic diseases, which consumes approximately 80 per cent of the provincial health care budget as per the Province of B.C. Promote, Protect, Prevent: Our health begins here.
50 per cent of adults and 91 per cent of children and youth do not get the recommended levels of physical activity according to the Heart and Stroke Foundation, Shaping Active, Healthy Communities.
At 26 per cent, Canada's childhood obesity rates are among the highest in the world - almost doubling in the last 25 years - according to Government of Canada Healthy Weights for Healthy Kids.