Central Okanagan Foundation Volunteer Organization of the Year Award
2022 Central Okanagan Foundation's Volunteer Organization of the Year Recipient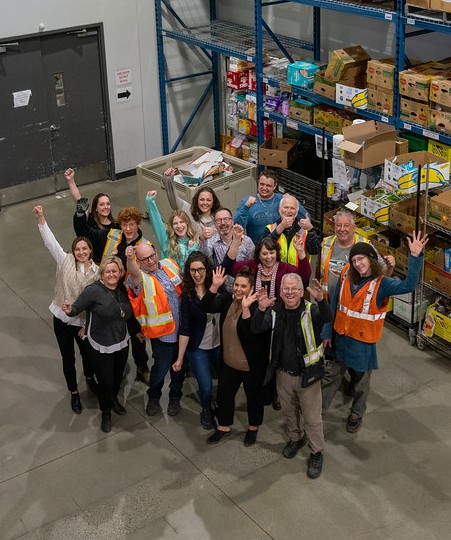 Central Okanagan Food Bank
The Central Okanagan Food Bank provides an essential service to those who suffer from food insecurity. In 2022, they served 5,500 individuals a month, provided 16,000 snack packs to children and youth, supplied 3,000 hampers to multiple transitional and supportive housing units and supported 98 Ukrainian refugee families. The Central Okanagan Food Bank also expanded their local programs to ensure no one in our community goes without. 
The recipient of this award will receive a $3,000 donation from Central Okanagan Foundation.

---
Award Criteria
Awarded to a volunteer organization that has provided outstanding community services, with direct benefits to the city of Kelowna.
Services may be related to the environment, health and social services; arts and culture; recreation; education; or neighborhood/community improvements.
Selections are based on the organization's achievements and contributions for the year 2022.
Past information may be included, but should primarily be regarding the current award year.
Check back in fall 2023 for information about the 49th annual awards nomination period.
Past Recipients of the Award
2021 - Canadian Mental Health Association
2020 - Central Okanagan Region Nutrition Society - Meals on Wheels 
2019 - Project Literacy Central Okanagan Society
2018 - Helping Out People Exploited (HOPE) Outreach
2017 - Central Okanagan Search & Rescue
2016 - Kelowna Gospel Mission
2015 - Hands in Service
2014 - United Way of the Central & South Okanagan Similkameen
2013 - Freedom's Door
2012 - Karis Support Society
2011 - NOW Canada Society
2010 - Canadian Mental Health Association
2009 - Rotary Clubs of Kelowna 
2008 - Kelowna Salvation Army
2007 - Central Okanagan Hospice Association
2006 - Rotary Club of Kelowna
2005 - Central Okanagan Bursary & Scholarship Society
2004 - C.O.R.N.S./Meals on Wheels
2003 - Emergency Social Services
2002 - Sunshine Dream for Kids
2001 - Kelowna Community Resources Crisis Line
2000 - Kelowna General Hospital Volunteers
1999 - Kelowna Hostesses
Award sponsored by: