Strong Neighbourhoods success stories
The following neighbourhood groups are just some of the many that have taken their ideas from concept to fruition thanks to our Strong Neighbourhoods program. Whether working together on an enrichment project or community event, these residents have all contributed to improving the quality of life in their neighbourhoods.
Read their stories and get inspired to grab your neighbours and get started on your own neighbourhood enhancing idea. Apply for a neighbourhood enhancement grant or to receive block party planning support today!
2021 Neighbourhood Grant Projects
The neighbourhood grant benefitted the following projects in 2021. Find out how you can enhance your neighbourhood in 2022 with a neighbourhood grant!
Galaxy Quest Little Free Library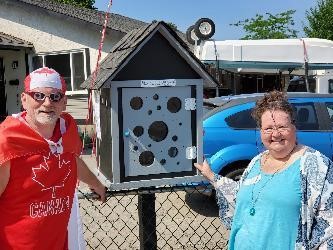 Residents of a Rutland neighbourhood built a unique Little Free Library.  This Library was named and decorated in a space theme, in coordination with the planet-named roads throughout the neighbourhood.  Neighbours contributed to the building and painting of the Galaxy Quest Little Free Library as well as continually donating books to fill the new library.  They also built and painted a matching bench to relax on when reading the books or having a chat with a neighbour.  This Little Free Library offers a great place to connect with neighbours over a love of reading!
Imagine Pandosy Art Festival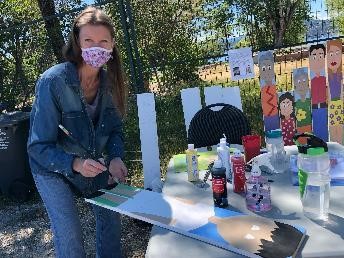 The KLO Neighbourhood Association put on the first ever Imagine Pandosy Art Festival.  Artists filled SOPA Square to display and sell their artwork and just across the street were more artisans selling their work alongside a live mural painting by Jomae Art, a chick holding station, and Park and Play games and crafts for children provided by Strong Neighbourhoods.  Prior to the event, neighbours painted fence boards, illustrating the "Colourful People" of the neighbourhood.  These fence boards were displayed at the festival and will be used to decorate the new Pandosy waterfront park during and following its construction.  This event provided a great way for the community to connect in a new way all while increasing the aesthetics of their neighbourhood!
The Meadows Community Gardens Project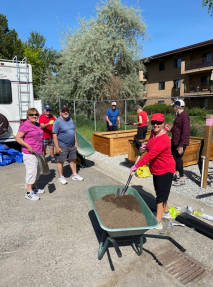 In looking for ways to promote connections among the neighbours in their complex during the times of COVID, this group developed the idea to create a community garden.  Residents worked together to build the garden beds and a composter and got advice from a master gardener in order to ensure their gardens success.  Throughout this project residents gained gardening knowledge, friendships through comradery, and the ability to grow and share their own produce.  The positive effects of this program will be seen for years to come!
Vintage Terrace Neighbourhood Beautification and Engagement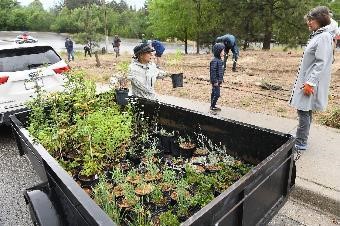 Over 30 neighbours worked together to enhance the unused greenspace on their street by planting native, xeriscape plants recommended by our Parks department.  The end result was not only a beautiful new space for the neighbourhood to enjoy but tons of new connections with one another and plans to get together in the future!
Metro Community Planter Boxes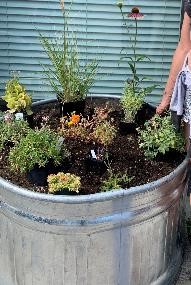 The Metro Community brought together residents and neighbouring community groups to install planter boxes outside the building.  This project not only brought the community together and improved the aesthetics but also improved the safety of the neighbourhood.  All while providing the residents with a great way to get their hands dirty and connect with each other and the greater community.
Rowcliffe Xeriscape Garden
A small group of neighbours took it up on themselves to spruce up a space on their street with the help of a Strong Neighbourhoods Grant.  Originally, they had hopes of preventing weeds and creating something for neighbours and pedestrians to enjoy, but it ended up being so much more!  After tidying and weeding the area they planted a variety of xeriscape, drought-tolerant plants.  Throughout the process many neighbours stopped by to see what was happening and consequently many new connections were formed, all while beautifying their neighbourhood!
When residents identified there was work to be done in their complex, they decided to make a fun event out of it!  Neighbours came together to clean gutters, caulk and paint window sills, and plant new flower beds.  They then celebrated their hard work with a barbeque and outdoor movie night.  What a creative way to improve your neighbourhood while connecting with and celebrating your neighbourhood!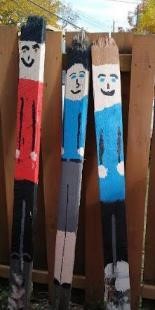 Back Alleys can be known to be quite uninviting, but a Kelowna neighbourhood was able to use a Neighbourhood Grant to brighten their back alley up and consequently create a welcoming space for neighbours to connect!  Neighbours came together over a week to tidy up the alley and paint fences and garages as well as decorate creative house number signs!  This not only brought neighbours together during the project but continues to foster the connections made and ideas for the bright future of their back alley.
Fuller Ave boulevard Beautification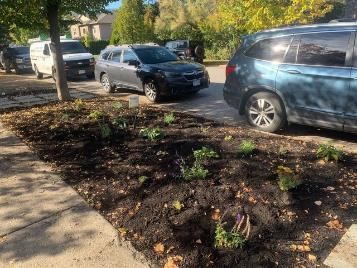 Together, a group of neighbours revamped what used to be a dull front boulevard into a bee-friendly, water-wise, and beautiful space for neighbours and pedestrians to enjoy.  With the help of a Neighbourhood Grant, the group referred to our City's guidelines for boulevard landscaping and sought out drought tolerant plants and then brought neighbours together to bring their vision to life.  What a simple but great way to beautify the neighbourhood.
2021 Neighbourhood Events
We helped these neighbourhoods in Kelowna plan some exciting events Kelowna in 2021. Find out how we can help plan your event in 2022 by visiting our Block party planning support page!
Smithson Drive Block Party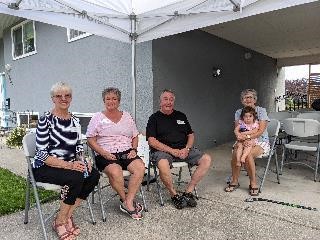 This September block party was hosted by one of the Block Connectors, with the support from the Strong Neighbourhoods team, and was the first for this street.  Neighbours safely gathered in the Block Connectors front yard and got to know each other as children came together to play some games provided by the Strong Neighbourhoods team.  We would say this was a wildly successful first event with lots of neighbours meeting for the first time!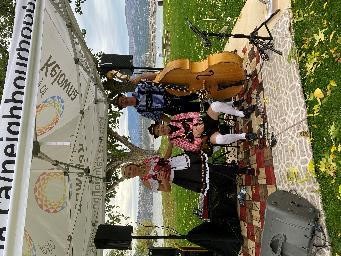 The Kelowna South-Central Association of Neighbourhoods held an Oktober fest events for residents at Strathcona Park.  Approximately 80 residents mingled with neighbours, enjoyed live music, played games from Strong Neighbourhoods and dined on food donated by Friends of Dorothy Lounge.  This event provided a unique and laid-back space for neighbours of all ages to meet and get to know each other!
At the Brent Place Block social neighbourhood leaders gathered to brainstorm ways to help their community members in times of need and build neighbourhood communication channels.  All while providing neighbours a chance to meet and connect and for kids to play and socialize.
The annual Long Ridge Street Party was full of lots of fun activities for all ages, allowing new and old neighbours to connect and have fun in a safe way.  They even included a small car show and a kids bike rally, what great activities to get neighbours out and connected!
Brighton Complex Block Party
Fifty residents of The Brighton Townhome complex came together on their street to have a potluck, including candy and hot chocolate for the kids.  With the help of Strong Neighbourhoods Meet Your Street Kit residents played games and activities together, which made for great fun together!
The Block Connectors on Dougall Rd. closed the street for a couple hours, with the support from Strong Neighbourhoods, to have a physically distanced block social.  The adults mingled while the children played with the lawn games from the Meet Your Street Kit.  Neighbours who have lived on the block for a number of years got a chance to reconnect.  New to the neighbourhood neighbours were greeted with open arms and a welcoming smile from some of the veteran neighbours.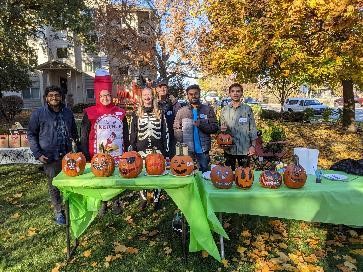 The residents of the Legacy complex gathered for a day of fall fun!  They first worked together to help rake leaves in their green space prior to taking part in a multitude of fall themed activities.  While both humans and dogs alike were dressed in Halloween costumes they participated in  pumpkin painting and connected through conversation around the fire.
2021 Youth Development and Engagement Grants
Central Brighten Up the Neighbourhood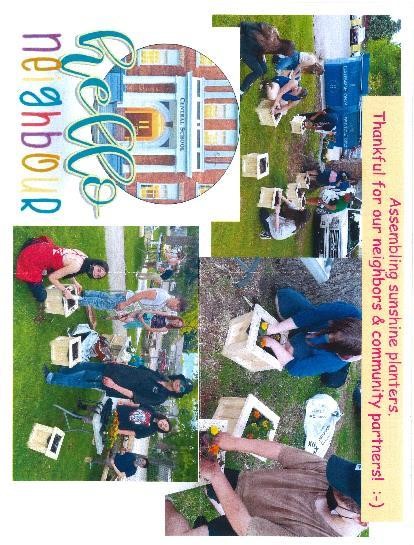 Together, students and staff of Central School built and planted wooden planter boxes which were then distributed to community partners, neighbours, senior homes, hospice, and the food bank!  These planter boxes contained flowers and/or vegetables so were both beautiful and purposeful.  Not only did this project benefit the students by providing a leadership opportunity but also benefited the greater community, therefore building a stronger neighbourhood!
With an innovative idea, students at Rutland Senior Secondary used the Youth Engagement and Developement Grant to develop a project that not only benefits students but charities around Rutland!  These students built a smoothie bar which donates its proceeds to local charities, as well as a seating area in an unused space within the school.  This project involves many different groups throughout the school and gives students involved an opportunity for work experience and a chance to connect with local charities.  Now a hub for students, the smoothie bar and seating area creates a space which fosters connections among students and staff.
Dr. Knox Indigenous Gardens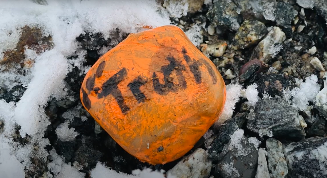 Students and staff of École Dr. Knox Middle School have worked hard over many years to plan and implement an indigenous garden, named Snullustun.  With the help of the Strong Neighbourhoods Youth Development and Engagement Grant they were able to start hands-on work in the garden!  This space is a welcoming place for the school community as well as surrounding neighbours to use as a gathering space or outdoor classroom.  Throughout the process, students learnt about traditional indigenous plants, jobs, traditional teachings of the circle, while connecting with their peers, community partners and neighbours!