Strong Neighbourhoods success stories
The following neighbourhood groups are just some of the many that have taken their ideas from concept to fruition thanks to our Strong Neighbourhoods program. Whether working together on an enrichment project or community event, these residents have all contributed to improving the quality of life in their neighbourhoods.
Read their stories and get inspired to grab your neighbours and get started on your own neighbourhood enhancing idea. Apply for a neighbourhood enhancement grant or to receive block party planning support today!
2022 Neighbourhood Grant Projects
The neighbourhood grant benefitted the following projects in 2022. Find out how you can enhance your neighbourhood in 2023 with a neighbourhood grant!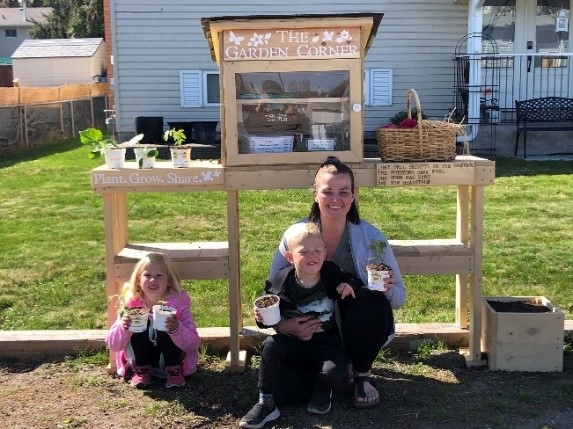 This community member wanted to create a little nook for neighbours to share extra seeds, seedlings, shoots and extra garden harvest in the fall. Neighbours young and old came out to work on this project and since its completion, this garden corner has become a neighbourhood hub creating long-lasting community connections.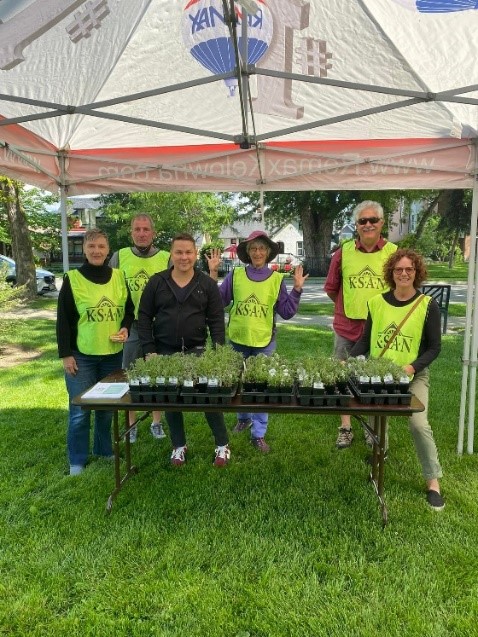 Kelowna South-Central Association of Neighbours (KSAN) proposed to work with a local neighbourhood school to plant seedlings together in the spring. Children took care of the seedlings in their classrooms until June. A plant day was then organized where seedlings were distributed to neighbours to plant in their yards and attract butterflies and other pollinators. This neighbourhood project brought together a diverse group of people with a common goal to work together as a community and create an environmentally sustainable future.
Fuller Ave Boulevard Beautification
A new resident to the downtown core, this individual wanted to get to know her neighbours through a community project. She proposed the creation of a pollinator-friendly, drought-tolerant boulevard to enhance the street. Through this process, community connections were built which then led to a celebratory block party and some life-long friendships.
Still Pond Fence Painting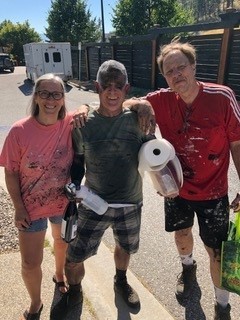 Neighbours in the Still Pond community came together to repaint the fence that ran through their entire neighbourhood. Close to 300 volunteer hours were put into repainting the fence over several weekends and every household helped in one way or another. The end results were well worth the work, and with the help of Strong Neighbourhoods, residents hosted a large block gathering with live music and food vendors to celebrate its completion.
Riley Court Beautification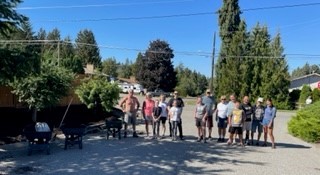 This small group of neighbours came together to beautify the court that ran by all of their houses.
"Not long ago we were a group of people who barely knew each other, living in 6 different houses on our small court. Through the Block Connector Program and the Neighbourhood Grant, we've had an opportunity to get to know each family and work towards a common goal. We now feel so much more comfortable with each other!" – Grant Recipient
2022 Neighbourhood Events
In 2022 we supported 22 Neighbourhood Events and here are some highlights! Find out how we can help plan your event in 2023 by visiting our Block party planning support page.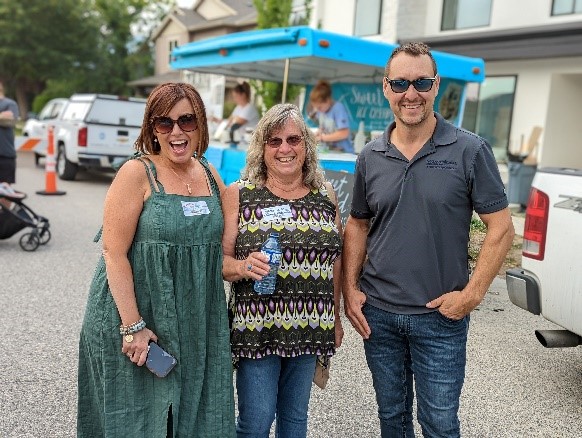 After receiving a Neighbourhood Grant, this individual wanted to give back to her neighbours for helping her complete her Boulevard Beautification project. Block party signs and invitations were put out by neighbourhood children and over 50 people attended this animated event!
Murray Crescent Block Party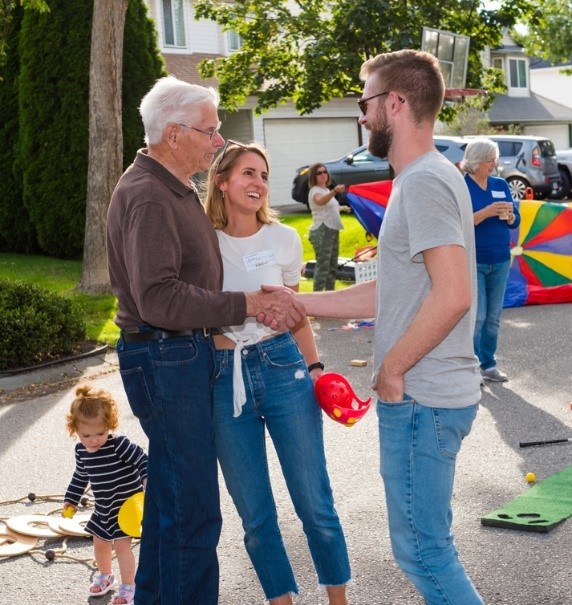 An original resident of the Murray Crescent block was approaching a milestone that needed celebrating. With the help of Strong Neighbourhoods, residents got together to plan a surprise block social that included all the neighbouring houses. The result was a perfect family outing that brought neighbours together to celebrate an important member of their community.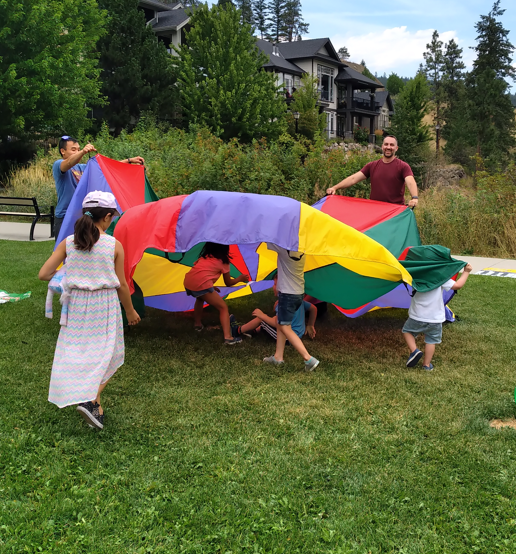 Residents at Still Pond Lane wanted to get together to meet their neighbours and host a Freecycle event. Neighbours were encouraged to leave used items that they no longer needed on their front lawn. The Freecycle movement keeps stuff out of landfills and promotes reusing while also offering the perfect excuse to interact and connect with your neighbours. The event was concluded with a block party in the neighbouring park, complete with games, activities and ice cream treats.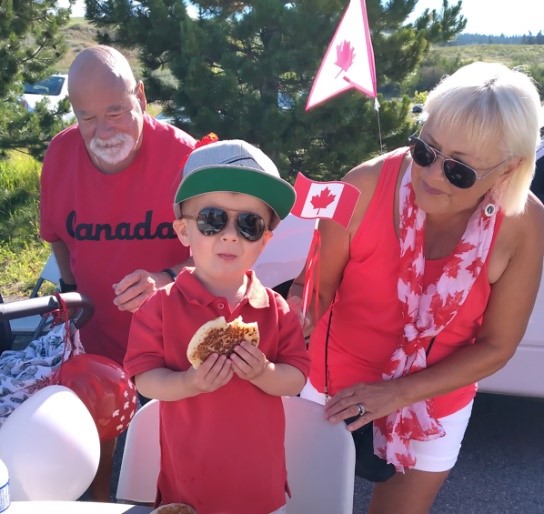 Members of the Tower Ranch community wanted to put on an event that would bring neighbours together in celebration of Canada Day. Decked out in red and white, neighbours worked together to set up their event in a large parking lot where they enjoyed City of Kelowna games and activities, live music and a delicious pancake breakfast.
2022 Youth Development and Engagement Grants
The Rotary Centre for the Arts - Youth Arts Council, designed and created a portable mural to use as a backdrop for small-scale performances in Kelowna neighbourhoods. This mural travelled to varying locations where community members could meet and enjoy youth-led artistic performances.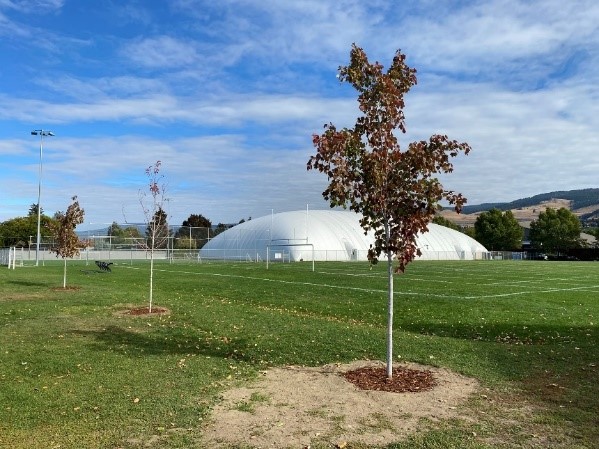 A group of Rutland Secondary School students wanted to create a project that was environmentally friendly and aesthetically pleasing for the surrounding community. They worked in partnership with the school division's horticulturist team to plant three maple trees along their school's sports field fence to provide shade and ambience for athletes and spectators. The neighbourhood and school community were invited to participate in a celebration of the tree planting where an offering was provided by RSS Indigenous Education students and a talk on the many benefits of trees was given by a local community member.
Caro Park Basketball Celebration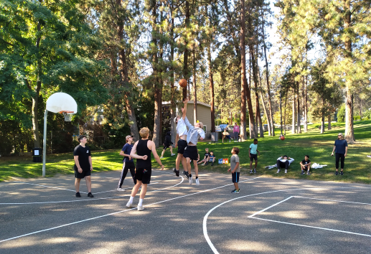 A group of neighbourhood youth wanted to update their local basketball court with some new court lines and sports equipment to promote more park participation. They then celebrated by inviting all the neighbours to see the new court lines and to participate in some games, activities and snacks. Grant recipients noted that since this event, there has been an "increase in park use... more basketball games with new neighbours, different types of basketball activities (3 on 3, bump etc.), soccer, bocce, younger children drawing with chalk, frisbee throwing, and pickleball being played over newly painted centre line…The respect our neighbourhood has demonstrated for the park and the shared equipment has renewed our sense of community and safety."