Share the path this fall
Topics
---
Sep 6, 2022
For many, Kelowna is the quintessential summer town, best known for its blazing sun, pristine beaches and vibrant lake life. But when the seasons start to turn and the summer tourists head home, Kelowna doesn't stop. Locals know that fall brings plenty of opportunities for getting outside, keeping active and connecting with the community.  
Cooler temperatures mean more comfortable bike rides along our growing network of active transportation corridors. Colourful leaves mean even more scenic adventures along our many hiking trails and walking paths. And the start of the school year means lots of little feet pattering around our parks, streets, and neighbourhoods.  
With all that activity, it's important to remember to share the path. Whether you're out for a bike ride, walking the kids to school, or taking in the fall sights from your car, we all have responsibilities when it comes to staying safe out on the road. Here's a few tips and reminders for getting around town safely and courteously this fall.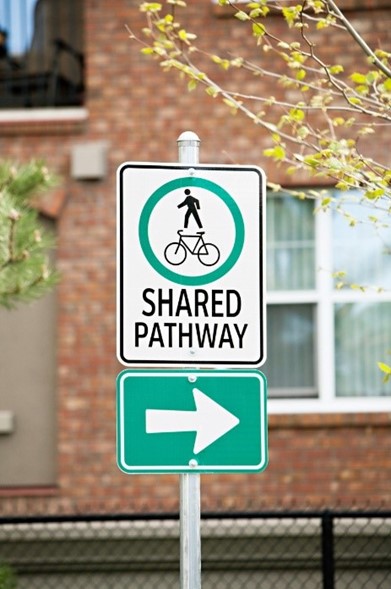 Observe Shared Pathways: When using pathways, trails, or roads, always be mindful of other users. Paths marked as shared-use are for walking, running, and rolling by people of all ages and abilities. Be aware of the rules and etiquette to keep pathways fun and safe for everyone. Observe your surroundings so you can be alert to others who may want to pass. A good rule of thumb is to keep right but pass on the left. It's also important to be predictable to help other path users anticipate your next move: check for oncoming users before changing direction, step aside when stopping, and be sure to wear lights and reflectors at night so others can see you. 
Team Up and Work Together: Whether you're going by bike or by foot, teaming up with others can help keep everyone safe. Walking the little ones to school? Try forming a walking school bus. A walking school bus has a predetermined route to pick up children and drop them off along the way to and from school. A Walking Leader is usually a parent volunteer or multiple volunteers who take different shifts. 
If you are interested in starting a walking school bus in your neighbourhood, we suggest starting with a small informal group. It could be as simple as coordinating shifts with a group of friends and neighbours. The "bus" doesn't have to be every day either, see what works for you and your fellow parent volunteers. 
If cycling is more your speed, consider setting up a bicycle train. A bicycle train is similar to a walking school bus, but cuts down on travel time on longer routes. Bicycle trains are best suited for older elementary school students who have the knowledge and skill set to ride to school confidently.  
Courses are available throughout the community to help you develop your cycling skills. Adaptive bikes and programs designed for people with diverseabilities are also available. Local cycling organizations or your local bike shop may also coordinate group rides for all skill levels. 
Be Prepared and Plan Ahead: Whether you're new to biking or an experienced cyclist, good preparation goes a long way where safety is concerned. Before you hit the road, make sure you plan your route. It can be tricky to navigate on the go, so planning your route in advance is always a good idea. 
Try out one of our Active by Nature routes for your next ride using the interactive map. Google Maps is another great resource for finding cycling routes in your area. Just select the bike icon in the directions tool bar area. If you're eager to get into bike commuting, try testing your new route over the weekend, when you don't have the same time and schedule constraints. This will help you feel more comfortable on the road and get acquainted with turns, stops and potential hazards.  
And though temperatures are often mild into the fall, it's always a good idea to be geared up for inclement conditions, especially when biking. Install front and rear fenders to prevent rain from splashing your clothes. Install a vinyl saddle (seat) to help to prevent the seat from soaking in the rain. Cover your saddle with a bag when parked out in the elements. Keep rain gear stored in your bag or panniers. Make sure rain gear is breathable so you don't overheat. And choose appropriate gloves and footwear to keep you warm in cooler weather.  
However you choose to get out and get active this fall, be sure to keep these tips in mind. With your help, we can keep our paths, roads and trails safe and welcoming for all users. 
Related stories
---