2018 flood preparations
During the 2018 spring freshet season, significant work was done to prepare for the spring snowpack melt that flows into the streams and creeks that run through Kelowna.
We closely monitored all flood factors in consultation with provincial departments, including snow pack levels, temperatures and precipitation forecasts. Freshet flows depend on these factors and dictates the timing of peak flows.
A number of flood prevention measures such as sandbags or bladder dams were proactively placed in specific areas along strategic locations of creeks that run through the city.
The potential for flooding exists every year, and property owners living near creeks, streams, low-lying areas and lakefront are responsible for having a plan and protecting their properties. Subscribe to receive email updates or learn more about local, provincial and federal preparedness resources at www.cordemergency.ca.
Groundwater seeping into basements were reported by residents this year. Sandbags are not useful in these situations. Groundwater is a force of nature that we can't control or predict and have no influence over when it happens on private property.
In some specific cases, the City is working with property owners to do what we can to mitigate the flow of water overland from uphill developments due to still-frozen or saturated ground. When it comes to water flowing overland, the City plays a role in advising and working with property owners to control the release of water overland as well as routing. 
Okanagan Lake peaked on May 29, 2018 at 342.69 m, which is 18 cm above full pool but 57 cm lower than last year's high water mark. Flood protection measures should remain in place until the water recedes to full pool.
Full pool does not mean flooding.The province sets a target of having the lake reach full pool each spring to try and ensure adequate water supply through the summer. The lake level is being closely monitored and managed by the province. Residents can monitor lake levels at wateroffice.ec.gc.ca
Public Works staff have placed protective measures to protect public infrastructure, and residents may see proactive flood protection along beaches and the lakefront, including log booms.
Waterfront property owners are urged to take precautions, including securing their docks and making sure boat anchor lines are long enough so they don't snap if water continues to rise. Residents undertaking repairs to docks and/or retaining walls damaged in last year's flood are required to apply for a permit from the Province (FrontCounter BC; 1-877-855-3222; FrontCounterBC@gov.bc.ca).
Residents and visitors are also asked to leave debris washed up on beaches in place. Logs and other wood help limit erosion caused by wave action. Crews are ready to remove the debris from our beaches as soon as the erosion risk has passed.
City crews will be tending to the Maude Roxby boardwalk repairs in the near future, including decking and railings and some damaged pilings. Work is also planned for parks and public spaces with damaged walkway pavers, picnic tables, signs and wheelchair ramps.
Flood questions & answers
Due to unprecendented flooding in 2017, flood preparedness is of particular concern for residents who experienced last year's flood damage.  In addition, there have been localized water damage caused by groundwater issues.
What is the current situation?
Updated: June 6, 2018
For the most up to date information, visit cordemergency.ca.
A local State of Emergency is in place for the City of Kelowna (as of May 7). This is a proactive approach which allows crews to access specific private properties so that protective measures can be put in place to protect public infrastructure from potential flooding, keeping our community safe.
The Regional Emergency Operations Centre has been activated to support crews in the field responding to the isssues of localized flooding during the 2018 freshet and ramp up mitigation work.
Creeks and streams have stabilized, inlcuding Bellevue, Mill and Mission Creeks. Residents who live along the creeks can begin to safely remove protection measures they had put in place (see how to safely remove sandbags below).
Okanagan Lake peaked on May 29, 2018 at 342.69 m. This is 18 cm above full pool, but 57 cm lower than last year's high water mark. Flood protection measures should remain in place until the water recedes to full pool.
The lake is safe to be enjoyed responsibly, but boaters are asked to practice low-wake activities, watch for debris and submerged logs, and to keep some safety measures in mind.
Where can I get sandbags?
Sand and sandbags are available at locations across the Central Okanagan for residents that are in vulnerable areas or who have previously experienced freshet flooding. Visit cordemergency.ca/map to find sand and sandbag pick up locations. City of Kelowna has sand and sandbags at multiple locations, which can be viewed on the map.

In the event that a homeowner needs to construct a sandbag dike or wall to protect their property, residents are encouraged to review the sandbagging tips and information provided by Emergency Management BC.
How do I safely remove sandbags from my property?
Do take precautions when working around stagnant water as sandbags that have been sitting in water can contain mould.
You should wear N95 respirators, nitrile gloves and rubber boots and thoroughly wash your hands and clothes after handling the bags.
Sandbags should be returned to active sandbag sites or designated drop-off locations, with the sand still in the bags. These sites and locations are indicated on the map at cordemergency.ca.
Under no circumstances should sandbags be emptied into creeks, lakes, wetland, beaches or other watercourses as outlined in the Water Sustainability Act. The impact can destroy fish habitat and affect drinking water supply, infrastructure, flood control, navigation and recreational activities.
While it sounds like it could be a brand of scented cleaner or facial tissue, freshet is the snow melt that typically occurs from April to July, in British Columbia. Freshet can become a problem when winter snow packs melt rapidly, overwhelming stream channels and creating floods.
What is the difference between freshet flooding and groundwater?
The difference is overland flow versus seepage.

Water will overtop stream banks when flows are greater than the stream's capacity to convey the volume of water from rain events and spring snow melt.

Groundwater damage will occur from seepage that occurs below the surface and finds its way through cracks and porous areas of a structure's foundation.

Groundwater can be unpredictable. If property owners have historically experienced wet basements or seepage, they should prepare accordingly. Suggestions include installing a sump pump inside, below floor, or outside the structure, below basement level, at the location of seeping and/or making sure foundation drains (if present) are working.
I live on the lake – what should I do?
Waterfront property owners are urged to take precautions, including securing their docks and making sure boat anchor lines are long enough so they don't snap if water continues to rise.
Property owners are responsible for the protection of their property, docks and marine infrastructure.
Residents undertaking repairs to docks and/or retaining walls damaged in last year's flood are required to apply for a permit from the Province (FrontCounter BC; 1-877-855-3222; FrontCounterBC@gov.bc.ca).
Can I get financial support if my property floods?
The Provincial Government has announced that Disaster Financial Assistance is now available for eligible British Columbians in the Central Interior who may have been impacted by overland flooding or landslides from heavy rains that began on March 22, 2018. For more info, visit gov.bc.ca/disasterfinancialassistance or call 1-888-257-4777 and email dfa@gov.bc.ca.
What do I do if I notice a potential problem or flooding concern?
 To report an emergency, including threat of life, call 9-1-1.
 
Anyone noticing a potential problem or a flooding concern within the City of Kelowna is asked to call the Public Works Yard at 250-469-8600. 
 
Outside the City of Kelowna, please contact your local government public works department.
Where can I get more information?
Visit cordemergency.ca for the most up to date information, and resources on how to be prepared to keep your family and property safe.
Sign up for e-updates on the cordemergency.ca website to have the latest news delivered to your inbox. It's the most direct way for staying informed if there is an emergency.
Record setting rainfall in 2017 combined with snow melt, saturated ground, and high groundwater levels resulted in major flooding in Mill Creek with considerable damage to Bellevue Creek and the Okanagan Lake foreshore. 
City staff and contractors are working through a list of 52 locations in Kelowna that require repairs after last spring's snowpack melt and ensuing flood, at a cost of approximately $10.7 million. About $3 million in works completed or underway so far include the repairs to Upper Vernon Creek and Bellevue Creek dredging.
Creek channel capacity restoration projects continue to be our priority right now, with crews doing erosion remediation and more gravel removal from Bellevue Creek and Mill Creek. Contractors are also removing vegetation in and around Mill Creek, along with dredging to increase the creek's ability to handle higher water flows that occur during spring runoff.
Bellevue Creek originates near Little White Mountain and flows northwest through Okanagan Park which also includes Crawford Falls and Canyon Falls before it reaches the apex of the fan near Woodhaven Regional Park and flows to Okanagan Park near Fuller Road.  The lower reach of the creek is considered by the province to be Rainbow Trout and Kokanee fish habitat although it is not used extensively at this time.  The reach from Woodhaven Regional Park to the mouth at Okanagan Lake has old berms along the tops of the banks in some areas that are legacy items from historical channel clearing by the province and some retaining walls near the lake on private property that were built to contain high flows.
Post-flood conditions
The 2017 flood caused significant channel bank erosion and channel scour within the eastern region of the channel which resulted in deposition in the reach at the mouth of the creek at Okanagan Lake.
Pending Ministry approval, the City intends to repair the erosion and channel scour locations as well as remove the accumulated gravels within approximately 500 metres of Okanagan Lake.  The City will also repair the trail berm and other damages in Cascia Drive Park.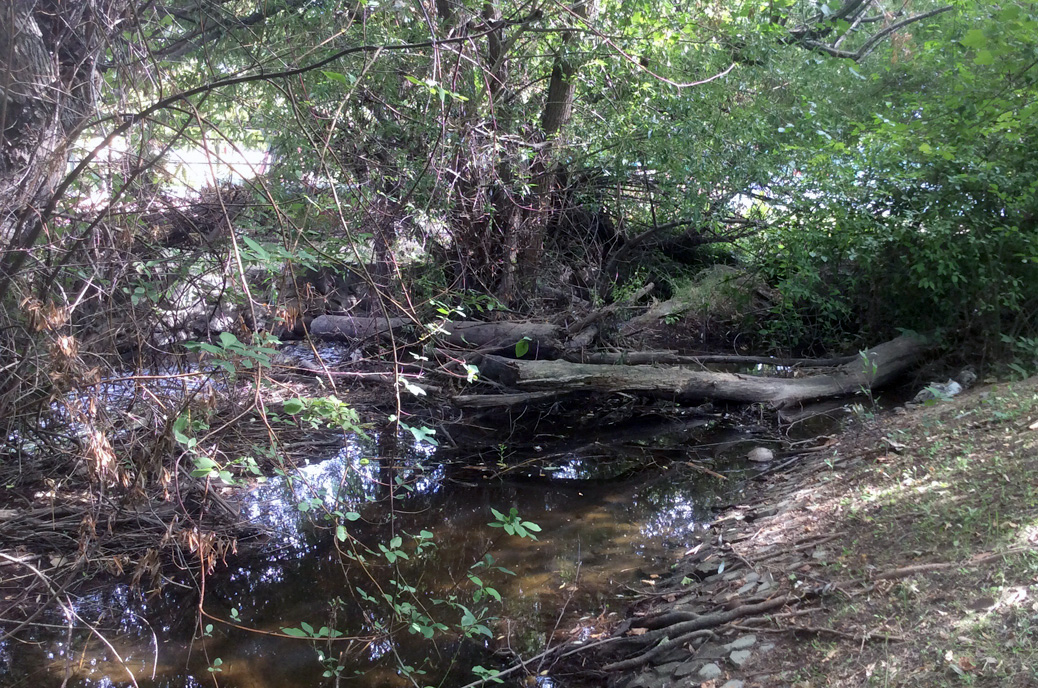 Mill Creek originates in the hills northeast of the city and flows southwest through the city entering Okanagan Lake near the W.R. Bennett Bridge.  After the creek crosses under Harvey Avenue near Burtch Road, it is constricted by urban development all the way to Okanagan Lake. These restrictions to the creek channel are an ongoing concern to the City and the Province since there is limited capacity to safely pass high flows during flood events.  
In response to these concerns, the City and the Province constructed the Mill Creek diversion structure in the 1980s that can divert  high flows for lower Mill Creek.
Post-flood conditions
Since the diversion works were completed in the 1980s the channel downstream of the diversion has become progressively obstructed by vegetation.  Some is brush that has grown into the channel, and some is large deciduous trees (e.g., willows) that have also grown in the channel and across the channel.  All this overgrown vegetation has progressively restricted the flow such that in 2017 the channel was not capable of diverting the flow levels it was designed for and certainly cannot pass the bankfull flow recommended in the Ministry of Environment report. As a result of the obstructed flows, there was severe and costly flooding within the city during the 2017 high flows.
Damage to city infrastructure due to the 2017 flood was identified at Spencer Road, where it crosses Mill Creek. The flood damaged the three corrugated metal culverts and caused aggradation within the channel upstream of the crossingand resulted in overbank flows which caused extensive residential flooding.
Pending Ministry approval for the work, the City plans to repair the damaged culverts and remove accumulated gravels prior to the 2018 freshet.  A longer range plan is to replace the existing culverts with a larger open bottom arch culvert (or equivalent).  This project is in the planning and design phase.  Pending funding and Ministry approval the works could be constructed in 2019.
The City's assessment also determined that the creek channel from Okanagan Lake upstream to Ethel Street has diminished capacity due to sedimentation.  It is likely that this sedimentation is related to the flood event in May 2017.  Vegetation, trees, and brush have encroached into the channel reducing the flow capacity to near zero in some locations.  In addition, there are constructed obstructions (e.g., private fences) that collect debris and reduce flow capacity which contributes to the potential for flooding.
Pending Ministry approval for the work, the City will begin removing the accumulated sediment and offending trees and vegetation in the channel to restore channel bankfull design capacity.  Due to the restricted access and complexity of the work involved, this project may take upwards of two years to complete the approximately 14 kilometres of channel.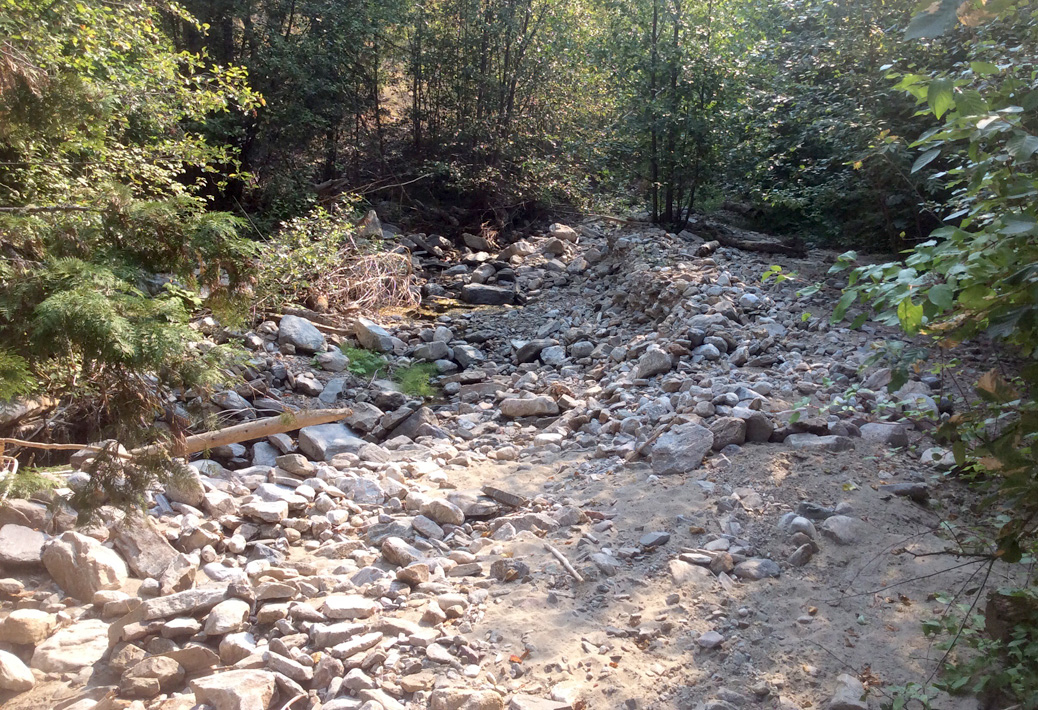 Priest Creek Linear Park consists of a walking path and three wooden bridges to allow for pedestrians, cyclists, and equestrians access into the Myra Bellevue Provincial Park.  This park provides a unique riparian experience as the walking path meandered alongside and over the creek.  At the south end of the park, Priest Creek is confined by a steep valley that was burned during the 2003 Okanagan Mountain Park fire.  The northern portion of the park is undisturbed natural forest and the valley floor expands onto a fan; historic channels are evident.  The walking path was surfaced with crushed gravel on the fan and left as a natural dirt path at the south end of the park where the path climbs away from the creek on the east side of the channel.  Currently the park remains closed as it is not safe for public use.
Post-flood conditions
The 2017 flood caused significant channel erosion and scour as well as several channel avulsions within the park that isolated two walking bridges and damaging the walking path in several locations.  
Due to an upstream channel avulsion, the creek formed a new channel west of the original channel which was diverted by a deflection berm back into the main stem near the north end of the park.  The walking path crosses the new channel after passing over the deflection berm.
At two of the bridges, bed material filled in the original channel causing channel avulsions. The new channel has scoured to a greater depth than the original channel making it both difficult and expensive to try to restore the flow to the original channel.  Since this is a small natural park area, it is recommended that the flow be maintained in the new channel and the path be extended to cross the new channel using fords rather than bridges. 
As a result of the extent of disturbance in the channel through the park it is expected that the flows will remain high in the future during spring freshets.  For this reason, ford crossings are recommended rather than installing new bridges since a ford can be easily restored after a spring freshet if necessary.  If fords are used it may be necessary to close the park during the spring freshet when it would be unsafe to cross the flowing stream.  This approach is commonly used elsewhere where walking paths may be flooded during high flows.
Pending Ministry approval, the City plans to restore sections of the walking path by removing gravel and debris from the path, constructing stream ford crossings, and repairing one bridge.