Transportation Master Plan
Our Kelowna as we Move
The Transportation Master Plan is a long-range plan that will identify strategic, prioritized investments needed over the next 20 years to create a safe, cost-effective and sustainable transportation network. 
The planning process will include an assessment of the existing transportation system, including roadway, cycling, pedestrian and transit networks. It will consider existing travel patterns and behaviour, future travel conditions, estimates for changing technologies and the Official Community Plan's future land use assumptions. The plan will also include the development of an implementation approach and evaluation tools.
The long-term vision will be created through a combination of public engagement, research and analysis.
Facts in Focus
Learn about key transportation topics that emerged through the first phase of engagement by reading through the Facts in Focus discussion papers and interactive summaries.
Have your say
Stay tuned for upcoming engagement opportunities for this plan by subscribing for email updates. 
Public Engagement Phase 1: Vision and Goals
We reviewed public input received during the first phase of engagement. 
Residents provided input online and in person on the draft vision and goals for Kelowna's Transportation Master Plan, which will guide strategic transportation investments the City will make over the next 20 years.
An online survey was open from March 26 to April 15 and staff was available to discuss the plan and answer questions at two open house events on April 5 and 7. 
Timeline
The plan, strategies and implementation approach are expected to be delivered in 2019.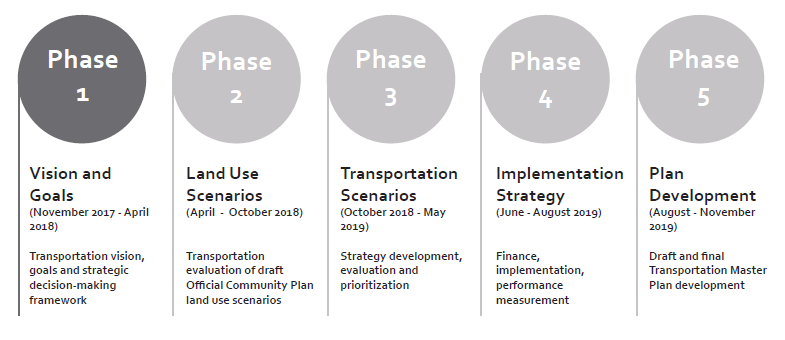 Background
The timing of the plan responds to a pressing need, as the previous transportation master plan was completed in 1995 and is now outdated.
This timing also presents a strategic opportunity as it allows for coordination with both the Official Community Plan (OCP) and the region's first Regional Strategic Transportation Plan. Transportation strategies and greenhouse gas considerations included in the Climate Action Plan update can also be included in the transportation plan.
Resources
Learn more about transportation in our city by reading the Facts in Focus paper and viewing the interactive online summary.