We produce a number of publications to help keep residents informed, including the Annual Report, City Views (accompanying tax notices), Community Trends Report and the Year in review. Check them out below.
Annual Report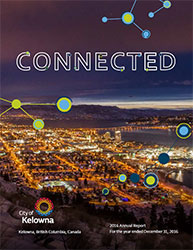 The 2016 Annual Report: Connected, showcasing City services, programs, projects, accomplishments and finances, was received by City Council along with the Statement of Financial Information Report on June 26. 
For a more multi-media experience, check out each of the six short section videos (also featured in the report):
If you are unable to access the report online, please contact us at 250-469-8542 to request a printed copy.
Want to know when the next Annual Report is available to view online? 
Sign up for Annual Report e-updates
2017 Financial Health Indicators
The Financial Health Indicators for 2017 were presented to the Audit Committee on April 23, 2018.
Previous Reports*
*these documents contain dated information and are for historical reference only.
City Views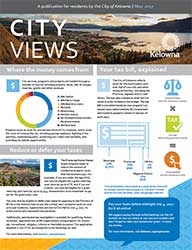 Our print newsletter is published each May and distributed to residents with  property tax notices . It discusses where City funding comes from, how tax dollars are spent, City projects and services. View the current May 2017 newsletter. 
Previous newsletters
City Views e-bulletin
An online edition, the City Views e-bulletin, is published seasonally.
Sign up for City Views e-updates
Community Trends Report
The Community Trends Report examines the current trends from four key areas: our people, our homes, our economy and our environment.  Examining demographic and social data, the trends depicted in this report illustrate Kelowna's successes, as well as existing and future challenges facing the city.  By monitoring these trends, the we will be well positioned in future years to proactively address emerging issues and dedicate its human, financial and technological resources to key programs, policy initiatives and services. 
Highlights/year in review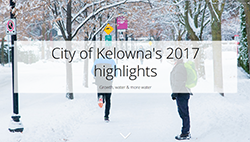 Each year, the we reflect on the year past. This high-level overview provides a glance into City services and projects, and how they are meeting the needs of our growing community.
Our accomplishments in 2015 contributed to building the best mid-sized city in North America by growing technological capacity, expanding active living options for residents and increasing access to the natural beauty that Kelowna is famous for.