Honouring lived experience benefits us all
Topics
---
By kelowna_webmaster | Oct 1, 2020
Many stigmas are applied to people who experience homelessness, mental health challenges or addiction. The labels are typically de-humanizing stereotypes, blind to the individual and the proven potential they have to contribute to social change. 
The City of Kelowna, PEOPLE Employment Services (Paid Employment Opportunities for People with Lived Experience), Urban Matters and the Central Okanagan Journey Home Society are working to bring these so often unheard voices to the table in a meaningful way. This summer, the City of Kelowna and Urban Matters were awarded a three-year grant from Health Canada to establish a peer navigator program.
Through this program, PEOPLE Employment Services  provides training and employment for individuals with lived experience to become peer navigators. PEOPLE is a social enterprise  created to carry out the vision of the Lived Experience Circle on Homelessness (LECoH) that helped shape the Journey Home Strategy.  LECoH's goal is to improve the experience of accessing services, whereby a peer navigator with personal knowledge of what it is like to try to access services, would be the first person to meet and support someone needing to access local services.
The first cohort of 30 participants completed learning modules related to communications, conflict resolution, Indigenous histories, financial literacy and harm reduction practices. The participants are now moving into paid employment opportunities that are supporting inclusion, including peer navigation, community beautification, community ambassador roles, communications, and more.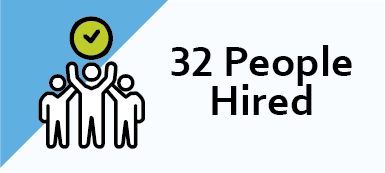 "Peer navigators are engaged in meaningful work that benefits from their individual abilities and interests and have a significant impact," said Dhorea Ramanula, Executive Director of PEOPLE. "Peer navigators listen and respond in a way that makes people feel comfortable. It makes a difference when you see someone who has had experiences you are having. It uplifts people to be met where they are, with no stigma. And in return, the peer navigators gain self-confidence and personal satisfaction in having a positive role to play."
Ramanula shares the story of a couple who were sheltering outside. She reached out to them, inviting them to take part in the peer navigator program. They both completed the month-long training, never missing a day. By the end of the training, they were fully engaged in finding ways to help others. Through the process, they also gained a sense of community, unity and connection that was lacking.
"It's one thing for me to stand up and say this is the impact of homelessness on someone's life, but it is more powerful hearing from someone with lived experience," said Sue Wheeler, Social Development Manager for the City of Kelowna. "I have witnessed audiences so engaged you can hear a pin drop when a courageous LECoH member shares their story with the goal of breaking down the myths that fuel stigma."
"One example was at a community meeting on a new housing with supports project, when an individual with lived experience shared their story to describe the transformation that happens when someone has a home and how it changes their life," said Wheeler. "It's remarkable seeing the audience's response and the shift in thinking as they listen to the stories. Some community members have told me that after they've heard people talking about myths associated with homelessness, they then correct the myths and share their new understanding with others. This is so powerful and so important. It's the broad change that is needed if we as a community want to ensure homelessness is a rare, brief, and non-reoccurring circumstance."
Pivotal shifts
Ramanula explained how small shifts in understanding can benefit the wider community. When COVID-19 first hit in the spring, many community facilities closed – including public washrooms. Knowing this lack of access to a basic necessity was particularly hard on people experiencing homelessness, Ramanula and LECoH pushed to have the washrooms re-opened by highlighting the needs of those sheltering outside because shelter spaces were reduced due to COVID-19 protocols. The City of Kelowna listened and responded.
The City opened some public washrooms in the downtown core and built a new one near the Queensway transit station. PEOPLE provided attendants for the facility to ensure safety and cleanliness of the space for all users. Since the Queensway washroom opened, Ramanula and Wheeler say peer navigators have engaged with a wide range of individuals who use the facilities. The washroom has created a point of connection with the peer navigators who monitor the facilities and interact with people who use them.
"When the Queensway washroom opened, the peer navigators were the first people on the ground, welcoming individuals experiencing homelessness," said Wheeler. "They were instrumental in keeping people safe from overdose by connecting them with resources and treatment, without judgment. Having lived through experiences themselves, peer navigators know how people are feeling, what barriers they are facing and how to work through them. It showed us the impact of the peer navigator program."
Compassion first
Ramanula says the social issues Kelowna faces are not unique to the city – they are challenging cities across Canada. While these issues have grown over the last five years, she says there are lessons to be learned. 
"I believe we have lost connectivity, communications, community and the ability to care for our fellow human beings," Ramanula said. "How do we reach people and listen, finding out their immediate and medium-term needs? I want to include everyone – no matter where they are on their journey – honouring where they are today, not where I wish they would be, or where society wants them to be."
"Let's intervene and save someone's life prior to them having a mental health breakdown or engaging in activities that are survival-based, but could be counterproductive or harmful to the individual. The investment we put out on the front end is repaid many times over."
New path forward
As the City continues its work with those who have lived experience, Wheeler says it does so in keeping with four principles LECoH formulated from its consultations to guide effective and responsive approaches – safety, choice, healing and sense of community.  Wheeler supports the vision is for individuals with lived experience to have a seat at decision making tables as voting members and educators – to be recognized as equals, who have a voice that needs to be heard.
Ramanula shares a similar vision, adding her hope is not only that these individuals are invited to sit at tables to be part of systematic change, but that no one is shocked to see them there. She also believes having a peer navigator or person with lived experience working inside every community support agency would lead to tangible community benefits.
The community is not quite there yet, but a growing number of people and organizations in Kelowna are devoted to progressing from stereotypical stigmatization to genuine engagement and connection that is literally life-changing for our most vulnerable residents.
To learn more about the peer navigator program visit peopleemploymentservices.com. 
Related stories
---