City profile
Kelowna is part of the Regional District of Central Okanagan which also includes Peachland, Lake Country, West Kelowna and unincorporated communities on both sides of Okanagan Lake. Kelowna is the largest community in the Regional District with a population of 133,800.
Recent outcomes of the Citizen Survey rate the quality of life in Kelowna as good or very good thanks to how safe the City is, its accessible location, the active/recreational and job opportunities available and the great weather. As a desirable place to live, offering an active four-season lifestyle, Kelowna remains one of Canada's fastest growing cities.
Kelowna is open to opportunities, open for business and open to new ideas from diverse residents.
Kelowna population and demographic statistics
Detailed population and demographic information can be found in the 2016 census data for Kelowna. You can find additional information through BC Stats.
Each year, the Community Trends Report focuses on a different theme, while also providing the community with a resource for basic statistical and demographic data that can be used as the foundation for organizational and program planning and development, policy analysis and community development.
Further information about how Kelowna is trending on goals established in the Official Community Plan can be found in the Official Community Plan Indicators Report.
The Provincial Health Authority publishes a Community Health Profile for the Kelowna to provide data that facilitates dialogue about community health. The profile features data on demographics, factors that affect health and health status, and compares them to provincial averages.  

Visiting Kelowna and the Okanagan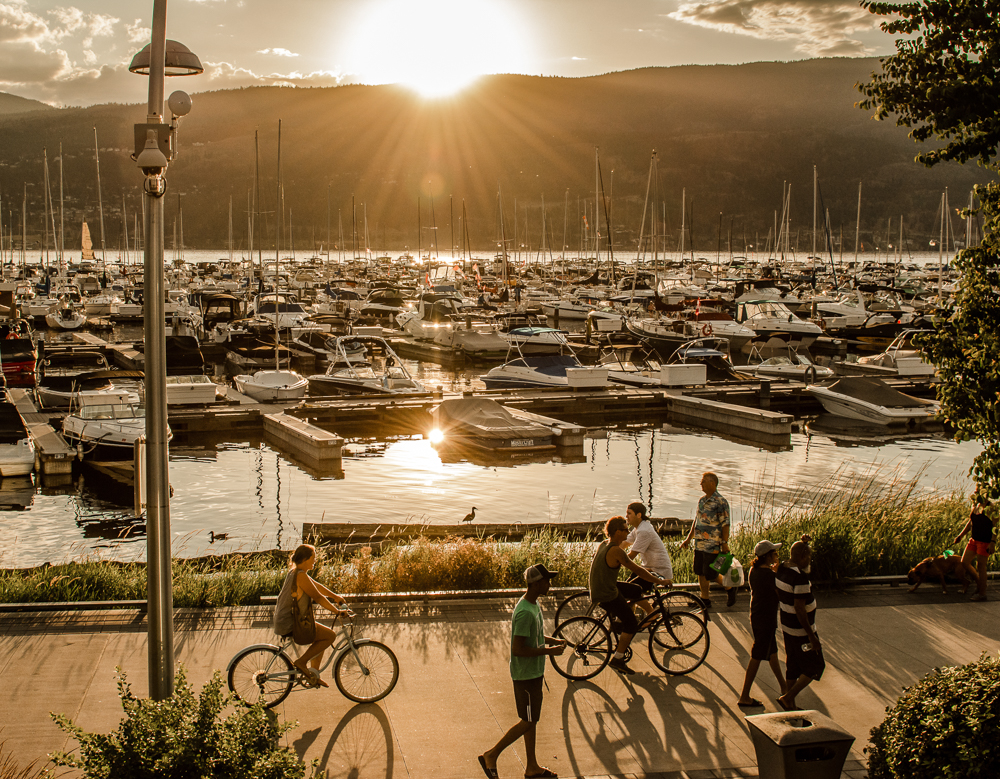 Kelowna is located along the beautiful shores of Okanagan Lake, in the heart of the stunning Okanagan Valley. The lake offers opportunities for boating, swimming or fishing, while nearby mountains attract hikers, skiers and outdoor enthusiasts. Golfers tee-it-up at our 14 courses, and bustling urban centres offer restaurants with delectable food, award-winning wines, craft beers and ciders, local shopping, museums, live entertainment and cultural festivals.
Our partners in tourism and economic development provide resources to enjoy the best our city and region have to offer:
Quick facts about Kelowna
Kelowna is home to more than 133,800 people
The Central Okanagan Regional District has a population of 198,344
Kelowna encompasses 214 km2 of land and 48 km2 of water area
Kelowna is 344 metres (1,129 feet) above sea level
Okanagan Lake is 110 km long
The average daytime high during July and August is 27.4 C
The average daytime high during December and January is -0.3 C; the average low is -7.7 C
Kelowna receives over 2,000 hours of sunshine annually and 28 cm of rain
Total annual precipitation is 366.4 mm. (280.7 mm. of rain and 105.5 cm of snow)
Serving over two million passengers annually and offering more than 70 daily non-stop commercial flights with 10 airline partners, Kelowna International Airport (YLW) is one of the top 10 busiest airports in Canada. YLW's total economic impact is 4,545 jobs and $789 million in total economic output to the province of British Columbia.
Kelowna General Hospital  is the largest and most comprehensive in the southern interior of B.C. with a full treatment cancer clinic
Kelowna is home to several local theatre groups, a symphony orchestra, museums and numerous art galleries
UBC Okanagan  opened in September 2005 
Okanagan College  offers university and transfer programs, as well as a wide range of adult education and trades courses
More than 23,000 post-secondary students are enrolled at the UBC Okanagan and Okanagan College Kelowna campuses combined
The technology sector has a $1.6 billion economic impact in the region
The Okanagan Sunflower is the official floral emblem of Kelowna. Also known as the Arrowleaf Balsamroot, the indigenous flowering plant is found only in the Okanagan area of B.C. and the Okanogan region of the state of Washington