Anita Tozer Memorial Award - bestowed by Mayor & Council
Anita Tozer was best known as a humanitarian devoted to the welfare of others.  She dedicated the last third of her life to volunteering, most notably with the United Way of the Central & South Okanagan/Similkameen.  She served the United Way in almost every position over a period of 25 years.  Anita Tozer was a recipient of the Sarah Donalda Treadgold Memorial Award in 1991.
Anita Tozer passed away on July 10, 2000 at the age of 72. 
Award Criteria
The Anita Tozer Memorial Award is awarded to an individual or group in recognition of an extraordinary and positive contribution to the quality of life in Kelowna.
This award is not open to the public for nominating, as each year it is selected and presented by Mayor and Council.
2016 Anita Tozer Memorial Award Recipient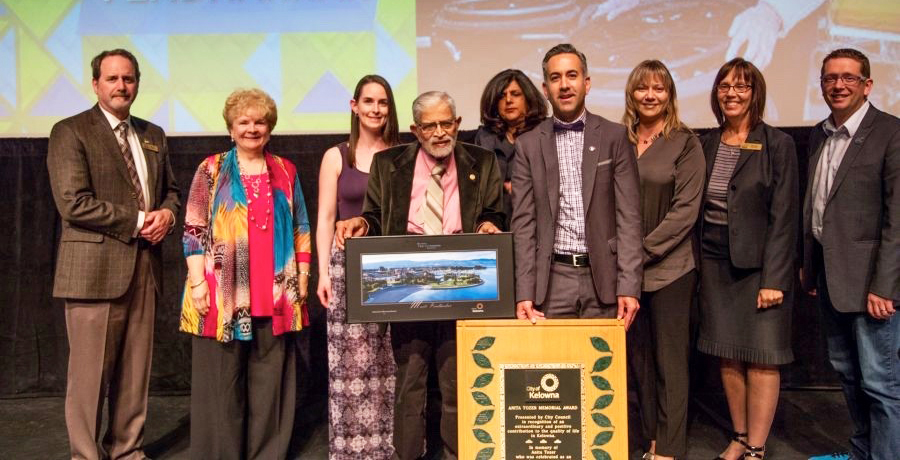 Murli Pendharker
When it comes to investing in our future, what better way to do it than through our children. Working in schools in India, China and Saskatchewan before being appointed as District Superintendent of Schools by the BC Ministry of Education in 1975, Murli Pendharker taught primarily mathematics to grade 10, 11 and 12 students and while he also had stints as Principal, teaching was what he preferred.
After three years of trouble shooting for the Ministry, Murli became the Superintendent of School District 23 until he retired in 1986. But clearly he wasn't destined to sit still as the Liberal Party of Canada approached him and he became the LPC candidate for the 1988 and 2002 Federal elections.
Considered a "compulsive" volunteer, Murli has worked with the Society for Community Living, RCMP Victim Services, for the Red Cross where he was president of the Thompson Okanagan Region Board, and as a school Trustee for nine years. But where most of his hours were volunteered has been with Rotary. As Chair of International Services, he sponsored or helped sponsor numerous community and school projects in Asia and Africa. Over the years he's been presented the Outstanding Rotarian of the Year, District Rotarian of the Year and the Service Above Self awards made by Rotary International.
Past Recipients of the Award
2015 - Sharon Shepherd
2014 - Arion Therapeutic Farm
2013 - Gospel Mission Dental Clinic
2012 - Tim Schroeder
2011 - Dr. Barry Urness
2010 - Beryl Itani
2009 - Herb Sullivan
2008 - Reverend Albert Baldeo
2007 - Clarence Johnson
2006 - Fernbrae Manor & Quigley Elementary
2005 - Gordon Hartley
2004 - Mastercard Memorial Cup 2004 Society
2003 - Emergency Operations Group
2002 - Mike Roberts
2001 - Tom Rothery
2000 - United Way of the Central & South Okanagan/Similkameen