Civic Precinct Plan
About the Civic Precinct Plan
The Civic Precinct Plan will guide long-term redevelopment of key sites in the Civic Precinct area and determines public investment priorities for downtown. The Plan was endorsed by Council in March 2016.
The Plan will help this area of Downtown continue to grow into a destination to live, work, shop, learn and play. It identifies key sites for future mixed-use development (e.g. old RCMP site on Doyle Avenue, Interior Health site on Ellis Street) and protects sites (e.g. Kelowna Community Theatre, City Hall Parking Lot, Memorial) for future civic uses to support a dynamic Cultural District.
The Plan establishes the City's goals for the redevelopment of sites such as the old RCMP site on Doyle Avenue by defining future land uses, design guidelines, public space enhancements and partnership opportunities that will position the study area to become a vibrant mixed-use district over the next 25 years.
Community engagement process
From April 2015 to March 2016, a broad cross-section of the community participated through face-to-face meetings, community workshops, drop-in sessions and online tools to share their values and shape the final plan.  
Next steps
The next step for implementation of the Plan will be the redevelopment of the old RCMP site on Doyle Avenue and the extension of the Artwalk as a signature public space in the area.
350 Doyle Avenue long-term land lease (former RCMP site)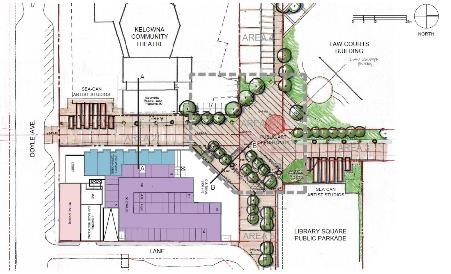 A 0.87 acre portion of 350 Doyle Avenue is identified in the Civic Precinct Plan for future residential development (maximum 13-storeys) in order to achieve objectives established in the plan:
Housing options for people living in the Cultural District
Extension of the Artwalk through to Doyle Avenue
Provision of community space
Land lease & development process
As part of a $7 million lease agreement, RISE Commercial Developments has been selected to lease a portion of the property located at 350 Doyle Avenue, for a 13-storey mixed-use development.

The development project includes a $4.3 million investment in public space contributing key elements of the Civic Precinct Plan. In
addition to providing more housing options downtown, the project will see:
Construction of the Artwalk connection to Doyle Avenue
Development of a new civic plaza
Provision of a 6,000 square foot community space
Animation (commercial or residential) of active frontages
| | |
| --- | --- |
| Tenure type | Lease |
| Tenure term | 99 years |
| List price | $7 million |
| Site size | 0.87 acres |
| Future land use | C7 Zoning |
Future Kelowna Community Theatre site
Upon subdivision of the 0.87 acre parcel and construction of the Artwalk extension, an approximately 1.5 acre site will remain upon which the current Kelowna Community Theatre sits. Staff have thoroughly examined future land requirements for redevelopment of the Kelowna Community Theatre and can confirm that the remaining property (on which the current theatre sits) is sufficient to meet future theatre needs, including potential expansion to 1,200 seats.
Staff anticipate the following timeline for the redevelopment of the 0.87 acre property.
Summer/Fall 2020: Completion of property transfer via long term land lease

Fall/Winter 2020: Development application process

2021: Commencement of construction of development

2022/2023: Completion of development and Artwalk extension