Infill housing
Building better for today and tomorrow
Kelowna is one of Canada's fastest growing cities and is being shaped by factors including shifting demographics, highly unaffordable housing, limited space left to build on, and a changing climate – because of this, space needs to be managed much differently than it was in the past.
When it comes to managing space, less isn't always more.
Kelowna has lots of lots with just one aging home and empty space that could be used differently – like a swimming pool, restaurant or stadium that is far under capacity, these large lots could accommodate more people than they do now.
Expanding infill development makes sense because:
It ensures there are housing options that meet the diverse needs of community members who live and work in Kelowna
Housing options in low density areas are currently limited and the cost of ownership is out of reach for most residents
It reduces impacts of supply constraints on the housing system by adding growth where it makes the most sense
Infill development is far more financially and environmentally sustainable than suburban development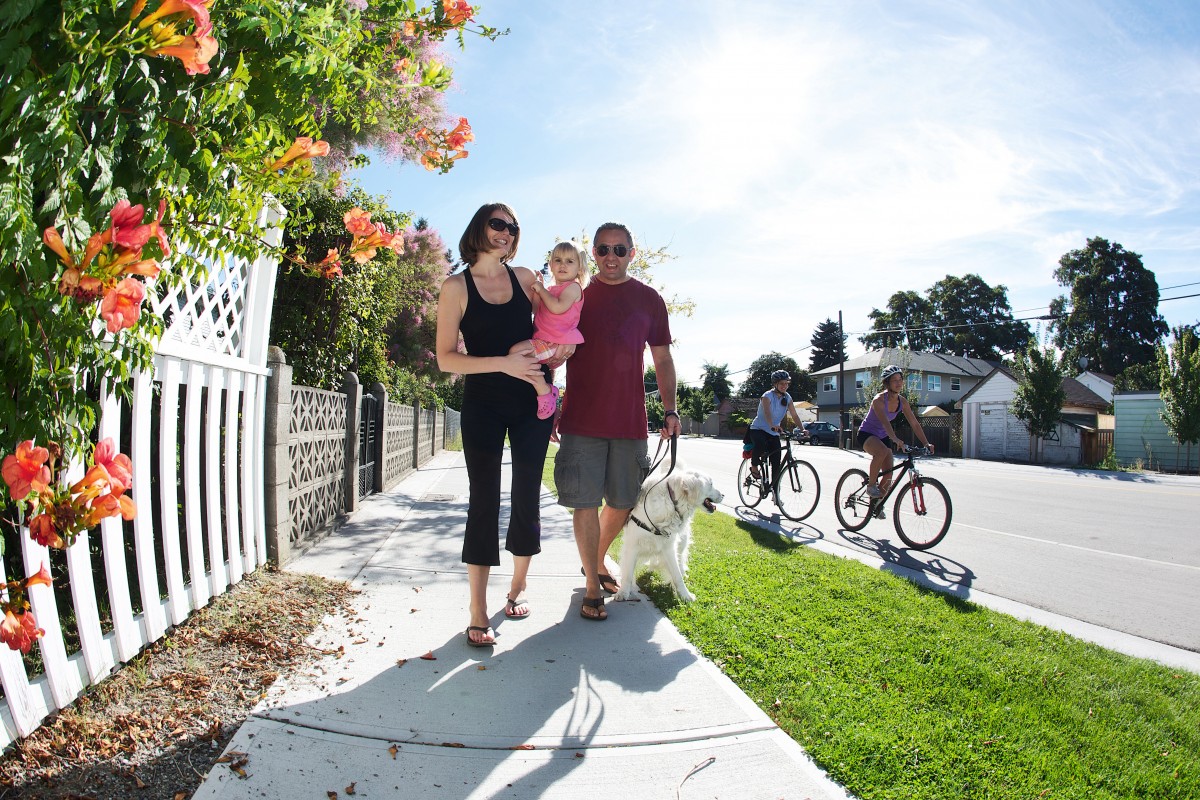 City's Approach to Growth
Most of the land in Kelowna is currently dominated by low-density housing – with relatively few homes spread out over a large area.  In fact, 90 per cent of residential lots outside of urban centres do not currently allow more housing to be built. If existing neighbourhoods continue to be off limits to new types of housing, people will be shut out of the community and the City will be unable to address our housing challenges  – unaffordability will persist, supply will be limited, and cost of servicing will  rise, all of which affects the social and economic wellbeing of our community. So when it comes to accommodating growth in these areas, less isn't more.
Historically, zoning has been the biggest barrier to building much-needed supply. This is why the City is working to expand permissions, unlock land for building infill, and streamline development processes to create more homes – in more areas – more quickly than today.
Kelowna is growing fast and becoming more diverse. Diverse housing options are needed to support our growing community.
Increasing the supply of housing is required to support anticipated growth of 50,000 residents by 2040 and infill housing is a significant piece of City's overall growth strategy and supports many of the housing goals established in the 2040 Official Community Plan.
Adding a mix of new homes in already established neighbourhoods – with infill housing –  is a key part of the solution to Kelowna's current and future housing needs. The City's approach to infill is consistent with residents' preferences for growth – through the multi-year OCP engagement, residents consistently indicated preferences to prioritize growth in existing areas and curb sprawl.
The City also can't afford to keep building outwards –  which is why it's important to put existing neighbourhoods to further use in order to create more much-needed homes for people in a sustainable way. Infill helps us keep servicing costs and taxes lower, and helps protect our natural environment.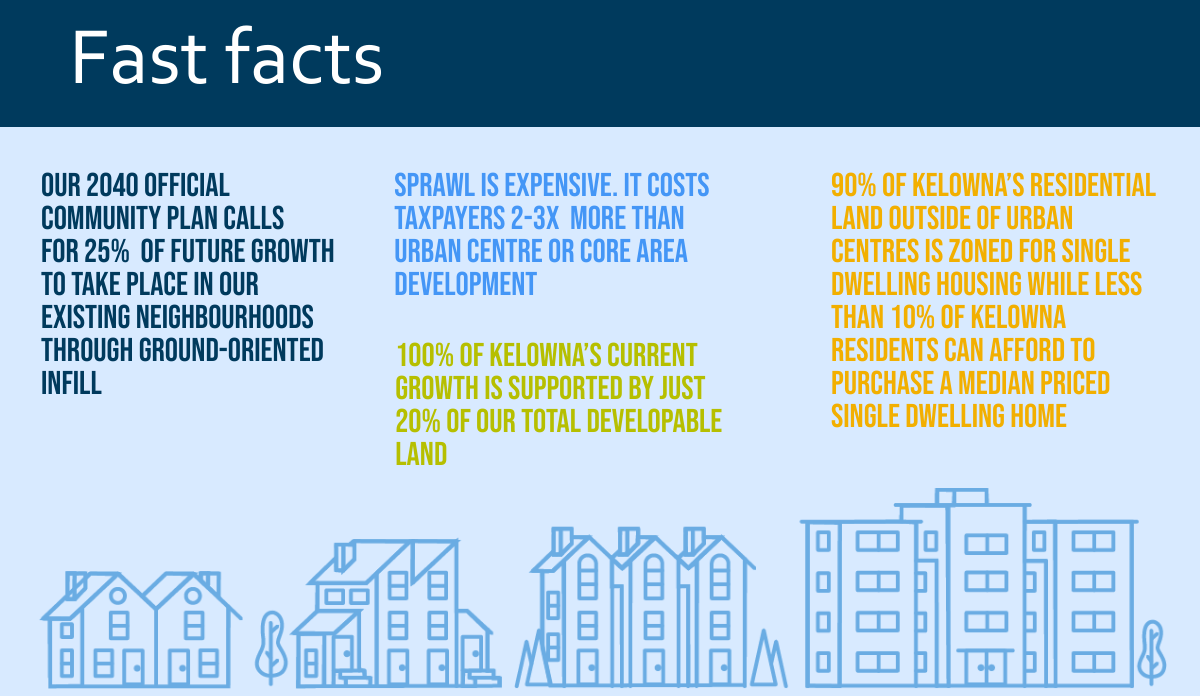 Infill is sometimes referred to as 'missing middle' due to the fact that housing development has been dominated mostly by low density (single-detached homes) or high-density (high-rise) apartment buildings. The types of housing that fall in between these – medium density housing such as multiplexes and townhouses – are considered 'missing' because until recently they were rarely built in North American cities.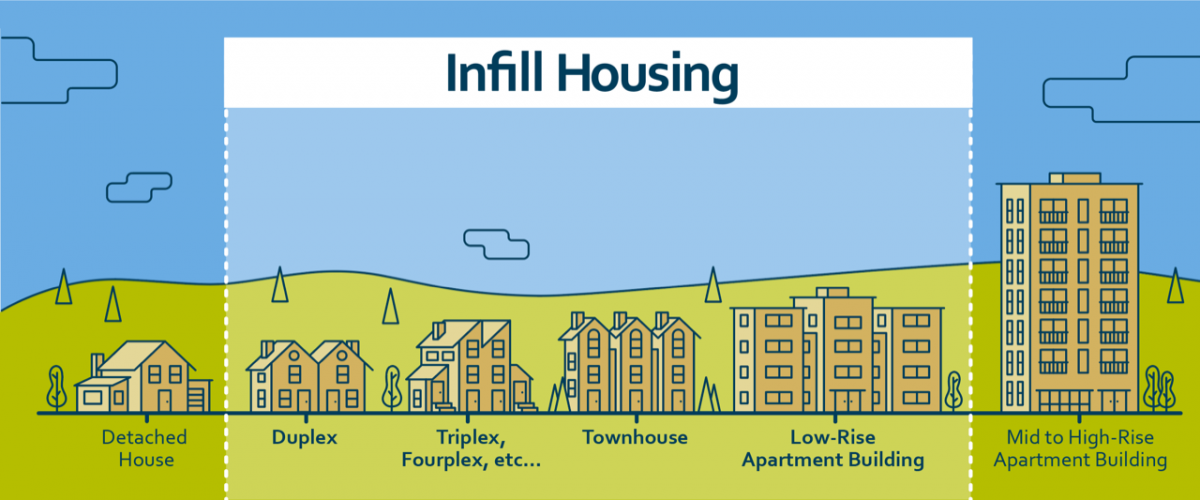 What is the Infill Options project?
The Infill Options project aims to allow more types of infill throughout Kelowna in response to the pressing need for more supply of housing as well as the need for more diverse housing types. The Infill Options project focuses on expanding permissions for "ground-oriented infill" (such as a duplexes, triplex, fourplex, or townhouses) across Kelowna's Core Area neighbourhoods. In these buildings, each unit has a door at grade, and there are no common hallways, entrances, or elevators. This type of housing usually uses the existing lot and street patterns established in the past
This project does not include apartment buildings.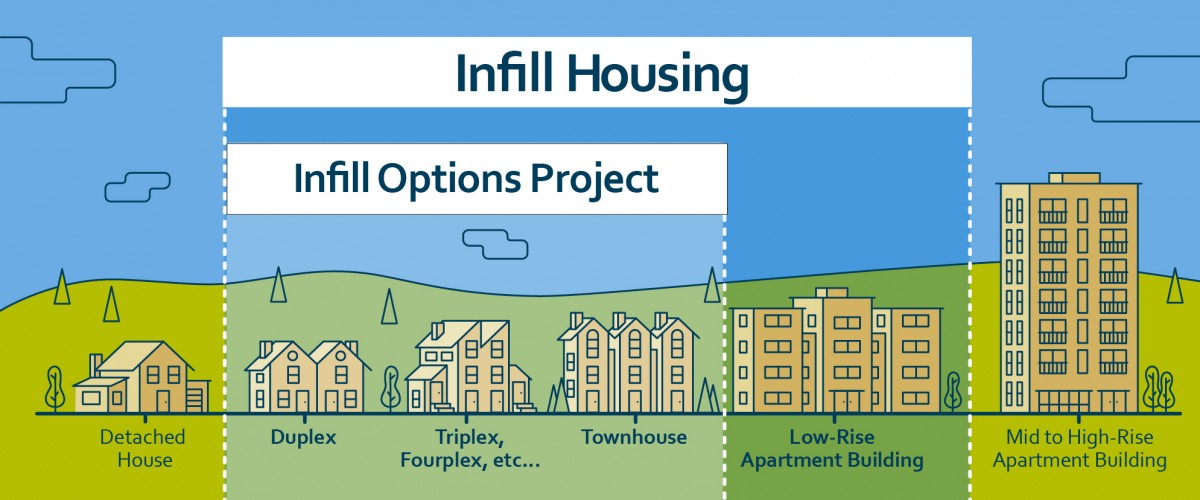 Efficiently using City infrastructure by adding new housing to central neighbourhoods is vital to the long-term health of the community, but only if done right. The City is working to ensure that infill housing is high-quality and designed to complement surrounding neighbourhoods. 
Managing space responsibly
Infill costs taxpayers less than suburban development. It's 2-3 times more expensive to service sprawling development at the edge of the city compared to urban centres and core area neighbourhoods.  Focusing new housing units in established areas that already have infrastructure - such as roads, schools, and parks - makes for vibrant neighbourhoods with a high quality of life, more attainable housing options, and easier access to public transit, amenities and daily services.

Housing diversity & affordability
Infill housing is less expensive than single-detached homes of the same age.  With the average price of a single-detached home in Kelowna exceeding $1 million, single-detached homes alone won't meet everyone's needs – and neither will high-rise apartments. This is why the City is encouraging more options by making it easier to build ground-oriented options in the middle. For example, in Kelowna the average townhouse price is 30% lower than the average single-detached home.
Infill can improve affordability and housing diversity and is essential for creating a more inclusive community.  Infill creates more housing options for people at all stages of life and income levels.
Infill on its own won't solve affordability – it's just one piece of the puzzle – but it can help ensure unaffordability doesn't get even worse over time.
The most effective action Kelowna can take to protect the natural environment and tackle climate change is to build a more compact city. Focusing growth in areas where homes, jobs, and amenities are all easily accessible allows for more land to be left in a natural state and reduces greenhouse gas (GHG). Infill supports more compact, complete communities that :
allow more options to get around without a car and/or shorten trips made by car: in Kelowna, residents collectively drive to the moon and back twice every weekday, own more vehicles per person than any other city in Canada, use an estimated 340,000 parking spaces to store them.
help limit sprawl and protect the natural environment from the pressures of development: since 1800, 92% of riparian areas, 77% of broadleaf woodlands and 73% of grasslands have been lost to development
lower the community's carbon footprint and increase energy-efficiency: together, buildings and transportation make up 93% of Kelowna's GHG emissions