Energy Step Code
SUBSCRIBE FOR UPDATES ON ENERGY STEP CODE IN THE OKANAGAN
*Highlights*
Effective August 3, 2022 the City of Kelowna requires Energy Advisors to use Heating Degree Days (HDD) equal to 3400 in the BC Energy Step Code BC Compliance Report Calculator and Report Generator.  This applies to all new building permit submissions.
For a limited time, the City is offering a $325 building permit rebate for Part 9 buildings (maximum 3 per builder) for those builders who complete a mid-construction airtightness test.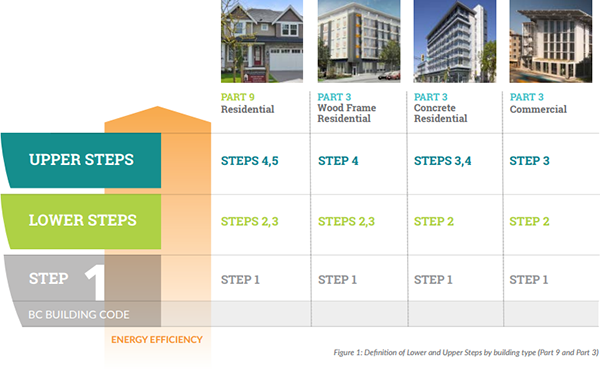 The Energy Step Code is a provincial policy that aims to create healthier, more efficient and more comfortable buildings. The Energy Step Code marks an end to the prescriptive approach to achieving energy efficiency in newly constructed buildings. Instead, a building's performance must be proven through whole building energy modeling and on-site airtightness testing. Modeling and testing validates how the design and constructed building meet performance targets associated with each "step." 
Energy Step Code requires builders to use an Energy Advisor or Modeler to review plans, model energy consumption, conduct airtightness testing (i.e. a blower door test), and to verify the building complies with the energy performance of a given step.