Energy Step Code
SUBSCRIBE FOR UPDATES ON ENERGY STEP CODE IN THE OKANAGAN
*UPDATE* Effective June 1, 2021 builders will be required to at minimum achieve the following steps:
Part 9 Residential Buildings
Building permit application filed between Dec. 1, 2019 and May 31, 2021 -  Step 1
Building permit application filed on or after June 1, 2021 - Step 3
For a limited time, the City is offering a $325 building permit rebate (maximum 3 per builder) for those builders who complete a mid-construction airtightness test to help with the transition to Step 3.  This test allows builders to correct any air barrier deficiencies before final construction. Check out the "Rebates for New Construction" section to learn about other exciting offers from FortisBC when you build to Step 3 and beyond. 
Part 3 Buildings
Phase 1 - June 1, 2021: New development and rezoning applications for Part 3 buildings must indicate their proposed design is able to meet the requirements of the Step that is in place at the time of their building permit application in Phase 2.
Phase 2 - January 1, 2022: Part 3 building permit applications will need to demonstrate compliance with the Energy Step Code requirements as outlined in the Implementation Strategy.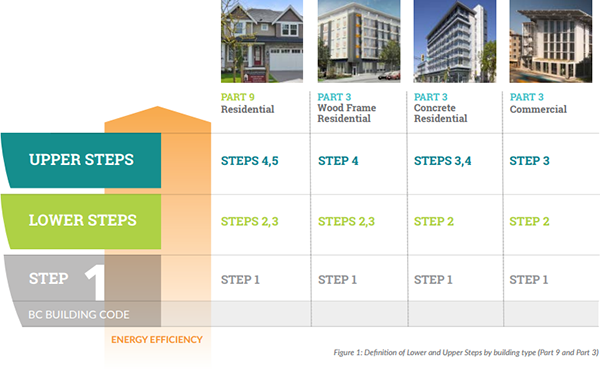 The Energy Step Code is a provincial policy that aims to create healthier, more efficient and more comfortable buildings. The Energy Step Code marks an end to the prescriptive approach to achieving energy efficiency in newly constructed buildings. Instead, a building's performance must be proven through whole building energy modeling and on-site airtightness testing. Modeling and testing validates how the design and constructed building meet performance targets associated with each "step." 
Further details and key dates for Energy Step Code implementation in Kelowna are outlined in the "Kelowna Step Code Requirements" section below.