BC Energy Step Code for New Buildings
Subscribe for updates on Energy Step Code in the Okanagan
The City of Kelowna is currently developing an implementation strategy for the BC Energy Step Code. This is a new provincial policy that aims to create healthier, more efficient, and more comfortable new buildings. At its core, the Energy Step Code marks an end to the prescriptive approach to achieving energy efficiency in newly constructed buildings. Instead, a building's performance must be proven, demonstrated through whole-building energy modelling and on-site testing to validate how the design, and the constructed building, meet the performance targets associated with each 'Step'. This will require that builders familiarize themselves with the performance pathway in order to achieve compliance with the BC Building Code.
What is the BC Energy Step Code?
The BC Energy Step Code establishes a set of incremental performance steps for new buildings that aim to support the market transformation from the current energy-efficiency requirements in the BC Building Code to the Provincial requirement for net zero energy ready buildings by 2032.
A net-zero energy ready building is designed and built to reduce energy needs to a minimum such that with the inclusion of on-site renewable energy systems, the building has the ability to produce as much energy as it consumes on a yearly basis.
The BC Energy Step Code establishes a single set of energy performance standards that set the direction for future iterations of the BC Building Code, and improves the consistency of building regulations across the Province.
The performance approach taken by the BC Energy Step Code is inherently flexible, as it simply establishes a performance target and leaves it to the building team to decide how to meet the target in the most efficient and cost effective manner.
What does it mean for home builders in Kelowna?
The BC Energy Step Code came into force in April 2017 and builders have the option of building to the requirements at any time. Local governments have been granted 3 years (2017-2020) to evaluate their local context and to develop a strategy suitable for their particular locale. This transition period is an opportunity for local governments to be proactive by adopting one or more Steps to enable the local market to mature and to spur increased industry capacity for services and products that support higher performing buildings.
At the moment, the BC Energy Step Code only applies to Part 9 residential buildings (under 4 storeys and less than 600m2 building area) for regions outside the Lower Mainland and Southern Vancouver Island. For Part 9 buildings, there are five performance target steps, each representing a higher level of performance. Steps 1 through 3 represent the Lower Steps, while Steps 4 and 5 form the Upper Steps (Figure 1).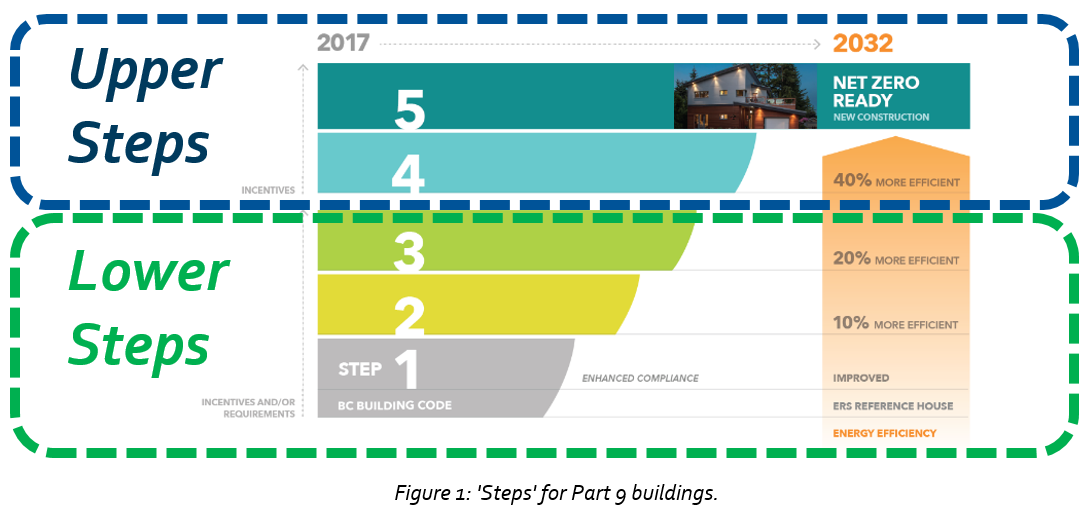 Step 1 is designed to familiarize builders with measuring energy efficiency. Builders will need to use a whole-building energy model to calculate the energy consumption of their buildings as well as have a building airtightness test done.  However, the construction of the building remains the same as conventional construction and it only needs to meet the performance of the base BC Building Code. The Step Code forms a framework by which the construction industry can, over time, "step up" the performance of their buildings to the net-zero energy ready level that must be achieved by 2032.
What are the City's requirements and when do they come into effect?
Based on the first phase of stakeholder engagement, a proposed implementation timeline has been established (endorsed by Kelowna City Council on March 26, 2018), with a requirement for Step 1 compliance starting April 1, 2019 for all Part 9 residential buildings.
| Part 9 building type | April 1, 2019 | Oct. 1, 2020 | 2022 |
| --- | --- | --- | --- |
| Single family/ 2/3/4-plex | Step 1 | Step 3 | - |
| Carriage house | Step 1 | Step 2 | Step 3 |
| Townhouse/low-rise apartment | Step 1 | Step 3 | - |
From April to June, 2018, the City is engaging key stakeholders through a number of informational sessions and workshops, and through an industry survey.
Take the Survey by May 23, 2018
The information gathered will be used to further develop a plan to enable a smooth transition to BC Energy Step Code implementation ahead of it becoming a requirement on April 1, 2019.
Energy Step Code Industry Workshop
The City of Kelowna and the Community Energy Association invite you to attend the upcoming "Building to Energy Step Code: Above Grade Walls & Glazing Assemblies" workshop. The workshop is a chance for builders & trades, designers, and building officials to learn how to build to the BC Energy Step Code.
Date: Thursday, May 31st
Time: 7:30am - 4:00pm
Place: Ramada Hotel in Kelowna (2170 Harvey Avenue) 
Learn about: 1) Building to the lower steps of the BC Energy Step Code, 2) Working with a local Energy Advisor, 3) Fortis' New Home Incentive Program related to the Step Code, and 4) The policies under consideration for Step Code implementation throughout the region.
Workshop attendees are eligible for 7 CPD credits (Group A) from BC Housing and credits through the Building Officials Association of BC.
To learn more about the workshop and to register, click HERE. Early-bird registration ends May 21st. Space is limited to 100 participants.