Annual report
Annual Report
Given the COVID-19 pandemic, the Province has extended the due dates for the 2019 financial reporting submissions. This year, the report must be presented at a public meeting before August 31, 2020 and made available for public inspection at least 14 days prior to that meeting.
As a result, the City of Kelowna 2019 Annual Report will be published and available on this page on August 7, 2020 and presented to City Council on August 24, 2020.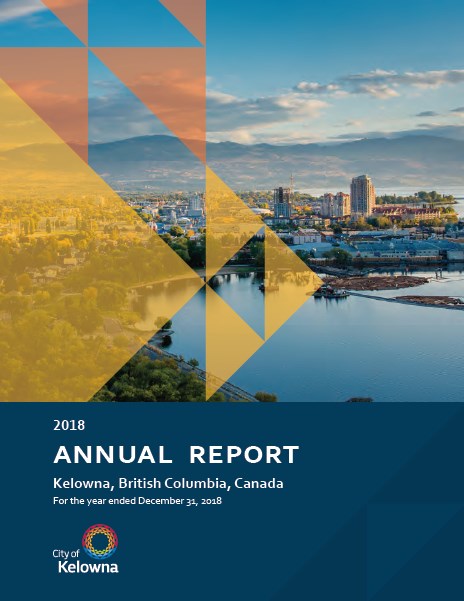 More than a beautiful city, the 2018 Annual Report captures how we have started to adopt the Imagine Kelowna community vision principles and invested in being a City that is shaped by collaboration, responsible decision making, connected citizens and by adapting in smart ways to rapid growth.
Through strong financial management we deliver the programs, services and infrastructure that help make Kelowna a great place to live, play, work and conduct business. Read more about how 2018 was a year of laying key foundational plans and imagining our future Kelowna. 
2018 Annual report            Sign-up for Annual Report e-updates
On Monday, June 24, 2019  Council reviewed and adopted the City's 2018 Annual Report (news release).
"Reflecting on 2018, I can truly say it was a pivotal year for our community," says Kelowna Mayor Colin Basran. "The adoption of both Imagine Kelowna for a community vision towards our future and of the Journey Home Strategy to support our most vulnerable residents represents that with thoughtful collaboration and by working with partners we can make strides towards a future Kelowna I am extremely optimistic about."
Previous Annual Reports*
*These documents contain dated information and are for historical reference only.