Annual report
Annual Report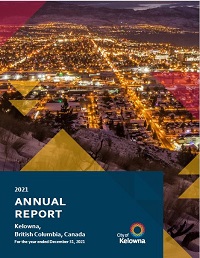 2021: From Resilience to Momentum
Setting the Stage for an Inclusive, Prosperous and Sustainable Future
While 2020 demonstrated our community's resilience, 2021 was a story of response and, despite a global economic downturn, substantial progress. Alongside the completion of pivotal strategies and the realization of record-setting milestones, key economic indicators are showing Kelowna is heading into 2022 with momentum—and living up to its promise of becoming a City of the Future.
read the 2021 annual report        Sign-up for Annual Report e-updates
2021 City of Kelowna financial health indicators
These Financial Health Indicators show the overall financial health of the City of Kelowna for the year ended 2021. The ratios provide a way to measure how decisions made during the year have affected the sustainability, flexibility and vulnerability of the City. They also link the financial results to the overall economic and fiscal environment that the City operates in.
We compare our performance to other municipalities, including those in the Okanagan region.  The following comparative figures are taken from provincially provided Local Government Data Entry (LGDE) reports for year end 2020. Comparative financial information for 2021 will be available when the Local Government Data Entry (LGDE) statistics are published in the fall. The ratio analysis focuses on the 10 BC municipalities with a population of greater than 100,000 (Abbotsford, Burnaby, Coquitlam, Delta, Langley, North Vancouver, Richmond, Saanich, Surrey and Vancouver) and those in the Okanagan Region (Kamloops, Penticton, Vernon and West Kelowna). 
This information was presented to the City of Kelowna Audit Committee on April 28, 2022. 
Financial Health Indicators:
Sustainability Ratios (indicators 1 - 6) measure the degree to which a municipality can maintain its existing financial obligations without increasing the debt or tax burden relative to the economy in which it operates.
Flexibility Ratios (indicators 7 - 10) measure the degree to which a municipality can change its debt or tax burden on the economy in which it operates to meet its existing financial obligations.
Vulnerability Ratio (indicator 11) measures the degree to which a municipality is dependent on sources of funding outside its control or influence or is exposed to risks that could affect its ability to meet existing financial obligations.
Indicator 1: Total Assets to Liabilities
This ratio measures the extent to which a government finances its operations and capital purchases through issuing debt, development cost charges and collecting deferred revenue. A higher total assets to liabilities ratio indicates the City is using financing options in a responsible and sustainable manner. The City's ratio remains steady in 2021 as both assets and liabilities increased at a comparable rate from 2020.

Indicator 2: Financial Assets to Liabilities
Measures liquidity and the City's ability to meet financial obligations. A ratio > 1.0 indicates the City is well positioned to meet its financial obligations without the need to fund past expenditures with future revenues. This ratio has been trending upwards in recent years, with financial assets growing at a greater rate ($81.3M) than that of financial liabilities ($12.5M), driven mostly by the increase in cash and short-term investments.

Indicator 3: Net Financial Assets (Financial Assets-Liabilities) to Total Revenue
This ratio provides a measure of revenue that can be used to fund current and future expenditures. An increasing ratio normally indicates stability and that the City is well positioned to meet its financial obligations now and in the future.  In this case, the increase from 98 per cent in 2020 to 109 per cent in 2021 was driven mostly by a larger increase of $68.8M in net financial assets, and a smaller increase of $28.7M in revenue.

Indicator 4: Net Financial Assets (Financial Assets-Liabilities) to Tax Assessment
Measures the amount of available operating assets to cover future obligations relative to the change in the economy measured through the tax assessment.  The relative stability in the graph from 2018-2020 shows that the City's net financial assets increased at a rate comparable to that of the economy (as approximated by the change in the tax assessment amount). In 2021 the graph shows that growth in the City's Net Financial Assets increased at a greater rate than that of the economy due to a combination of an increase in investments, and a reduction in long term debt. It also shows that the City has more net financial assets per tax assessment dollars than the other Municipalities. The increase from 2020 to 2021 was due to financial assets increasing at a greater rate than tax assessment values.

Indicator 5: Total Expense to Tax Assessment
Measures the ratio of spending relative to the tax base and the efficiency with which the City leverages increasing tax revenues.  For 2021 this graph shows that the City's expenses remained relatively constant to the tax assessment and aligned with the change in the economy.  The ratio remains relatively stable with a slight increase into 2021 due to an 8 per cent increase in expenses over prior year, while property tax assessment only increased by 3 per cent. The 2021 tax assessment information is based on July 2020 values.  Increases in tax assessment values as of July 2021 will be presented in next year's financial indicators as 2022 tax assessment information.  Considerable increases are expected.

Indicator 6: Accumulated Surplus/Deficit to Tax Assessment
Measures the total economic resources available to provide future operations relative to the change in the economy measured through the change in tax assessments. The accumulated surplus/deficit includes the General, Airport, Wastewater and Water funds. After several years of downward trends, 2021 shows the City's accumulated surplus growing at a rate slightly faster than the economy. The difference between the City and Municipalities over 100,000 shows that the City's surplus compared to tax assessment is higher by 2-3 per cent during the time frame.

Indicator 7: Debt Service to Revenues
This ratio measures the percentage of current revenues required to service debt incurred to fund past expenditures and the capacity for the City to incur additional debt. A smaller debt service to revenue ratio indicates that the City has greater flexibility in future borrowing decisions and more revenue to use for other opportunities. The graph shows that in 2020 1.1 per cent of revenues were used to pay for debt service charges and that the amount remained relatively steady in 2021 at 1 per cent.  The graph also shows that the City's borrowing ratio is currently in line with other municipalities.

Indicator 8: Own Source Revenue to Total Revenue
Measures the extent to which own source revenues make up total revenues. This is a gauge for how much flexibility the City has to deal with changing revenue sources. In 2021 this ratio increased to 37.57 per cent. 2021 was a standout year for new development, which meant significantly elevated development related revenues, also many sources of non-tax revenue slowly increased after COVID-19 public health restrictions and travel advisories were lifted.  

The graph below shows the same data, but with airport revenue removed. This measure gives a clearer comparative ratio as most British Columbia municipalities do not have a city-owned airport or the associated airport revenue. The trend is similar as above and we see an increase from 2020 to 2021. This graph shows that the rebound of revenues is along a similar trend without Airport revenues included as is with Airport revenues included. One interesting thing to note is that we have bounced back to be above pre pandemic levels of own source revenue in 2021 when we remove Airport revenues.

Indicator 9: Own Source Revenue and Property Tax Revenue to Tax Assessment
Measures the extent to which the City is taking income out of the economy either through taxation or user fees. For 2021 this graph shows that the City receives $0.76 from own source revenue per $1 of tax assessment. It also shows that the City receives more from own source revenues than Municipalities of a similar size and less than other Municipalities in the region as of December 31, 2020. The ratio increased slightly in 2021 due to increases in own source revenue mentioned in the previous indicator.

Indicator 10: Net Book Value to Cost of Tangible Capital Assets
Measures the estimated useful life of the City's tangible capital assets available to provide products and services. A larger ratio indicates newer tangible capital assets, or a more frequent replacement rate. A smaller ratio indicates older tangible capital assets and may indicate that greater capital expenditures may be required for replacement. For 2021 this graph shows that tangible capital assets have 58.65 per cent of their original cost left to be depreciated, or that the City has used 41.35 per cent of its asset's useful life.
Comparative information for this graph is not available as this data is not reported in the LGDE statements.

Indicator 11: Government Transfers to Total Revenues
This ratio measures the dependence of the City on other levels of government for sources of funding. It is important to note that a balance needs to be achieved as a reduced dependence on government transfers may reduce vulnerability but it could also impair sustainability if the City's tax base has to replace the revenues lost from a reduction in transfer payments.  The City of Kelowna has a Grant strategy in place to create this balance.
Some government transfers are relatively consistent from year to year however, the City occasionally receives one-time funding typically for infrastructure projects which will cause this ratio to fluctuate. There is a slight decrease in this ratio from 2020 to 2021 which is a result of Government transfers increasing 4 per cent but revenues increasing 8 per cent.

It is important to note and consider when making decisions around the above financial information that we are not comparing apples to apples in services and products between comparative municipalities.  If the City shows significant differences, it may warrant further investigation.
The City's strong overall financial health is still rebounding after being challenged in many areas by the COVID-19 pandemic.  In particular, the rebound of the Airport in 2021 contributed to improving the City's flexibility position.  COVID-19 recovery has shifted from the pandemic challenges of facility closures to economic challenges.  Significantly higher levels of inflation, supply chain disruptions and resourcing may impact the City's ability to take on additional levels of debt or respond to future infrastructure replacement demands.  When making determinations on funding, the City will need to take these factors into consideration along with the financial strategies already in place.
The sustainability ratios show that the City has remained stable in meeting current financial obligations without increasing the debt or tax burden in a challenging year.
The City of Kelowna's vulnerability regarding its dependence on sources of funding outside of its control is currently being managed through its Grant Strategy and has shown to be within an acceptable range.
The City of Kelowna's indicators show fluctuation in response to uniquely challenging times but remain in a good position to continue to build a vibrant community.
*These documents contain dated information and are for historical reference only.