Zoning Bylaw No. 12375
Section 8.1 - General Provisions and Development Standards
8.1 General Provisions and Development Standards
8.1 General Provisions and Development Standards
8.1.1 Where provision of off-street parking or loading spaces is required by this Bylaw, a plan of the proposed site layout and landscape plan shall be included with the development permit application or building permit, as the case may be. The plans must be included with the building permit application. The site plan must be drawn to scale and must clearly illustrate the lot size and configuration, building locations, parking spaces, loading spaces, on-site circulation, access driveways, landscaping, fences, and any other details relevant to the review of the development proposal.
8.1.2 Off-street parking spaces shall not be credited as off-street loading spaces or vice versa.
8.1.3 In lieu of providing the required number of off-street parking spaces where the City owns and operates a parking facility within urban centres, a property owner within an urban centre may pay to the City a sum of money equal to the number of parking spaces not provided multiplied by the applicable cash-in-lieu amount as determined by the Payment in Lieu of Parking Bylaw No. 8125. Cash-in-lieu is not permitted where compliance with Ministry of Transportation & Infrastructure (MOTI) standards is required.
8.1.4 Every off-street parking or loading area (including every access road to such areas) required by this Bylaw to accommodate three (3) or more vehicles:
shall have a durable, dust-free hard surface of concrete, asphalt, or similar material, constructed such that the surface drainage is directed to the public storm sewer system (if available), or alternatively to approved planting areas, or an approved on-site drainage system;
despite Section 8.1.4(a), any requirement for hard surfacing such as concrete or asphalt does not apply (but dust free surface shall be required) to agricultural zones, public parks, or open space uses;
shall clearly delineate individual parking spaces, loading spaces, spaces for the disabled, maneuvering aisles, entrances, and exits with pavement markings, signs, and/or other physical means;
shall be designed to allow forward entry to and exit from the lot on which the parking or loading area is located directly to a dedicated public street or lane, without encumbering any lands other than the subject lot. This provision does not apply where parking or loading can be provided and accessed directly from an abutting lane. This provision shall not apply where tandem parking results in the provision of three or more parking spaces where access is from a local collector road or a road of a lesser standard as identified in the City of Kelowna's Official Community Plan.
8.1.5 No required parking shall be provided parallel to and flanking a lane unless the parking area is accessible by a driveway and is screened from the lane by a physical barrier.
8.1.6 Landscaped islands and parking lot requirements shall be consistent with Section 7.
8.1.7 Every off-street parking or loading area, and access thereto, shall have fencing, curbs, or secured wheel stops to prevent vehicles from encroaching upon lot lines.
8.1.8 All off-street parking spaces on lots with five (5) or more parking spaces and abuts a pedestrian walkway or landscaped area without a barrier curb needs to have a wheel stop that is 0.9 metres from the walkway or landscaping area and minimum 0.15 metres in height as described Figure 8.1.8. This requirement does not apply to a parking space if the parking space is configured parallel to the curb or drive aisle.
Figure 8.1.8 - Example of Off-Street Parking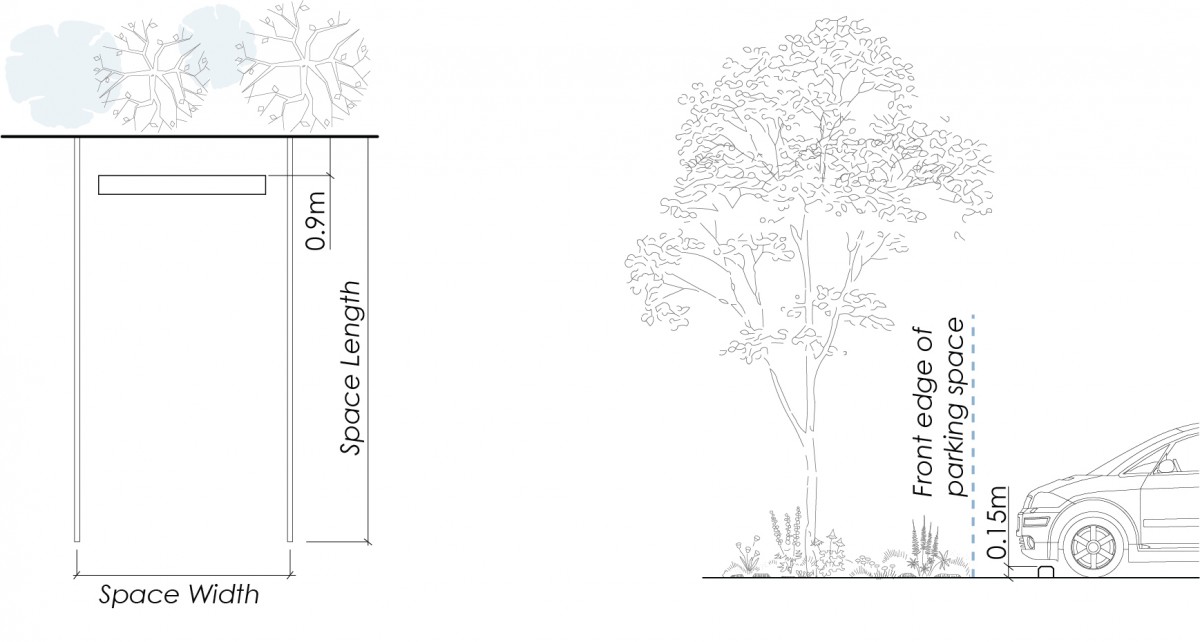 8.1.9 Where a wheel stop is provided pursuant to Section 8.1.8 the portion of the parking space between the wheel stop and the front edge of the parking space, as marked in Figure 8.1.8, is exempt from the requirements of Section 8.1.4 and may be surfaced with permeable material or landscaping, provided that no landscaping exceeds 0.15 metres in height.
8.1.10 Every off-street parking or loading area which is illuminated shall have all lighting positioned in such a manner that light falling onto abutting properties is minimized.
8.1.11 Any trash storage or collection area co-existing with any parking or loading area:
shall be clearly delineated as separate and in addition to required parking and loading spaces;
shall be located such that collection vehicles can gain access without undue interference with the operation of the parking and loading area; and
shall have a fenced or landscaped screen as required by Section 7.
8.1.12 Maximum grades:
the maximum grade for a drive aisle or a parking space is 8%;
the maximum grade for a driveway is 15%;
where a drive aisle or a parking space is located within 6.0 metres of a fronting lot line it must comply with applicable grade requirements prescribed in the City of Kelowna's Subdivision and Servicing Bylaw 7900.
Figure 8.1.12(a) - Maximum Grades for Parking Areas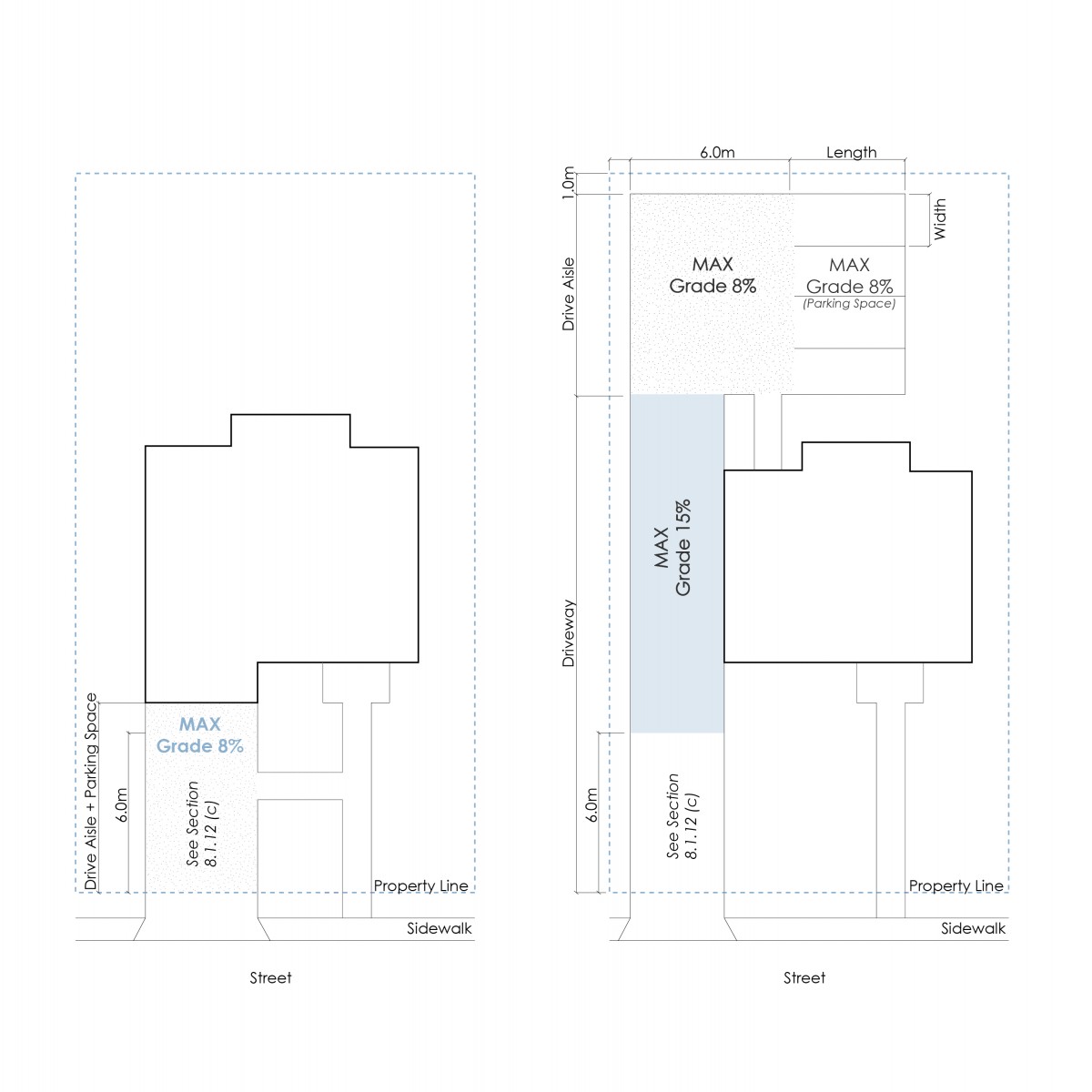 Figure 8.1.12(b) - Example of Parkade Configuration