Reserves, grants & other revenue
Reserves
Maintenance of adequate levels of reserves and surplus continues to play a significant role in achieving a level of financial stability for Kelowna taxpayers. The City maintains Reserve Funds and General Reserves in order to protect the current and future financial viability of the municipality. Reserve funds are statutory reserves which represent funds that have been put aside, or reserved, for specific purposes. General reserves are reserves that may be used for future operating or capital expenditures. 
Reserves are regularly used to ensure that existing City equipment and infrastructure can be maintained and to ensure that unusual or unforeseen operating conditions can be met without the need for extraordinary tax increases.
Grants
The Ministry of Community & Rural Development provides infrastructure funding to local governments through a variety of grant programs.
In 2009 and 2010, the City benefited from economic stimulus funding from provincial and federal governments under Canada's Economic Action Plan. Program funds have been fully allocated from this program.
Other Revenue Sources
Public/Private Sector Partnerships
To provide the services its residents want, Kelowna has nurtured many partnerships with individuals, community groups and private-sector companies. The City of Kelowna has an award-winning, economically-innovative team of professionals who have launched a number of differing partnering projects to help provide community facilities, programs and services without increasing general taxation.
Major recreational/cultural facilities are budgeted with substantial emphasis on funding from public/private sector partnerships (P3). P3s are effective tools to cost-effective service delivery structures.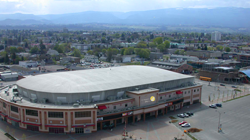 The City entered into a public/private partnership for:
Prospera Place
Capital News Centre
The Kelowna Family Y is an example of a public/not-profit partnership.
Municipal Finance Authority
The City of Kelowna benefits from access to capital financing from the Municipal Finance Authority of BC. With triple-A credit ratings, the Authority has the ability to attract capital investments and make funds available to local governments at interest rates that are the lowest in Canada for municipal issuers. Since the Authority's credit rating exceeds those of chartered banks, its rates of borrowing are below those offered by these banks.
The City has accessed low-rate loans to fund :