Our Water Smart program is all about empowering our residents to make positive water use choices. How do we do this? We provide information and links to assist with water use choices; indoor and outdoor; and we place a significant emphasis on reducing residential landscape water use.
The Water Smart program also helps to ensure landscape water use is as efficient as possible. Free Water Smart Irrigation Assessments are available to City of Kelowna water customers. These assessments assist residents in understanding water use and improving irrigation systems.
What can you do to be Water Smart and conserve water?
Peak demand is when water use is at its highest. Peak demand generally occurs at the end of July and the beginning of August. The water distribution system has to be sized to meet this demand even though it occurs for only a few weeks in the summer. 
We introduced water meters in 1996 and a user-pay water rate in 1998. All customers pay incrementally higher water rates depending on how much they use. Since 2003, the per capita consumption of water in a single-family household has dropped 20 per cent.
Did you know the Okanagan has one of the highest rates of water use per person in Canada? Approximately 24 per cent of water used in the Okanagan is used on our household lawns and gardens. Even a small change can make a huge impact, take the pledge to Make Water Work.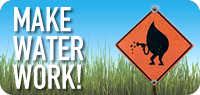 Okanagan Water Basin Board
We are part of the Okanagan Water Basin Board - a joint community venture to help encourage Okanagan Valley residents to be water smart. As our valley can be a dry one, it is important to protect and conserve the water we have.