Water smart
Our Water smart program is all about empowering our residents to make positive water use choices. How do we do this? We provide information and links to assist with water use choices; indoor and outdoor; and we place a significant emphasis on reducing residential landscape water use.
The Water Smart program also helps to ensure landscape water use is as efficient as possible. Free Water Smart Irrigation Assessments are available to City Water Utility customers. These assessments assist residents in understanding water use and improving irrigation systems.
Irrigation and landscaping
The City of Kelowna has an endorsed list of certified Qualified Water Efficient Landscapers (QWEL) that are committed to incorporate water efficient irrigation designs and landscape material that is suited for our local climate.
What is QWEL?
QWEL stands for Qualified Water Efficient Landscaper.  The QWEL training program provides graduates with knowledge in water efficient and sustainable landscapes and asks that they uphold the standards presented during the training.  QWEL certified contractors, designers and other successful participants agree to adhere to the requirements of the Landscape Water Conservation Report per Bylaw 10480, and to follow residential irrigation standards, in order to remain on the Kelowna QWEL Contractor list. 
The QWEL program is a Water Sense Certification Program and has become the standard for many US cities and the City of Kelowna utility is excited to be the first to offer the program in Canada.  With increasing concern for water conservation, contractors will need to create water efficient landscapes and the Water Smart program is providing QWEL training to support these efforts. 
Note: Participating contractors are recognized solely on successful completion of the Kelowna Water Smart QWEL training program.  The City of Kelowna does not specifically endorse any contractor and inclusion on the Kelowna contractor list is not an endorsement of the performance of any contractor.   The City of Kelowna encourages consumers to use available resources to research potential contractors.
How do I find a QWEL Contractor?
All QWEL certified individuals are listed on the North American QWEL database.
The City of Kelowna Water Smart team also maintains a list of Kelowna area contractors which includes the following information: 
Contact information 
Certifications held by company employees 
Whether the company has a City of Kelowna business license 
Whether the company carries liability and WCB insurance 
Whether the company can provide 2 or more project references 
Type of services provided 
Service areas
Hiring a landscape/irrigation contractor
Hiring a landscape/irrigation contractor
Review these tips for hiring a landscape/irrigation contractor to install your landscape or to maintain your landscape.
When hiring a landscape / irrigation contractor, be sure to ask questions.  Key questions to ask should include:
Do they have a local business license?
Who will be working on your project and what are their qualifications?
Does the company have sufficient liability insurance and current WCB coverage?
Can they provide references?  If not, why not?
Are they aware of local Bylaw requirements including when to submit the Landscape Water Conservation Report?
Will they choose locally appropriate plant material as recommended in the QWEL training? 
Year-round watering restrictions
Year-round, assigned day water conservation measures help to reduce peaks in water use, reducing the high demands on our water delivery system at any given time. This allows the system to keep up with the demands for clean drinking water, irrigation and commercial use, while also being able to store water for future use (i.e., in case of local fires), not to mention helping to preserve our natural water resources. 
Irrigation controllers are a great way to operate automatic irrigation systems such as lawn sprinklers and drip irrigation systems. Most controllers have different settings allowing you to  control the frequency of irrigation, the start time and the duration of watering. Irrigation controllers can help ensure you're not over watering and help make sure you're watering on your correct watering days.
Have a question about your irrigation controller? Contact the Water Smart team at watersmart@kelowna.ca or 250 469-8502.
Need to reprogram your irrigation system? Check out the links below to some of the most common irrigation controllers:
Landscape water conservation report
The City of Kelowna Water Smart program processes the Landscape Water Conservation Reports; required to be completed by City of Kelowna water customers for any new or renovated irrigated landscaped areas of 100 square meters or more. Not sure who your water provider is? Find your water provider here.
The reports ensure that new and renovated irrigated landscapes have a water budget and landscape treatments that can be irrigated within that water budget. The Landscape Water Conservation Report is a requirement for City of Kelowna water utility customers under Bylaw 10480 and the processing of the reports is complimentary. Those serviced by any of the other water providers in Kelowna are also welcome to complete and submit an application as they will be processed.  
Assistance is available if needed by contacting the Water Smart team at watersmart@kelowna.ca or 250 469-8502.
A rain sensor or rain switch is a device activated by rainfall. A rain sensor is a water conservation device connected to an automatic irrigation system that causes the system to shut down in the event of rainfall. Rain sensors can be purchased at most hardware stores across the City.
Irrigated landscape rebate program - open for 2020
The City of Kelowna Water Utility is offering substantial rebates to a select number of single family dwellings and strata complexes who are City Water Utility customers. The rebates will assist those who qualify with the costs of updating irrigated landscape areas to make them more water use efficient.
With year round irrigation restrictions in-place and water rates increasing, making water smart landscape choices can save property owner's costs and help the City reduce water use.  The City recognizes that costs associated with updating irrigation systems can be a barrier when making these choices and the Irrigated Landscape Rebate program will help customers make water smart landscape choices and optimize water use.
STRATA COMPLEX REBATE APPLICATION      SINGLE FAMILY DWELLING REBATE APPLICATION
Top dressing your lawn with a compost, like OgoGrow or GlenGrow, has been shown to reduce water demand by up to 25 per cent while also providing important nutrients for your soil. 
Learn more at okanagancompost.ca
What can you do to be Water Smart and conserve water?
Peak demand is when water use is at its highest. Peak demand generally occurs at the end of July and the beginning of August. The water distribution system has to be sized to meet this demand even though it occurs for only a few weeks in the summer. 
We introduced water meters in 1996 and a user-pay water rate in 1998. All customers pay incrementally higher water rates depending on how much they use. Since 2003, the per capita consumption of water in a single-family household has dropped 20 per cent.
Did you know the Okanagan has one of the highest rates of water use per person in Canada? Approximately 24 per cent of water used in the Okanagan is used on our household lawns and gardens. Even a small change can make a huge impact, take the pledge to Make Water Work.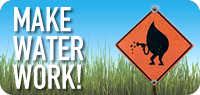 Okanagan Water Basin Board
We are part of the Okanagan Water Basin Board - a joint community venture to help encourage Okanagan Valley residents to be water smart. As our valley can be a dry one, it is important to protect and conserve the water we have.