Community Safety
Like in many communities across Canada, community safety is becoming a larger issue in Kelowna. Council, City staff and the RCMP share residents' concerns stemming from the many complex issues facing our community.
While Kelowna continues to be a safe place to live, work and raise a family, decisive action is needed to reduce property crime. The City of Kelowna has been at the forefront of initiatives and actions to address community safety and other social challenges in recent years. We've been more than a partner – we've been a provincial leader in this space.
We've invested in RCMP contract budget increases for years and it's become clear this cannot be the only means to promote community safety. For example:
$32 million spent to increase public safety personnel from 2016 to 2022: 47 RCMP Officers, 9 Bylaw Officers and 40 safety support staff were added
84% increase to the RCMP contract budget, from $27.9 million in 2016 to $51.4 million in 2022
46% of the average 2020 tax bill in Kelowna went to safety expenditures, the largest of any category
Alternative approaches have been and continue to be pursued. We've worked with regional partners to address the root causes of crime and we continue to advocate to the Federal and Provincial governments for community safety enhancements beyond the City's scope. These include updates to legislation, increases in crown prosecution capacity and investments in education, social services and other avenues to address the root causes of crime.
Much has been done, but there is more to do. The City of Kelowna continues to lead efforts in our community and across B.C. to improve community safety through innovation, collaboration and advocacy. 
We're committed to a Kelowna that's beautiful, vibrant, active and even safer than it is now.
Kelowna's Leadership on Community Safety
Kelowna's first-ever Community Safety Plan was endorsed by Council on April 11, 2022. This five-year plan is designed to generate shared ownership, vision and action among government ministries and community organizations to improve community safety, and sense of safety.
The Provincial Court of BC opened the Kelowna Integrated Court in May 2021. The Court seeks to reduce crime and improve public safety by integrating health and social services with the justice system to address the root causes of criminal behaviour.
Poverty Reduction Strategy
The City of Kelowna is developing a Regional Poverty Reduction Strategy in partnership with the Regional District of Central Okanagan, the City of West Kelowna, and the Districts of Lake Country and Peachland.
The City of Kelowna continues to make considerable investments in local law enforcement. The Kelowna RCMP contract budget has increased 84% since 2016, from $27.9 million to an estimated $51.4 million in 2022.This includes the addition of 49 new RCMP officers. Safety spending represents the largest tax amount in Kelowna, accounting for 46% of total tax spending in 2022. View the Kelowna RCMP 2021-2024 Strategic Plan.
Security and Community Safety Resources
Established in 2019, the Community Safety Director works to reduce crime and increase community sense of safety in Kelowna. The Director is also responsible for Bylaw and Police Services.
The City has trained 22 people to perform Crime Prevention Through Environmental Design (CPTED) audits that look at ways to reduce the risk of crime through urban design.
The City regularly surveys residents on crime and community safety in Kelowna. Public perceptions are used alongside crime statistics and trends to guide community safety priorities. The latest Community Safety Survey was presented to Council on May 16, 2022.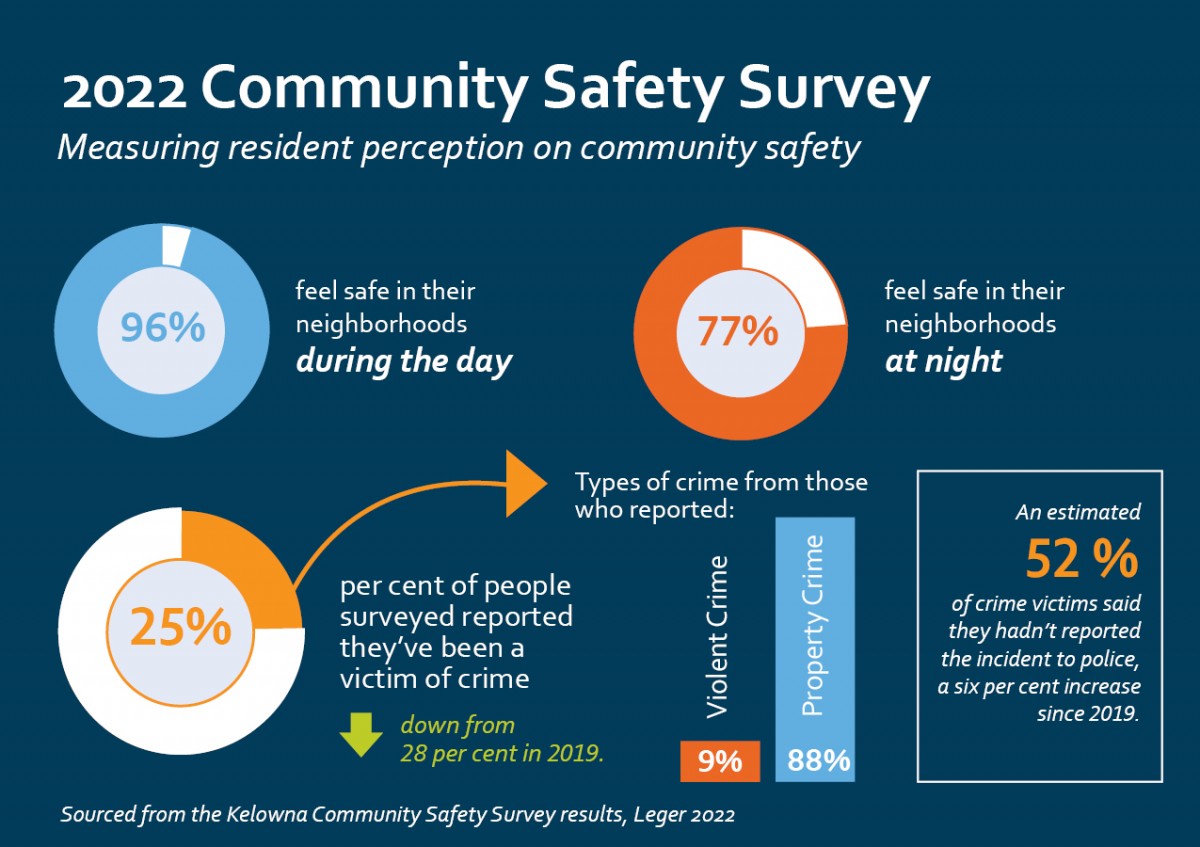 Community Safety is a Shared Responsibility
Property crime accounts for two-thirds of criminal activity reported in Kelowna. These are most often crimes of opportunity, like theft or vandalism, and there are actions we can all take to protect ourselves against them.