About the Cemetery
COVID-19 update: We care about your health and well-being as well as the well-being of the team working at Kelowna Memorial Park Cemetery. Enhanced health and safety measures have been implemented at our cemetery offices to keep you and your loved ones safe. While our offices remain open, we greatly appreciate appointments booked ahead of time.
If you have experienced the loss of a loved one or are looking to make pre-arrangements for your family, please call 250-862-5518 and we would be happy to assist you. Under the current Provincial restrictions, only 10 persons are permitted at funeral services, including all officiants present. Please note that when you visit our offices, you will be served through a window from outside to keep everyone healthy and safe.
The park remains open between 7 a.m. and 8 p.m. seven days a week.
Last updated November 20, 2020.
---
Kelowna Memorial Park Cemetery (KMPC) occupies 50 picturesque acres at the base of Dilworth Mountain adjacent to the Kelowna Golf & Country Club. 
Originally an Anglican Church burial ground at the turn of the century, this historical area of Kelowna remembers both pioneers and recent citizens who helped shape our community.
Cemetery Map   Grounds and Gardens Map
The Cemetery Administration Office is open Monday - Friday from 8 a.m. to 4 p.m. (no sales after 3 p.m.). 
The Cemetery gates are open seven days a week, 365 days a year.
March 16 to October 31 - 7 a.m. to 8 p.m.
November 1 to March 15 - 7 a.m. to 5 p.m.
To view the current availability of plots, niches and locations at the Cemetery, visit Memorial options or contact us at 250-862-5518.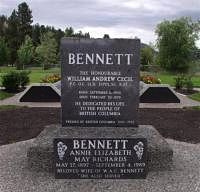 Named in honour of former Premier W.A.C. Bennett and his wife May, well-respected residents of Kelowna, the Bennett Memorial Columbaria offer above-ground granite monuments for the placement of private cremated remains.
With the completion of an expansion project in 2007 the Bennett Columbaria offers 576 niches; each niche accommodates two urns.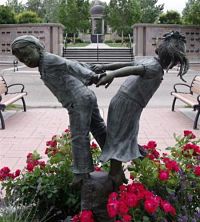 The Brevity Memorial is dedicated to  children whose lives were cut short, as symbolized by the life-size bronze statue of two children playing atop a tree stump. The plaza includes memorial walls to which names of deceased children and/or siblings are added annually.
The memorial is a joint project between the Cemetery and the Kelowna chapter of the Compassionate Friends, an organization dedicated to bereaved parents and family members. The Brevity Memorial received first place in the International Cemetery and Funeral Association's 2004 "Keeping it Personal" awards.
Dilworth Mountain Scattering Trail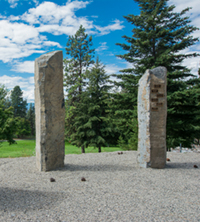 This nature trail for scattering cremated remains is situated along the eastern end of the Cemetery below the base of Dilworth Mountain. Basalt columns at the eastern entrance provide opportunities for memorialization in bronze.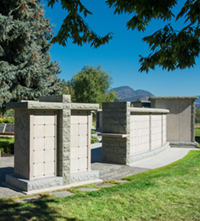 The Legacy Gardens is the Cemetery's newest area for cremated remains and above ground crypts. Set in Canadian quarried stone, the area offers 842 niches and 12 mausolea crypts where patrons can select a spot in one of the columbaria carved with an apple tree or grape vine motif, or one of the granite fronted mausolea for an above ground casket interment. Simple engravings memorialize loved ones and the solid granite bases and lasting quality of aluminium niche interiors ensure the Legacy Gardens will endure the Okanagan climate for generations to come.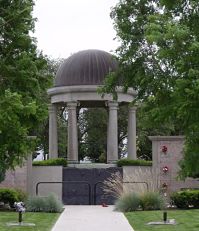 The Promontory Green Interment Garden is a two-tiered walled garden mausoleum and columbaria The Promontory Green offers 60 crypts for full casket entombment (none currently available) and 900 niches for inurnment (each niche accommodates two urns), a Scattering Garden for cremated remains, and individual lots for in-ground urn burials.
A pathway along reflecting pools, water cascades and manicured gardens links the lower wall, Promontory Green and upper wall to the Promontory Dome, the facility's highest and most prominent architectural feature. The 15-foot structure provides a venue for ceremonies of remembrance
G7 Lawn Crypts
In-ground option where casket is placed within a cement vault with a choice of either a flat or upright marker.
Family Estates
Showcase property with private and semi-private areas accommodating up to 20 family members with a variety of traditional burial and cremation options.  Each 4 x 4.5 metres state is surrounded by wrought iron fencing, a granite bench, landscaping and cement foundation to hold a large memorial monument.