About the Cemetery
About the Cemetery
Kelowna Memorial Park Cemetery occupies 50 picturesque acres at the base of Dilworth Mountain adjacent to the Kelowna Golf & Country Club. Originally an Anglican Church burial ground at the turn of the century, this historical area of Kelowna remembers both pioneers and recent citizens who helped shape our community.
The Cemetery Administration Office is open Monday-Friday from 8 a.m. to 4 p.m. (no sales after 3 p.m.). The Cemetery gates are open every day of the year, from 7 a.m. to 8 p.m. between March 16 and Oct. 31, and 7 am. to 5 p.m. between Nov. 1 and March 15.
Irrigation improvements at KPMC
Visitors to Kelowna Memorial Park Cemetery should be aware that the next phase of irrigation upgrade construction will be taking place from March 14 until July 2022 (end date subject to change).
During the construction, Sections D & E in the eastern portion of the Cemetery will be fenced off, with varying access for visitors and interments. There will be minimal noise disruptions, but construction equipment will be present in these areas. All visitors to the Cemetery are asked to adhere to all posted signage and remain out of fenced areas. Although the area of construction covers all of Sections D and E, work that limits access to grave sites will be limited to two weeks at a time. View the map for more information.
Casket interments will not be impacted during this time. Equipment and noise will halt if an interment takes place in proximity to the construction area. Please contact the Cemetery office at 250-862-5518 for booking inquiries or for more information.  
COVID-19 update: Enhanced health and safety measures have been implemented at our cemetery offices to keep you and your loved ones safe. While our offices remain open, we greatly appreciate appointments booked ahead of time.
If you have experienced the loss of a loved one or are looking to make pre-arrangements for your family, please call 250-862-5518 and we would be happy to assist you. Please note that when you visit our offices, you will be served through a window from outside to keep everyone healthy and safe.
Read the sections below to learn more about the Cemetery: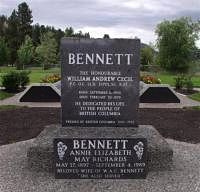 Named in honour of former Premier W.A.C. Bennett and his wife May, well-respected residents of Kelowna, the Bennett Memorial Columbaria offer above-ground granite monuments for the placement of private cremated remains.
With the completion of an expansion project in 2007, the Bennett Columbaria offers 576 niches; each niche accommodates two urns.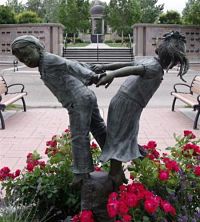 The Brevity Memorial is dedicated to children whose lives were cut short, as symbolized by the life-size bronze statue of two children playing atop a tree stump. The plaza includes memorial walls to which names of deceased children and/or siblings are added annually.
The memorial is a joint project between the Cemetery and the Kelowna chapter of the Compassionate Friends, an organization dedicated to bereaved parents and family members. The Brevity Memorial received first place in the International Cemetery and Funeral Association's 2004 "Keeping it Personal" awards.
Dilworth Mountain Scattering Trail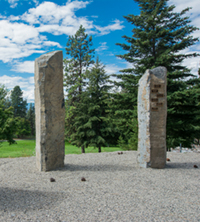 This nature trail for scattering cremated remains is situated along the eastern end of the Cemetery below the base of Dilworth Mountain. Basalt columns at the eastern entrance provide opportunities for memorialization in bronze.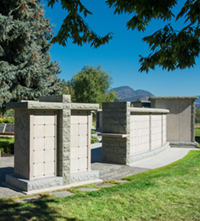 The Legacy Gardens is the Cemetery's newest area for cremated remains and above-ground crypts. Set in Canadian quarried stone, the area offers 842 niches and 12 mausolea crypts where patrons can select a spot in one of the columbaria carved with an apple tree or grape vine motif, or one of the granite fronted mausolea for an above-ground casket interment.
Simple engravings memorialize loved ones, and the solid granite bases and lasting quality of aluminium niche interiors ensure the Legacy Gardens will endure the Okanagan climate for generations to come.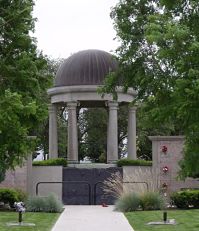 The Promontory Green Interment Garden is a two-tiered walled garden mausoleum and columbaria. The Promontory Green offers 60 crypts for full casket entombment (none currently available) and 900 niches for inurnment (each niche accommodates two urns), a Scattering Garden for cremated remains, and individual lots for in-ground urn burials.
A pathway along reflecting pools, water cascades and manicured gardens links the lower wall, Promontory Green and upper wall to the Promontory Dome, the facility's highest and most prominent architectural feature. The 15-foot structure provides a venue for ceremonies of remembrance.
G7 Lawn Crypts
In-ground option where casket is placed within a cement vault with a choice of either a flat or upright marker.
Family Estates
Showcase property with private and semi-private areas, accommodating up to 20 family members with a variety of traditional burial and cremation options. Each 4 x 4.5 metres state is surrounded by wrought iron fencing, a granite bench, landscaping and cement foundation to hold a large memorial monument.
Be sympathetic and respectful
Visiting the Cemetery can be a very private time for people and some may wish to be alone. It's best to steer clear of any funerals occurring. We also ask that you keep the volume of voices and music down and don't use offensive language.
Children of all ages are welcome at the Cemetery, but we ask that they show respect and sympathy to other visitors to the Cemetery who may be grieving the loss of a loved one.
Avoid walking over the graves
Walk in between the headstones and don't stand on top of a burial place.
Follow cemetery decoration rules
Rules about decorations ensure that the Cemetery doesn't collect too much debris that caretakers need to clean up. Flowers and other related decorations can blow in the wind. 
Litter creates extra work for the caretakers and shows disrespect to the other families who come to mourn their loved ones. Please take your refuse with you when you go or put it in trash receptacles. It's appreciated if you pick up any trash you see along the way, regardless of who left it.
Keep your pets on leash and controlled
Your pets must be on a leash. Be sure to clean up after them, as well.
Not only do they pose a fire hazard, but the melted wax can ruin the surrounding areas.
Drive slowly and obey any traffic signs posted in the Cemetery. Be careful to avoid visitors since they might be upset and not paying complete attention to where they are going.
Don't touch any monuments or gravestones
Monuments and mementos left on site are very meaningful to the families who placed them there. Some older memorials might be in disrepair and might fall apart under the slightest touch.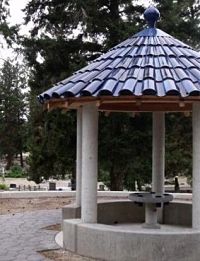 In 2001 and 2002, the City partnered with the Kelowna Association of Japanese Canadians, the Chinese Cultural Association and the Kelowna Buddhist Temple to restore and enhance a historically significant portion of the Cemetery known as Section A. Approximately 400 of the interments in this area are Asian, though the area also includes graves of many others who made important contributions to the city, including veterans of both World Wars.
The restoration project included the replacement of broken headstones and markers, installation of rock footpaths, removal of unwanted vegetation, grave site rehabilitation and construction of a Reminiscing Gazebo of oriental architecture known as the Pavilion of Eternal Rest.
The City contributed $105,000 toward the $205,000 project. Provincial and federal funding of $80,000 was secured through the British Columbia 2000 Community Spirit Grant Program and the Canada Millennium Partnership Program. The remaining $20,000 was provided by the Asian community through fundraising initiatives.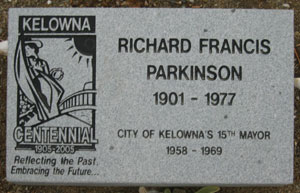 Marking Our Past was a Centennial partnership between the "Friends of the Pioneer Cemetery" and the City that aimed to place grave markers on 100 unmarked graves in the Pioneer Section of the Cemetery. The City contributed $15,000 and the Friends raised over $17,000 in donations, which meant 135 markers were placed on the nearly 700 unmarked graves.
Learn more about special events that take place at the Cemetery.
Tombstone cleaning workshop
Kelowna's Memorial Park Cemetery is the final resting place for many of Kelowna's founding people. Time has taken its toll on some of the tombstones in the pioneer section. By keeping them clean and using the proper conservation techniques, we can help preserve these historical markers for generations to come.
Dates for future tombstone cleaning workshops are TBA.
Tree of Memories – Dec-Jan
The Tree of Memories program has been offered annually since 1998. Residents and visitors can place an ornament on the tree under the dome in Promontory Green Interment Garden or on the spruce trees in Bennett Memorial Circle from the first week of December to the first week in January. The trees provide a unique opportunity for friends and family to celebrate a loved one's life throughout the holiday season.
The 2021 Tree of Memories runs from Dec. 6, 2021 - Jan. 7, 2022. Ornaments from previous years are placed on the memorial trees as a perpetual memory. Those who wish to keep their ornaments should ensure they are removed by Jan. 9, 2022.