Recreation programs & registration

Summer 2021 Activity & Program Guide
Kelowna's Summer Activity & Program Guide is now online featuring recreation and cultural programs for July and August.
View the Summer Activity & Program Guide
Once you've found a program in the online guide, simply click the course ID (5-digit number) to register online or call 250-469-8800 to register by phone.
Browse programs & register online
Summer camps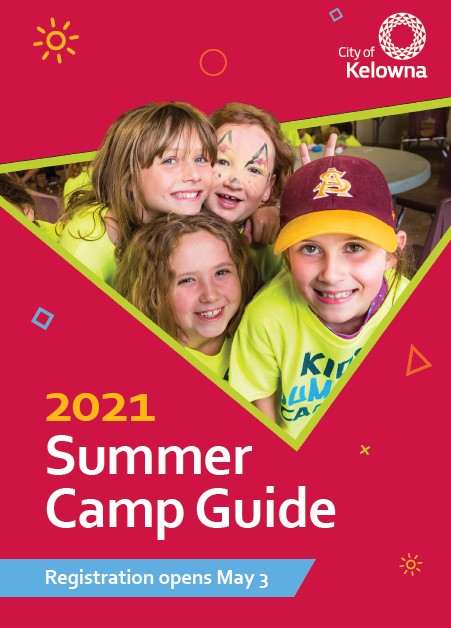 Keep the kids busy and having fun this summer at one of our camps! Full, half and partial day camps are available throughout July and August for children ages 3-14 at various locations around Kelowna.
Register now! View the camps guide and click on the course ID (5-digit number) to register.
Looking for the spring guide?  Some late season programs may still be available. Once you've found a program in the online guide, simply click the course ID (5-digit number) to register online or call 250-469-8800 to register by phone.
Ways to register:
1. Register online at rec.kelowna.ca
2. Register by phone at 250-469-8800 
Please note that in-person registration is currently unavailable.
Check back for the latest updates or sign up for Recreation & Sport e-updates to have the latest recreation news sent straight to your inbox. 
Latest Provincial health order updates and impacts to recreation
Providing safe recreational opportunities is our priority in Active Living & Culture as we navigate the ongoing COVID-19 pandemic. All programs and recreation facilities have been adapted with safety in mind and will continue to be subject to change to ensure alignment with the latest Provincial health orders. ​Facility guidelines and safety plans will be updated as further guidance is received from the Province. See below for the latest health order updates and the impact to current or future recreation offerings: 
COVID-19 safety information
Our Active Living & Culture team is excited to welcome you for a new season of recreation programming, though it's certainly not business as usual! In solidarity with public health efforts across British Columbia in response to the COVID-19 pandemic, we ask that all recreation program participants read, understand, follow and respect the Safe Return to Recreation guidelines below. Find sport-specific COVID-19 protocols for all adult sports at kelowna.ca/sports.
Physical distancing of 2 metres (6 feet) must be maintained when not exercising and at all other times. 
Low intensity exercise is able to resume with 2.5 metre distancing. 
Program capacities have been reduced based on the space and type of activity.
Please do not arrive more than five minutes before your class/booking.
Spectators are not permitted at indoor or outdoor classes or programs at this time in accordance with Phase 1 of BC's Restart Plan. 
Facility modifications including increased signage, floor markings and barriers are in place.
Hand sanitizer and/or handwashing facilities are available at all indoor and outdoor City facilities.
Frequent handwashing will be promoted at our facilities.
Water fountains will not be available; please bring your own water bottle.
Under phase 1 and 2 of BC's Restart Plan, all City staff, instructors and public visiting City recreation facilities are required to wear masks. Masks are also currently required during program participation. 
Wearing a mask is not recommended:  
while swimming in the pool.
for people with underlying medical conditions that affect their ability to wear a face covering. 
for those unable to place, use or remove a face covering safely without assistance. 
for individuals who are communicating with someone who is hearing-impaired or has another disability, where the ability to see the mouth is essential for communication 
for children under the age of 2 years old. Masks are recommended for all children in grades 4 and up as per the latest Provincial direction.
If you have any questions about safety guidelines in place at City recreation facilities, please call 250-469-8800. 
Stay home if you're sick! Before visiting recreation facilities or attending programs, participants and staff are asked to do a self-check and stay home if experiencing any symptoms.
Anyone displaying symptoms while attending a recreation program or while visiting a recreation facility will be kindly asked to leave for the collective health and safety of everyone.
High touch areas will be cleaned frequently.
Disinfecting spray or wipes will be available at all programs and indoor spaces.
Equipment will not be shared without proper cleaning in between.
Extra time is scheduled between activities for cleaning.
Come prepared to play as change room access will be limited.
What types of recreation programs are available right now?
Staying active, is important for physical and mental wellbeing.
With a COVID safety plan in place, the current programs are able to resume safely as part of BC's Restart Plan:
Learn more about safely adapted programs available in the Summer Activity & Program Guide.
Why is the guide only available online?
The Activity & Program Guide is being offered online only during the COVID-19 pandemic to allow for added flexibility (programs could be added, removed, or changed as needed). 
Can I withdraw from a program I am registered for?
Yes. Please call 250-469-8800 between 8 a.m. to 8:00 p.m., Monday to Friday or 10 a.m. to 2 p.m. Saturday and Sunday or email recreation@kelowna.ca to withdraw yourself from a program. You can choose to be fully refunded or we can credit your account for a future program. The standard $5 withdrawal fee applies unless the withdrawal is COVID-19 related. Please note that refunds may take up to four weeks to process depending on method of payment.
What additional COVID-19 safety measures are in place for swimming lessons?
Those registered in swim lessons can expect the following COVID-related safety protocols in place:
As per Red Cross recommendations, a parent or guardian is required to be in the water for all preschool lessons (Sea Otter, Salamander, Sunfish, Crocodile, Whale) as well as Swim Kids 1, 2 and 3 to assist their child.
Strict maximum capacities are in place for all lessons – only 4-6 children per lesson are available at this time.
Frequent, enhanced cleaning of the aquatics area each day, as well as disinfecting of swim lesson equipment after use.
Disinfecting wipes are available on site to disinfect lockers and changeroom benches.
Participants will enter through the front doors and are asked to arrive no earlier than 15 minutes prior to their designated swim lesson start time.
Children are encouraged to arrive in their bathing suits as changeroom access will be limited.
Anyone who is sick or experiencing symptoms is asked to stay home.
Paper report cards, including sticker or badge will still be available. Learn more about swimming lessons at Parkinson Recreation Centre at kelowna.ca/prc.
Why are there programs listed in the guide that are currently impacted by health orders?
Programs listed in Kelowna's Activity & Program Guides have been planned with current provincial health restrictions in mind.  
However, health orders and restrictions are subject to change based on Provincial direction. Current programs listed in the Activity & Program Guide may be adapted to align with future phases of BC's Restart plan. 
All programs listed in Kelowna's seasonal activity guides will continue to be dependent on direction from BC's Medical Health Officer and our Provincial sport and recreation partners.  
If I register for a recreational program and the public health orders change, what happens next?
If a program needs to be adapted or canceled due to an update to public health orders, all registered participants will be contacted directly and cancelled class credits will be applied to accounts.
Do I need to wear a mask during my program?
Under phase 1 and 2 of BC's Restart Plan, masks are required in indoor public spaces. As such, all City staff, instructors and public visiting City recreation facilities are currently required to wear masks.  
This includes common areas and program spaces within City recreation facilities and arenas including lobbies, change rooms, washrooms, hallways and spectator areas. Masks must also be worn during program participation and while engaged in physical activity, including during indoor recreational programming or while using the fitness centre. 
For more information about masks including exemptions, visit kelowna.ca/prc.
Registration improvements
We understand that registering for your desired program is important. We're currently working to make improvements to ensure registration runs smoothly, especially during the week that registration opens each season. Many of our programs are in high demand which can create a high volume of web and phone traffic during registration week.
We evaluate registration each season and use your feedback to make improvements.
Some of the current improvements in progress include:
Improving bandwidth and payment processing for online registration
Maximizing the number of phone lines available and staff to assist on registration days
Changing registration start time to 7 a.m. to better accommodate work and school schedules
Staggering registration start dates for summer camps to better accommodate parents' ability to plan ahead for summer and reduce demand on the system during registration days