Safe Needle Disposal
We understand that finding improperly disposed needles can cause anxiety, but it's important to know that according to Interior Health, the risk of getting sick from a needle is extremely low.
If you are comfortable safely picking-up and disposing of a needle found in a public space or outside your home, please follow these steps, which are also on the Interior Health website at www.interiorhealth.ca/harmreduction.
Step 1
Find a rigid plastic container with a secure lid, like a plastic drink bottle with a wide mouth. Remove the lid and place the container on the ground beside the needle.
Step 2
Carefully pick up the needle by the centre of the syringe barrel. Always point the sharp end of the needle down and away from you. Put the needle in the container with the sharp-end first, and secure the lid.
Don't break, or try to recap the needle. Wear gloves, or use tongs, if they're available.
Step 3
Remove your gloves and wash your hands thoroughly with soap and water
Step 4
Drop off the sealed container to a local health unit:
Living Positive Resource Centre, 255 Lawrence Ave (M-F, 2 p.m. to 4 p.m. for public drop-off)
Outreach Urban Health Centre, 455 Leon Ave (M-F, 10 a.m. to 4 p.m. for public drop-off)
Kelowna Community Health Centre, 505 Doyle Ave, 2nd flr. (M-F, 8:30 a.m. to 4:30 p.m. for public drop-off)
Rutland Community Health Centre, 155 Grey Rd. (M-F, 8:30 a.m. to 12 p.m. and 1 p.m. to 4:30 p.m. for public drop-off)
Please do not place needles in the garbage or recycling.
There are over 30 needle disposal boxes in outdoor public washroom and public spaces throughout the community.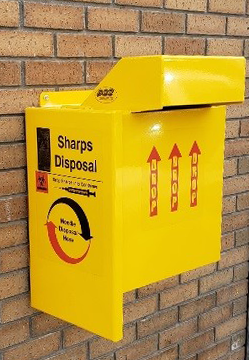 Needle disposal boxes that accommodate small personal sharps container or small closed plastic containers can be found at the following locations:  
Kelowna RCMP Detachment, 1190 Richter St.
Outreach Urban Health Centre, 455 Leon Ave
Rutland Community Policing Office, 115 McInstosh Rd.
If you notice a box that is damaged or missing, please report the issue via our online services. 
If you aren't comfortable following the steps above, please call the non-emergency Fire Department at 250-469-8801 and select 'needle collection' to report the location of the needle, including the street address. If safe to do so, staff will collect the needle or advise of safe options for disposal. Please note, this needle collection line is only for public spaces or outside private residences. It does not include pick-up from inside or outside private or commercial properties.
How we keep parks and public spaces safe
we check parks regularly to keep them as clean and free of debris as possible (Park Services staff and contractors)
we conduct mechanical beach sweeps to keep beaches clear of debris (Park Services staff and contractors)
we patrol the areas with City Bylaw, Bylaw bike patrol and RCMP officers
we use volunteers with metal detectors to locate sharps or other drug paraphernalia in covered areas and beaches
we install safe needle disposal boxes if warranted. There are over 30 needle collection boxes located in outdoor public washrooms and public spaces and parks throughout the community.