Queensway Transit Exchange
Centrally located downtown, the Queensway exchange serves as an important destination and transit hub in Kelowna. The project is part of BC Transit's Kelowna RapidBus Project, which includes creating and upgrading transit facilities throughout the Central Okanagan.
Features of the New Exchange
New unique all-weather wood structure above the existing transit island platform    
New permanent structure for public washroom, bus operator facilities and a security office
Covered public plaza and new bike facilities
New transit only access from Ellis Street with enhanced pedestrian crossings
New RapidBus stops between Pandosy and Water Streets 
Roundabout at the intersection of Queensway and Water St.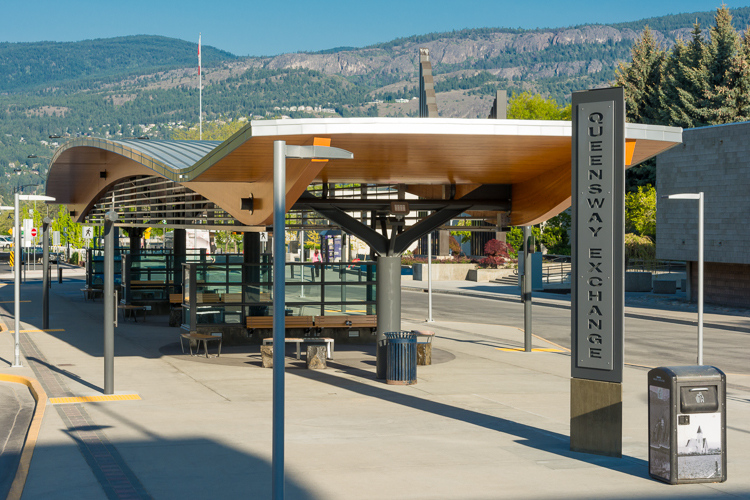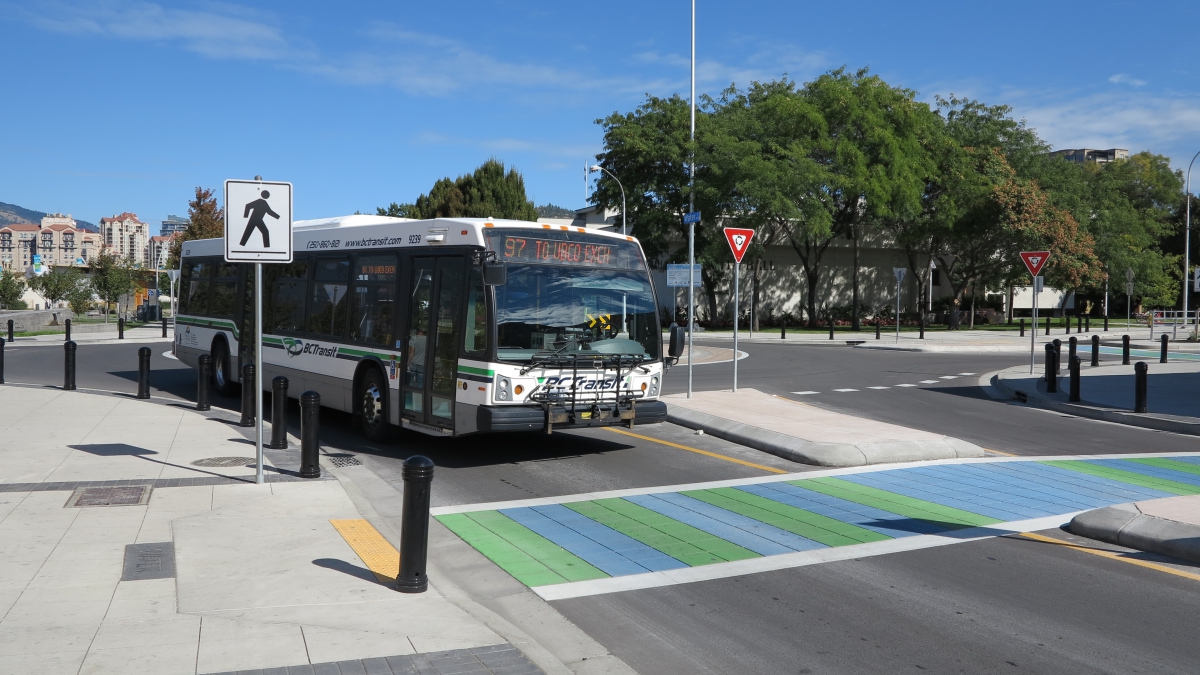 A new permanent structure for public washrooms, bus operator facilities and a security office is planned adjacent to the transit island platform. This phase was rescheduled to facilitate adjoining construction along Ellis Street for the new downtown parkades.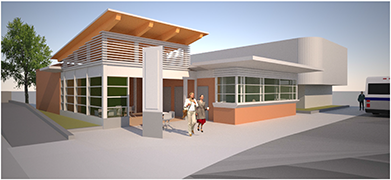 November 2013 to January 2014: Urban design planning
December 2013 to April 2014: RapidBus improvements detail design and tendering
March 2014: Public information session for concept reveal
September 2014: Roundabout and RapidBus stops completed and in-service
June 2014 to April 2015: Transit Island canopy construction and completion
Fall 2016: Security pavilion construction 
The Queensway and Water Street roundabout opened to motorists at the end of July 2014. The improved Queensway Exchange opened in April 2015, to coincide with the summer transit service changes. 
RapidBus was launched on August 31, 2014 establishing service between UBC Okanagan to the Westbank First Nation and the District of West Kelowna and bringing into use the two new RapidBus stops on Queensway in front of City Hall.
A $5.6 million investment to improve transit infrastructure and amenities will be made by the Government of Canada, Province of B.C. and the City of Kelowna and in collaboration with BC Transit, the District of West Kelowna and Westbank First Nation. The improvements will provide ease of transfer with support services and amenities to provide a comfortable and convenient environment for transit patrons, transit operators and security personnel with completion scheduled for summer 2015.
A number of long-range planning initiatives, including the recently adopted Downtown Plan, the 2030 Official Community Plan and the Transit Future Plan, form the basis of the preliminary design for this area.
The Queensway exchange was originally constructed in 1998, is restricted to bus-only traffic between Pandosy and Ellis streets and was designed to accommodate a future building. Key considerations for the building include attractive landscape treatments, decorative and functional transit amenities to enhance user comfort and security, wide pedestrian sidewalks, re-configured parking layout and intersection improvements and controls. 
Projected increases in transit ridership as a result of the RapidBus extension to West Kelowna and growth in Kelowna's central business district area also warrants further investment in transit infrastructure and amenities.
Greater emphasis on walkability, cycling and improving transit service are highest priorities as well as investments in pedestrian/cycle networks, transit and road infrastructure and supportive amenities to provide a balance of mobility options for today and well into the future. 
Public Information Session
Check out the information panels here if you weren't able to make it to the public session held in March.
Andrew Albiston
Project Manager
250-469-8569