Roadway maintenance & equipment
The Roadway Maintenance and Equipment group is responsible for the maintenance of 1,650 kilometres of roadway.
Highway 97 and 33 are maintained by the Provincial Ministry of Transportation.
Maintenance of the road network consists of:
All bridges are inspected on a yearly basis and repaired as needed.
We take pride in our road system and strive to remove litter promptly.
From spring through fall, litter is removed from the downtown area on a daily basis with a small vacuum machine.  Litter is removed from all major roads on a weekly basis with the exception of major roads leading to the Landfill (Glenmore Road and Sexsmith Road) which are checked daily. 
Litter will not be picked up on private property.
The Pavement Management Program prioritizes and determines how to upgrade and repair the roads surface.
Road priorities are based on various tests and software analysis that provide a numerical ranking for each road. In certain cases a core sample helps to identify the quality of the road base and determines the type of treatment required.
Crack sealing extends road life by keeping moisture, that will eventually cause asphalt failures, from getting into the road base. Roads are inspected and sealed for cracks based on the following priority structure:
Priority One
 

Roads 0-5 years old

 

Priority Two

Roads 6-15 years old

a. Arterial Roads
b. Collector Roads
c. Residential Roads
d. Rural Roads

Priority Three

Roads 16-20 years old

a. Arterial Roads
b. Collector Roads
c. Residential Roads
d. Rural Roads
Repairing potholes is an important and affordable method of maintaining our roads. We encourage the public to report potholes online to help keep roads safe. Potholes located on provincial highways including Highway 97 and Highway 33 are the responsibility of the Province (Ministry of Transportation).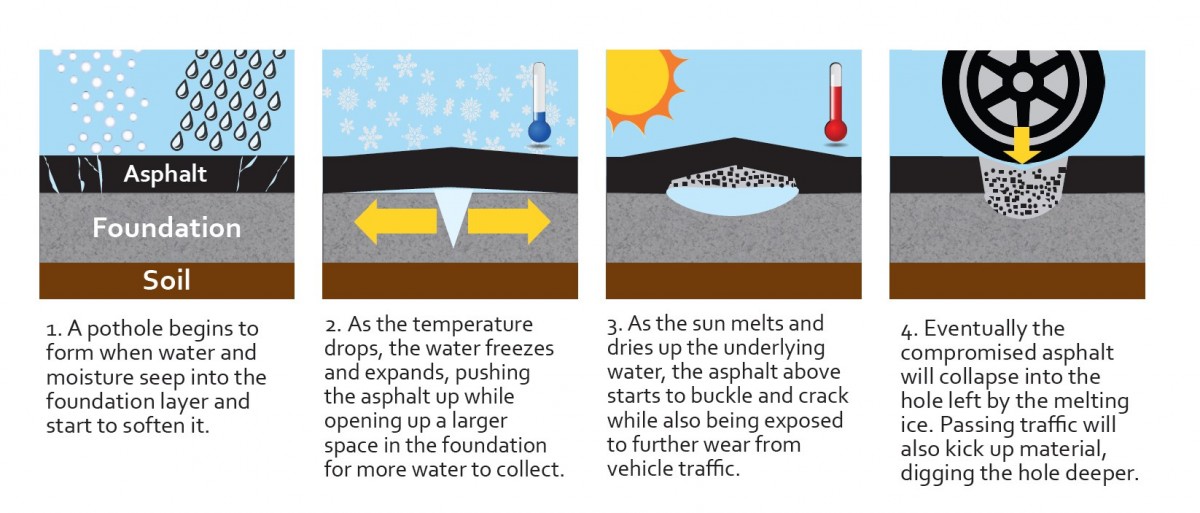 Potholes form on asphalt road surfaces due to seasonal freezing and thawing. The changing weather from season to season leads to the formation of potholes which is why they tend to be more prominent in the winter and spring when the weather fluctuates. 
It is estimated that a single road maintenance crew repairs over 3,000 potholes over the course of the year with approximately 1,500 repairs in the winter. To repair a pothole, crews will remove the old asphalt, dry the area (using a torch in the winter) and fill the hole with new asphalt. The area is then repacked.
Asphalt used for repairs in winter months is recycled from City projects conducted in the summer, spring and fall months. Repairs take place from November 1 until April 1. 
We produce our own hot mix asphalt using an Ashton asphalt recycler which heats up old asphalt rejuvenating it to a usable state again.
Road shoulders are inspected and repaired if warranted.
Gravel lanes and roads are graded and dust controlled once a year in the spring, additional services are performed if warranted.
All ditches are inspected and repaired if warranted. We have a detailed GPS based ditch inventory and City Council has adopted a policy dealing with ditches that have been filled in.
Sidewalk construction & maintenance
Based on the prioritization method outlined in the Pedestrian and Bicycle Master Plan, new sidewalks are constructed throughout the spring, summer, and fall months.
All sidewalks are inspected in the spring and repaired as needed.
Traffic sign installations & repairs
Regulatory signs such as 'Stop' and 'Yield' signs are replaced or repaired as soon as notification is received.  All other signs are replaced or repaired as soon as possible.
Traffic signal maintenance
The Roadway Maintenance and Equipment department is responsible for the maintenance and programming of signalized intersections, pedestrian activated intersections and the solar powered crosswalk warning flashers.
All road shoulders are mowed a minimum of three times per year. Chemicals are used to control weeds on some of the sidewalks, brickwork, medians and islands in the city.  The majority of the chemical weed control is done along Highway 97 from Abbott Street to Highway 33 and along Highway 33 from Highway 97 to Muir Road.  A contractor is hired to perform the chemical application.
A separate contractor is responsible for the string trimming around poles and for the mowing and cleaning of walkways including controlling weeds in sidewalk cracks and crevices.
Arterial road
That part of the roadways system serving as the principal network for through traffic flow. The routes connect areas of principal traffic generation and important rural highways entering the city (e.g. Springfield Road, Glenmore Road and Rutland Road).
Collector road
That part of the roadway system servicing traffic between major and local roadways (e.g. Sutherland Avenue, Valley Road and Baron Road).
Local road
Roadways used primarily for direct access to residential, commercial, industrial or other abutting property (e.g. typical residential roads found in most neighbourhoods).
Rehabilitation of existing infrastructure works
Existing infrastructure works include roadways, sidewalks, bicycle networks and bridges.
Inspection of these works is done on a regular basis to identify areas that require rehabilitation and to ensure that the facilities perform adequately for their design life-span.
Roadways are monitored by our Pavement Management System . All city roadways are tested on a continual basis for surface condition, roughness and strength. The system identifies and prioritizes roads that require remedial work. To learn more about the future of Kelowna's roadways, check out the  2020 Update Roadway Network Plan.