Sport services
Who we are
Our Active Living and Culture Division delivers a broad spectrum of activities, programs and support to the residents of Kelowna.  Within the division, the sport development team provides services to the local sport community. Key areas of focus include Sport for Life (S4L) promotion and implementation; tournament/event permitting, development and procurement; local sport organization (LSO) development and facility operations support. 
What we do
Our sport development team works closely with partners to ensure that appropriate services are in place to support the local sport system. Services include:
Sport Education: A variety of innovative, current and interactive workshops, certification courses and conferences that provide athletes, coaches, officials, administrators and volunteers with practical information they can readily implement.
Sport Participation: Programs and initiatives that ensure all ages and abilities have opportunities to participate in sport and be inspired to lead a healthy, active lifestyle. Find the latest ways to participate in the latest Activity & Program Guide. 
Athlete Development: Programs designed to enhance the motor skills and physical fitness of young athletes and provide foundational movement skills for future athletic development.
Sport Resources & Support: Resources to ensure comprehensive sport information and expert insight on community sport initiatives; and, specialized sport equipment, technology innovations and grants to support sport development. 
Sport Networking: Local community events and opportunities designed to foster relationship building, collaboration and recognition within the sport community.
Facility Allocation/Maintenance: Facility scheduling that ensures the fair allocation and ongoing maintenance of City-owned recreation facilities.
Bid Development: Bid preparation support including letters of endorsement, production of bid documents in printed and/or electronic format, and access to photography of the destination and event venue for use on website and pre-event promotions.
Event Support: Event hosting support that includes assistance with site inspections, accommodation/venue selections, welcome packages, activity options, promotional tools and the on-site logistics required to run a successful sporting event.
Administrative Services: Comprehensive registration and promotion services to assist sport organizations with their front-line administrative requirements.
Organization Development: Advocacy and Liaison services to support club development that aligns with sporting and demographic trends and is sustainable for current and future generations.
For further information on sport services and support, please contact 250-469-8850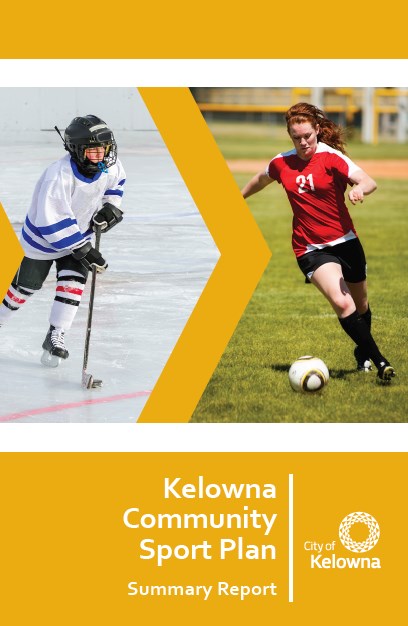 Kelowna Community Sport Plan
The Kelowna Community Sport Plan (KCSP) is a comprehensive document that examines a range of sport-related issues and opportunities, and presents a strategic framework to advance sport in Kelowna.  It is anticipated that the Sport Plan, and supporting Implementation Strategy, will guide the local sport community over the next ten years (2019-2029), with regular check-ins and a more in-depth update to take place in five years (2024).  While the City will provide key leadership in moving the Sport Plan forward, community partners will also play an important role in its implementation.
Canadian Sport for Life
Canadian Sport for Life (CS4L) is a movement to improve the quality of sport and physical activity in Canada, and includes three key aspects: Long-term development, physical literacy and active for life.  Canadian Sport for Life links sport, education, recreation and health, and seeks to align community, provincial and national programming. Learn more about local Sport for Life initiatives in the Okanagan offered through PacificSport.
Sport Grants
We recognize the need for financial aid to support the competition, education, organizational development and event hosting needs of our locally-based sport community.  In response, the following community sport grants have been established:
Community Sport Delivery Grant
Sport Education Grant
Event Hosting Program
Major Events Program
Athletic Excellence Grant
Organizational Development Grant
Sport Grant applications should be completed and submitted to:
Sport Kelowna Centre 
645 Dodd Road 
Kelowna, BC 
V1X 5H1 
Fax: 250-862-3327