Boil Water Notice in effect for City Utility customers near northern City boundary
Public service announcement
A Boil Water Notice has been issued for the District of Lake Country due to a construction incident. Over one hundred City Utility customers in the northern City boundary are also affected. This Boil Water Notice alerts affected customers of an elevated health risk associated with consuming water.
The City Utility civic addresses included in the Boil Water Notice are: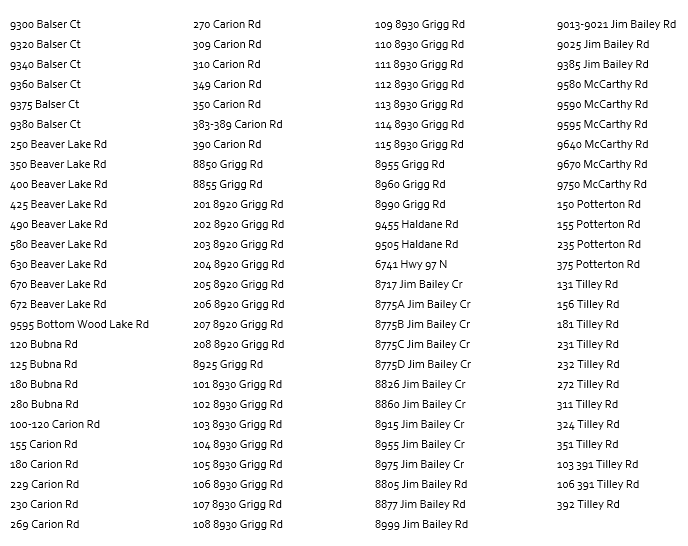 Affected areas may experience intermittent water flow and higher water turbidity as the water source is re-directed from Beaver Lake to supply the distribution system. However, even once service is restored from the original Okanagan Lake source, the Boil Water Notice will need to remain in place until the system is re-disinfected. Crews are on-site to remedy the situation as quickly as possible.
Boil Water Notice
Water Utility crews are working to repair the water main and return service to customers. The Notice will remain in effect until a rescind announcement has been issued. The City will coordinate the water sampling and quality testing for its customers in the affected area.
Precautions
Interior Health advises that any water that has a chance of being ingested should be boiled, whether it's for beverages, food preparation, coffee machines, brushing teeth, making ice and water for pets.
All water should be boiled for one minute, cooled and stored in clean, covered containers in a refrigerator. Residents are reminded to cool water prior to use to avoid burns or scalds.
Owners of all public facilities within the affected area are required to post Boil Water Notice at all sinks or drinking water fountains accessible to the public.
Additional Information
For updates on the Boil Water Notice or to e-Subscribe for updates, visit the City's Drinking Water page at kelowna.ca/water or call the Water Quality Hotline at 250-469-8475 (recorded message).
Types of Alerts
Water Quality Advisory: Used in situations in which the public health threat posed by the water supply system is modest, and actions can be taken to reduce the risks through means other than requiring a Boil Water Notice or Do Not Use Water Notice.
Boil Water Notice: Used in situations in which the public health threat posed by the water supply system is significant and the nature of the threat is one that can be effectively addressed through boiling of the water.
Do Not Use Notice: Used in situations where a significant public health threat exists in relation to the water supply system, and the threat cannot be adequately addressed through a Water Quality Advisory or Boil Water Notice.