Park & Play - Weekdays
Jul. 19, 2021 - 5:00 pm
to
Aug. 27, 2021 - 8:00 pm
Air quality update
Please note that if the local air quality health index (AQHI) is at 10 or above, Park & Play will be cancelled. If the AQHI is in between 7-9, activities will be modified to avoid any high exertion activities. View current conditions on our air quality webpage.
Park & Play is back!
Join us for family-friendly activities and games at a park near you this summer. Park & Play runs every weeknight from 5-8 p.m. at neighbourhood parks throughout July and August beginning July 19. Find the full calendar and learn about Bernard Avenue dates below.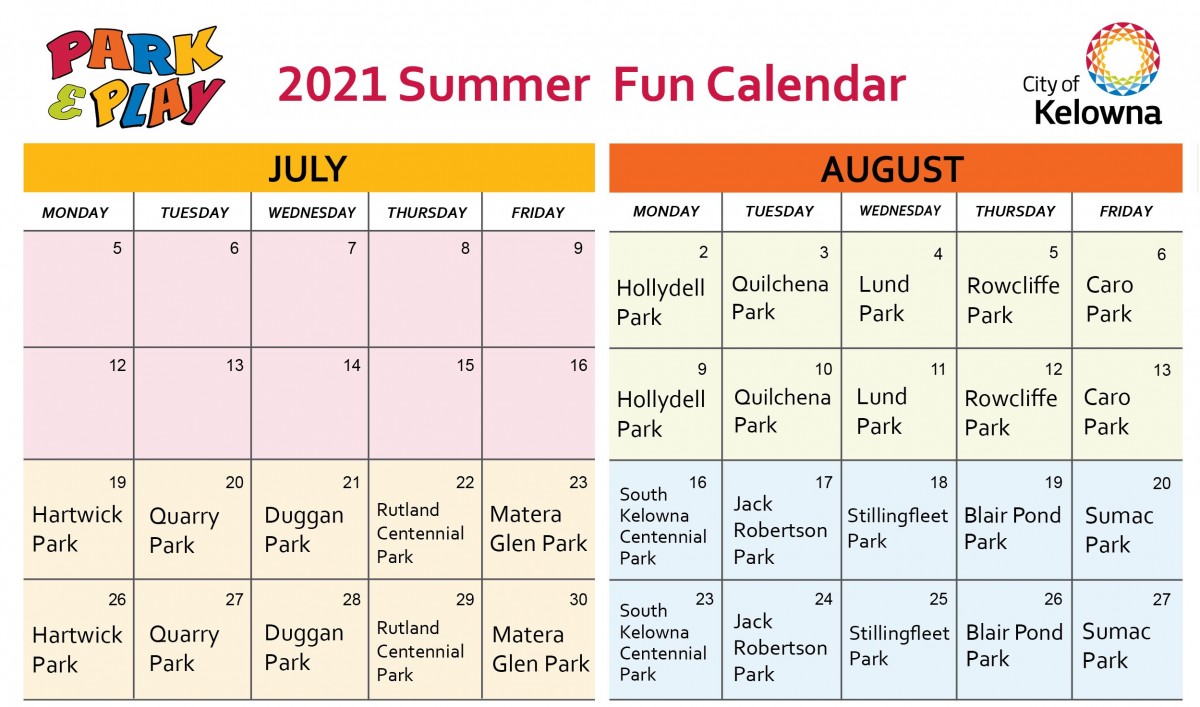 Meet me at.... Park & Play!  
Park & Play is on Bernard this summer for #meetmeonbernard!  Our Park & Play team will have free family-oriented activities on Bernard on Tuesday, Wednesday and Friday mornings in the Neighbourhood Plaza from 9 a.m. till noon. starting July 6. 
About Park & Play
Park & Play events offer an opportunity for neighbours to connect with each other and their surroundings, turning neighbourhoods into communities. It encourages residents to go outside and discover their neighbourhood park or green space and supports an active and healthy lifestyle through active play opportunities. 
Park & Play is a free all-ages event that runs weeknights from 5-8 p.m. throughout July and August at various parks throughout the city.
Parents and guardians are reminded that they are responsible for the care and supervision of their children and are encouraged to use active transportation such as walking or biking to get to the events.
Park & Play is a weather dependent event. Events may be cancelled or end early if staff deem conditions unsuitable.