Canada's 150th Birthday: How Will You Celebrate?
It's called a Sesquicentennial—a big word for a pretty big deal. Throughout 2017, Kelowna residents, along with all Canadians, have the opportunity to mark the 150th anniversary of our country.
The Sesquicentennial provides an opportunity for us to reflect on where we've come from, celebrate who we are today and plan for our future. It's a year-long celebration beginning Jan. 1, 2017 and ending Dec. 31, 2017. We hope you'll take part in some aspect, large or small, through a Canada 150 program or initiative. 
Sign up for the Canada 150 e-newsletter to receive information about Kelowna's Canada 150 activities and initiatives delivered right to your inbox!
Canada Day Celebrations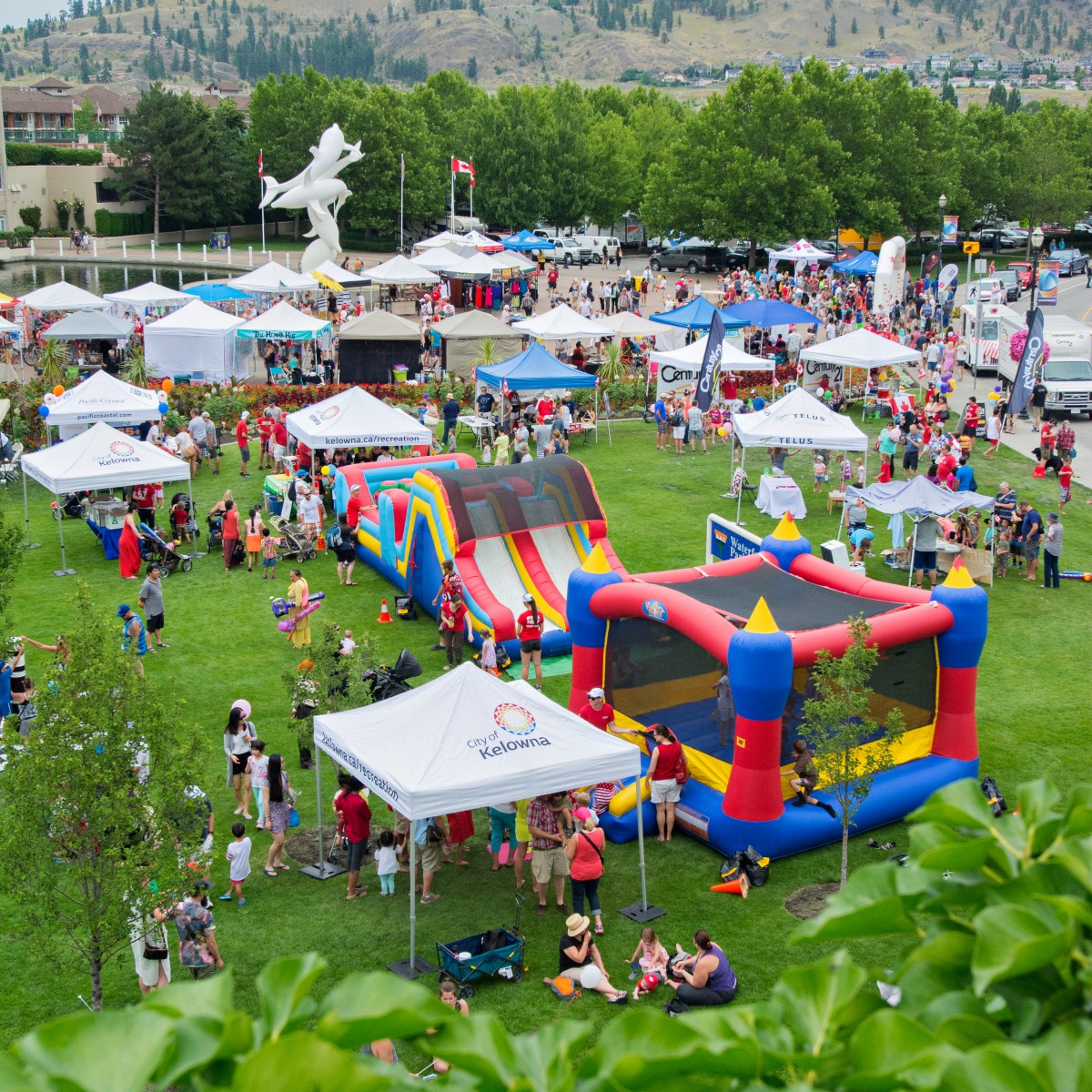 Get ready to don your red and white, Kelowna! It's time to celebrate!
Join in on the free festivities for Canada Day on Saturday, July 1 including:
Prospera Place:
Official Canada Day Ceremonies, including a massive birthday cake
(cake service approx 1 p.m.)
44th Annual Kelowna Folkfest Celebrations and a special Canada 150 concert by the Kelowna City Concert Band
Waterfront Park:
Mmm, food! Try out the 'Taste of Canada' - a food fair featuring over 18 different vendors
Made in Canada Marketplace - an artisan showcase of handmade, Canadian arts and crafts
Canada Day Bazaar - a marketplace of unique items by local small businesses
Community Groups Display - information displays by local community associations
Ki-low-na Friendship Centre "Blanket Exercise", Kerry Park, 11 a.m. and 1 p.m.
OPUS Great Canadian Colour'in - a giant mural to colour with your family and friends
Canada Day at the Kelowna Art Gallery - drop by the gallery for plenty of Canada Day art fun and activities
Kids Zone, Musical Entertainment and more at various locations:
Parks Alive! Power Stage from 12:30 - 9:30 p.m. in Stuart Park
TD Beach Stage from 12 - 10:15 p.m. on Water Street (north of the Dolphins Fountain)
Kiwanis Kid Stage at the Pioneer Gardens from 11 a.m. - 4:00 p.m.
Don't miss out on the Kids Zone as well with fun inflatable bouncers and City of Kelowna Park & Play activities!
Pacific Coastal Street Stage on Water Street near the casino parkade from 1 - 3:30 p.m.
Coast Capital Savings Youth Stage from 6 - 10:15 p.m. in Kerry Park
Folk Fest stage at Prospera Place from 10 a.m. - 4 p.m.
PLEASE NOTE - Coast Capital Savings Fireworks have been POSTPONED to Saturday, Aug. 5 at 9:30 p.m. 
Find more information on all things Canada Day at festivalskelowna.com.
Looking for more Canada 150 Information?
Sesquicentennial Grant   
Incentive Grants
Take the Volunteer Challenge
In the community
Kelowna residents have a history of providing support for community celebrations and events which include the 2000 Millennium Celebration, Kelowna's 100th birthday (2005), the 2008 BC Summer Games, the 2008 opening of the William R. Bennett bridge, the 2010 Torch Relay, 2010 Breakout West Music Awards, and the 2011 International Children's Games. We expect support and excitement for Canada's Sesquicentennial to be no different!