Community stories
Educational articles about topics of interest in the community.
This isn't your parents' Kelowna: A changing and evolving city

Like many longtime Kelowna residents, James Moore remembers when much of the city's downtown waterfront was a dirt parking lot.
Growing up in Kelowna, he was like many of his friends who left town after high school due to a lack of jobs, limited post-secondary opportunities and not enough of the urban attractions that young people want.
Fast forward to 2020, and Kelowna has a vibrant and energetic downtown. Brew pubs, restaurants, wineries, music venues,  meandering waterfront walkways and eclectic shops are some of the features that draw people to Kelowna's urban lifestyle. These changes, along with a spectacular natural environment,  a world-class university, a growing college and a more diverse job market, lure Moore's former classmates back to their hometown.
Kelowna is growing, and it isn't just from young people returning. Kelowna is attracting new residents from across B.C. and Canada. This isn't a new phenomenon, though.
"Every generation has experienced its own version of Kelowna's growth and change," said Moore, who is the Long Range Planning Manager for the City of Kelowna. "When my parents moved to Kelowna in the early 1970s, it was a small town of 20,000. When I grew up here, it was a small City approaching 100,000. And, my daughter will see Kelowna as a thriving mid-size city."
"Change is the one constant in cities," said Moore. "Growth and change have always been a reality in Kelowna."
Over the next 20 years or so, between 40-50,000 new residents will call Kelowna home. Moore explains that the most important question is how best to manage that growth to make progress towards the community's Imagine Kelowna vision. Processes such as the Official Community Plan review and the Transportation Master Plan update are underway to help answer that question.
But the way Kelowna grows must change.
"For the last 60-70 years, Kelowna, like many other cities, grew outwards," said Moore. "This pattern of suburban growth created a car-dependent culture. The impacts of climate change, increasing traffic congestion, unaffordable housing, high infrastructure costs, and a limited land supply mean we can no longer afford to grow out."
As a result, much of the expected growth over the next 20 years will be within existing neighbourhoods – resulting in development that is more sustainable, but also more visible to current residents. Instead of building tracts of expensive detached homes on the outskirts, more new growth will happen in existing neighbourhoods across the city.
"This means that each neighbourhood will play a part in welcoming new neighbours to their neighbourhoods," said Moore.
As a long-range planner, he sees the struggle people have when dealing with change in their neighbourhood or the wider community.
"It can be hard to embrace the benefits of something that you haven't yet experienced," said Moore. "We all know our neighbourhoods as we see them today. They are tangible and easy to understand, and there is a sense of security in that. It is much harder to get behind the benefits of something that is not yet built. In that way, change can bring out stronger negative reactions than positive ones."
Growth also often takes the blame for larger social issues, such as homelessness.
"It's not reasonable to say if Kelowna hadn't had the growth that we've experienced over the last 20 years, we wouldn't have the social problems we are seeing today," said Moore. "Rather, these problems are connected to the affordable housing and opioid crises. We are not alone in this experience. Small, medium and large cities across Canada and across the globe are experiencing similar challenges." 
Complicating matters is the tension between the community's needs today and its needs years from now.
"Just like for any business, responsible planning means we sometimes have to step outside of the issues we face today to try to anticipate what we will be facing in the future – things like climate change, autonomous vehicles, housing affordability."
This is where city-building plays an important role.
By participating in city-building engagements, such as providing input on the Official Community Plan or Transportation Master Plan, residents can see the big picture of how Kelowna is growing. Residents' input can help find the right balance as the City tries to navigate the trade-offs that come with making room for an anticipated 50,000 new residents by 2040.
And most importantly, Moore wants residents to think about how they can play a positive role in shaping the changes in their neighbourhood, building a stronger neighbourhood in the process.
"One thing is for sure," said Moore. "Kelowna 20 years from now will be different than it is today. But, if we put our heads together, we can retain what makes Kelowna such an attractive place to live while building energetic, urban centres where people can live, work and play."
He encourages residents to embrace the opportunity to be part of visioning for the future, much the way other Kelowna residents have lent their voices over the years to create the park systems, waterfront and other amenities we all enjoy today. Visit getinvolved.kelowna.ca to participate in current public engagement opportunities.
Creating safe spaces through design

What does safety feel like? It's the sense of calm you have strolling through a well-maintained park, or the discomfort you feel walking down a poorly lit street. Our sense of safety is connected to the environment around us.
A team of City of Kelowna staff, trained in Crime Prevention Through Environmental Design "CPTED", routinely conducts audits and reviews of City projects, parks, neighbourhoods and new housing with supports locations.
To understand how it works, consider these two neighbourhoods.
Neighbourhood 1 is well lighted, has clear signage, sidewalks, bike lanes and the landscape is well maintained. Neighbourhood 2 has lots of hidden spaces, dark alleys, overgrown trees, graffiti on light poles, no bike paths or sidewalks.
Which neighbourhood would you choose to walk through?
"Option 2, sounds pretty inviting if you're someone looking to commit crime without being seen," said Colleen Cornock, Crime Prevention Supervisor for the City of Kelowna. "When we apply CPTED principles, we are looking at what modifications could be made to reduce opportunities for crime."

"As a starting point, we review existing landscaping, lighting, signage to amenities and services and how people move in the space," said Cornock. "We want to create opportunities for community building while designing out opportunities for illegal activity. Our ultimate goal is to have community ownership of the space."
In a park that becomes known for negative activity, installing additional lighting may attract more people to exercise or play in the park. Dog parks, for example, increase community use because dog owners tend to use the space throughout the day.
As for the graffiti –wrapping utility boxes with pictures or painting murals on a wall help minimize graffiti.   
For some new developments, including new housing with supports projects, Cornock and her team apply the CPTED model in the development phase, before construction begins. For two recently constructed housing with support buildings, Samuel Place and Stephen Village, this meant increasing the amount of lighting, to ensure high visibility of the outdoor areas.

While most of the work is focused on public spaces, Colleen offers tips for homeowners to limit the opportunities for crime on their property.
Create spaces that show pride – ensure you don't have overgrown landscaping, keep trash off your lawn, stay on top of required repairs
Have a visible street address – so your home is easy to locate in an emergency
Ensure all exterior lights are working
Keep your garage and car doors locked
Don't leave ladders or tools outside that can be used for break and enters
Lock second floor windows and doors when not at home
Applying the principles
In late October, 22 staff from a variety of departments in the City and RCMP, including Crime Prevention, Bylaw, Active Living and Culture, Civic Operations, Parks, Parks Planning and the RCMP Community Safety Unit participated in facilitated CPTED training applicable to their work to further improve community safety and well-being. Rethink Urban delivered the full spectrum workshop with an environmental design expert with international experience leading the training.
They visited locations that have experienced crime and social disorder issues, to apply classroom theory and content and prepare recommendations to report back to a CPTED review panel on the final day of the training.
City Council has established priorities that include reducing crime and ensuring residents feel safe.  This training will create a cross-organizational CPTED Team that will triple the City's capacity to provide CPTED audits in troubled areas and support the development and application of CPTED expertise in early planning.
Learn more about crime prevention at kelowna.ca > crime prevention
Honouring lived experience benefits us all
Many stigmas are applied to people who experience homelessness, mental health challenges or addiction. The labels are typically de-humanizing stereotypes, blind to the individual and the proven potential they have to contribute to social change. 
The City of Kelowna, PEOPLE Employment Services (Paid Employment Opportunities for People with Lived Experience), Urban Matters and the Central Okanagan Journey Home Society are working to bring these so often unheard voices to the table in a meaningful way. This summer, the City of Kelowna and Urban Matters were awarded a three-year grant from Health Canada to establish a peer navigator program.
Through this program, PEOPLE Employment Services  provides training and employment for individuals with lived experience to become peer navigators. PEOPLE is a social enterprise  created to carry out the vision of the Lived Experience Circle on Homelessness (LECoH) that helped shape the Journey Home Strategy.  LECoH's goal is to improve the experience of accessing services, whereby a peer navigator with personal knowledge of what it is like to try to access services, would be the first person to meet and support someone needing to access local services.
The first cohort of 30 participants completed learning modules related to communications, conflict resolution, Indigenous histories, financial literacy and harm reduction practices. The participants are now moving into paid employment opportunities that are supporting inclusion, including peer navigation, community beautification, community ambassador roles, communications, and more.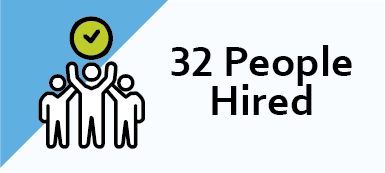 "Peer navigators are engaged in meaningful work that benefits from their individual abilities and interests and have a significant impact," said Dhorea Ramanula, Executive Director of PEOPLE. "Peer navigators listen and respond in a way that makes people feel comfortable. It makes a difference when you see someone who has had experiences you are having. It uplifts people to be met where they are, with no stigma. And in return, the peer navigators gain self-confidence and personal satisfaction in having a positive role to play."
Ramanula shares the story of a couple who were sheltering outside. She reached out to them, inviting them to take part in the peer navigator program. They both completed the month-long training, never missing a day. By the end of the training, they were fully engaged in finding ways to help others. Through the process, they also gained a sense of community, unity and connection that was lacking.
"It's one thing for me to stand up and say this is the impact of homelessness on someone's life, but it is more powerful hearing from someone with lived experience," said Sue Wheeler, Social Development Manager for the City of Kelowna. "I have witnessed audiences so engaged you can hear a pin drop when a courageous LECoH member shares their story with the goal of breaking down the myths that fuel stigma."
"One example was at a community meeting on a new housing with supports project, when an individual with lived experience shared their story to describe the transformation that happens when someone has a home and how it changes their life," said Wheeler. "It's remarkable seeing the audience's response and the shift in thinking as they listen to the stories. Some community members have told me that after they've heard people talking about myths associated with homelessness, they then correct the myths and share their new understanding with others. This is so powerful and so important. It's the broad change that is needed if we as a community want to ensure homelessness is a rare, brief, and non-reoccurring circumstance."
Pivotal shifts
Ramanula explained how small shifts in understanding can benefit the wider community. When COVID-19 first hit in the spring, many community facilities closed – including public washrooms. Knowing this lack of access to a basic necessity was particularly hard on people experiencing homelessness, Ramanula and LECoH pushed to have the washrooms re-opened by highlighting the needs of those sheltering outside because shelter spaces were reduced due to COVID-19 protocols. The City of Kelowna listened and responded.
The City opened some public washrooms in the downtown core and built a new one near the Queensway transit station. PEOPLE provided attendants for the facility to ensure safety and cleanliness of the space for all users. Since the Queensway washroom opened, Ramanula and Wheeler say peer navigators have engaged with a wide range of individuals who use the facilities. The washroom has created a point of connection with the peer navigators who monitor the facilities and interact with people who use them.
"When the Queensway washroom opened, the peer navigators were the first people on the ground, welcoming individuals experiencing homelessness," said Wheeler. "They were instrumental in keeping people safe from overdose by connecting them with resources and treatment, without judgment. Having lived through experiences themselves, peer navigators know how people are feeling, what barriers they are facing and how to work through them. It showed us the impact of the peer navigator program."
Compassion first
Ramanula says the social issues Kelowna faces are not unique to the city – they are challenging cities across Canada. While these issues have grown over the last five years, she says there are lessons to be learned. 
"I believe we have lost connectivity, communications, community and the ability to care for our fellow human beings," Ramanula said. "How do we reach people and listen, finding out their immediate and medium-term needs? I want to include everyone – no matter where they are on their journey – honouring where they are today, not where I wish they would be, or where society wants them to be."
"Let's intervene and save someone's life prior to them having a mental health breakdown or engaging in activities that are survival-based, but could be counterproductive or harmful to the individual. The investment we put out on the front end is repaid many times over."
New path forward
As the City continues its work with those who have lived experience, Wheeler says it does so in keeping with four principles LECoH formulated from its consultations to guide effective and responsive approaches – safety, choice, healing and sense of community.  Wheeler supports the vision is for individuals with lived experience to have a seat at decision making tables as voting members and educators – to be recognized as equals, who have a voice that needs to be heard.
Ramanula shares a similar vision, adding her hope is not only that these individuals are invited to sit at tables to be part of systematic change, but that no one is shocked to see them there. She also believes having a peer navigator or person with lived experience working inside every community support agency would lead to tangible community benefits.
The community is not quite there yet, but a growing number of people and organizations in Kelowna are devoted to progressing from stereotypical stigmatization to genuine engagement and connection that is literally life-changing for our most vulnerable residents.
To learn more about the peer navigator program visit peopleemploymentservices.com.