Each Council works to determine how they will do business during their term. Together, Mayor and Council agree on focus areas and projects that will support their priorities and meet the needs of the community.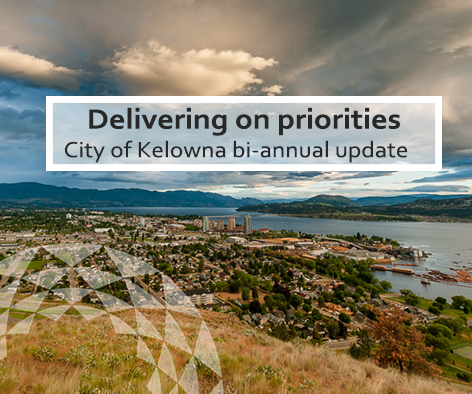 Work completed by City staff over the past four years at the direction set by Council aligns with the 10 priorities identified for the 2014-2018 term. The initiatives build on the opportunities of a rapidly growing and changing city while also addressing the challenges that come with growth, increased urbanization and climate change.
View: Delivering on Council's Priorites 2014-2018
Read the Delivering on priorities summary of work completed by City staff to meet Council priorities for the 2014-2018 term (as of September 2018).
Council priorities 2014-2018
Council identified six focus areas for their term (2014-2018): 
clean drinking water
building vibrant urban centres
ensuring a healthy, safe, active & inclusive community
delivering a balanced transportation network
acting as a catalyst for business
providing strong financial management
In October 2016, Council reviewed its priorities and added four more based on the changing needs of the community:
housing diversity
homelessness
public safety
preserve agricultural land
To review the status of Council's priorities (as at February 2017), check out the priorities update factsheet and presentation.
For more information and a list of Council's original priority projects, review the Council priorities booklet or one-page summary.
Led by Mayor Colin Basran, Kelowna City Council is committed to building on the momentum of past Councils and being open for opportunity through community engagement and partnerships. Council will be consistent and transparent in their decisions, creating a favourable environment for customer service, development and business in Kelowna.
Open for opportunity
Council wants to lead a community known for being open for opportunity. Opportunities may arise in the form of innovation and partnerships to deliver and expand services and amenities.
Build on momentum
Kelowna has momentum and Council is committed to building on this through consistent and transparent governance. Council will focus on long-term planning, policy development and project/service delivery to continue to meet the needs of citizens. 
Fair but firm
As Kelowna becomes better known worldwide as a destination and a great place to live and invest, Council anticipates growth and development pressures. Council recognizes the value in maintaining a great quality of life in Kelowna. A high standard of expectations will be set by Council actions and decisions, which will attract investment because investors will have clear expectations of what they will experience when doing business with the City. 
Pragmatic leadership
Council is committed to active listening and being open to new ideas because it knows engaged residents and key stakeholders are essential to community building and decision making. This will be balanced with the need for leadership, particularly when difficult decisions are needed for the long-term benefit of the community. 
Transparency in decision making
Council understands we build trust through engagement and timely and transparent decision making. The City of Kelowna will continue to foster an open government, with civic information made easily understandable and accessible to the public. 
Balanced infrastructure investments
Each year, the City of Kelowna invests in facilities and major infrastructure. By integrating a long-term financial plan with an asset management strategy, Council will balance investment between new and existing infrastructure while improving community assets.
Responsive customer service
Council places high value in planning for the public good while also incorporating a strong commitment to customer service. Achieving high quality outcomes through municipal process and customer service are important to encouraging thoughtful investment in the community. 
Planning excellence
Council wants to ensure a strong foundation is in place so the short- and long-term needs of the community are met. This will require a focus on long-term planning that is innovative, while based on best practices.