Kelowna's sign bylaw regulates the number, size, type, appearance and location of signs for both public and private property. Generally, all exterior signs need a permit. See Section 2.3 of the City of Kelowna Sign Bylaw for exceptions.
How do I obtain a sign/building permit?
Apply in person or by representative to the Building & Permitting Branch at the City of Kelowna, 1435 Water Street, Kelowna British Columbia. A sign permit application containing all the required documents and conforming to the BC Building Code, City of Kelowna Zoning & Sign Bylaws and all other applicable City Bylaws can usually be issued within 2 weeks.
What do I need to obtain a permit?
Note: If you are unable to provide the following information, you should engage the services of a professional designer (sign company) or a registered professional familiar with the requirements of the British Columbia Building Code and the City of Kelowna Sign Bylaw.
Owner's Authorization Form signed by the property owner.
Building permit fees are to be paid prior to issuance of the permit. Fees are based on the total size of the sign (sq m or sq ft) as per the City of Kelowna Development Application Fees Bylaw and will be calculated by our department.
Two (2) copies of a dimensioned site plan showing:

The location of the building and the tenancy on the property,
The location of the proposed sign; and,
A north arrow, all property lines, labeled streets, parking spaces.
Free-standing sign applications must also include the location of the proposed sign in relation to all existing free-standing signs, the property lines and driveways. On a corner lot the sign shall not be located in the line of vision triangle. This triangle is determined by measuring 8m along the property line of each street and drawing an intersecting line between the two 8m points.
Two (2) copies of a dimensioned elevation drawings showing:

 Location of the proposed sign, grade, floor lines, roof membrane, parapet wall, all windows and doors in the tenancy,
 Height and width of the tenancy space; and,
 Distance from grade to the underside of the proposed sign.

Two (2) copies of a drawing showing the exact dimensions, colour, size or lettering, wording and graphics or the proposed sign.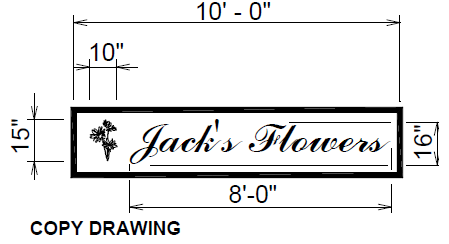 Two (2) copies of a partial section taken at the method of attachment, grade, floor lines, roof membrane, parapet wall, the planes of the walls, the projection of the sign, the curb etc.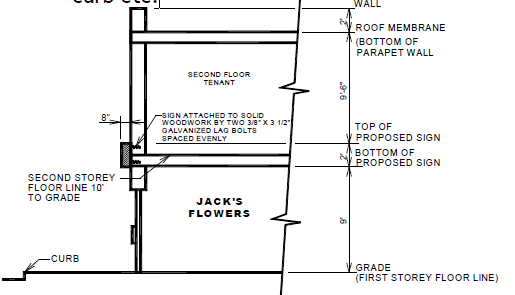 Other possible requirements

A professional engineer registered in B.C. shall prepare and seal the structural design of:

The foundation, columns and frames of free-standing signs and awnings, canopies and projecting signs over public property
 Any other signs where City Staff are especially concerned with the structural integrity of the sign.