Kelowna RCMP
Policing services for the City of Kelowna are provided by the  Royal Canadian Mounted Police (RCMP) and guided by the crime reduction strategy. The RCMP have proudly served Canadian communities for more than 130 years, establishing a reputation as one of the most respected police forces in the world. Check out the  Kelowna RCMP webpage  for more information.
New location
Kelowna RCMP have moved into the new Police Services building located on 1190 Richter St. The centralized detachment will significantly improve efficiencies and effectiveness of police services in Kelowna and provide flexibility for long-term growth. The RCMP's operational model will continue to support several smaller satellite Community Policing Offices to provide some decentralized neighbourhood functions (e.g. public reception, criminal records checks, etc.) and increased police profile through Kelowna's 214 square-kilometre geographic area.
Investment in safety
We take crime prevention seriously, investing one-quarter of tax dollars in Police Services and fostering a good reporting relationship with the RCMP.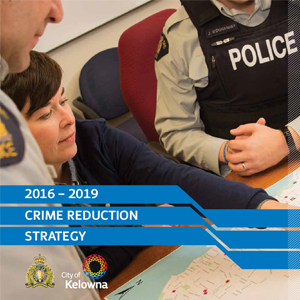 Council recently endorsed the 2016-2019 Crime Reduction Strategy, which will guide RCMP efforts through 2016 to 2019. The new strategy will replace the RCMP's 2012-2015 Strategic Plan with new goals including:  
to prevent crime before it occurs through a proactive approach;
to work with partner agencies for more effective policing;
to maximize the efficiencies of resources through an intelligence-led model; and
to effectively communicate public safety.
Our 2017 Citizen Survey ranked concerns about crime relatively low, while noting Police Services as one of the primary strengths. Ninety per cent of survey respondents said they felt the city was safe.