Official Community Plan (OCP)
Kelowna 2040: Our Kelowna as we Grow
Updating of Kelowna's Official Community Plan is getting underway. This multi-year project begins in 2018 and is anticipated for completion in 2020.
The update is primarily to refine and update land-uses, mapping and policies to reflect the community's vision (as captured through the Imagine Kelowna process) and to clearly signal where development is to be accomodated and supported with corresponding infrastructure and amenities.
Process

The OCP is intended to address sustainability as the focus of community goals, objectives and policy. It provides a policy framework for Council by addressing issues such as housing, transportation, infrastructure, parks, economic development and the natural and social environment. 
A breadth of topics are covered by the OCP and are fundamental to understanding the complex trends and changes that affect planning for our municipality over the long term. Imagine 50,000 more people in our city. Where would they live? How would they get around?
Check out the resources below to find interactive online summaries, videos and reports about a number of these topics. Stay involved, get curious, be informed, share your passion, and imagine your influence on our Kelowna!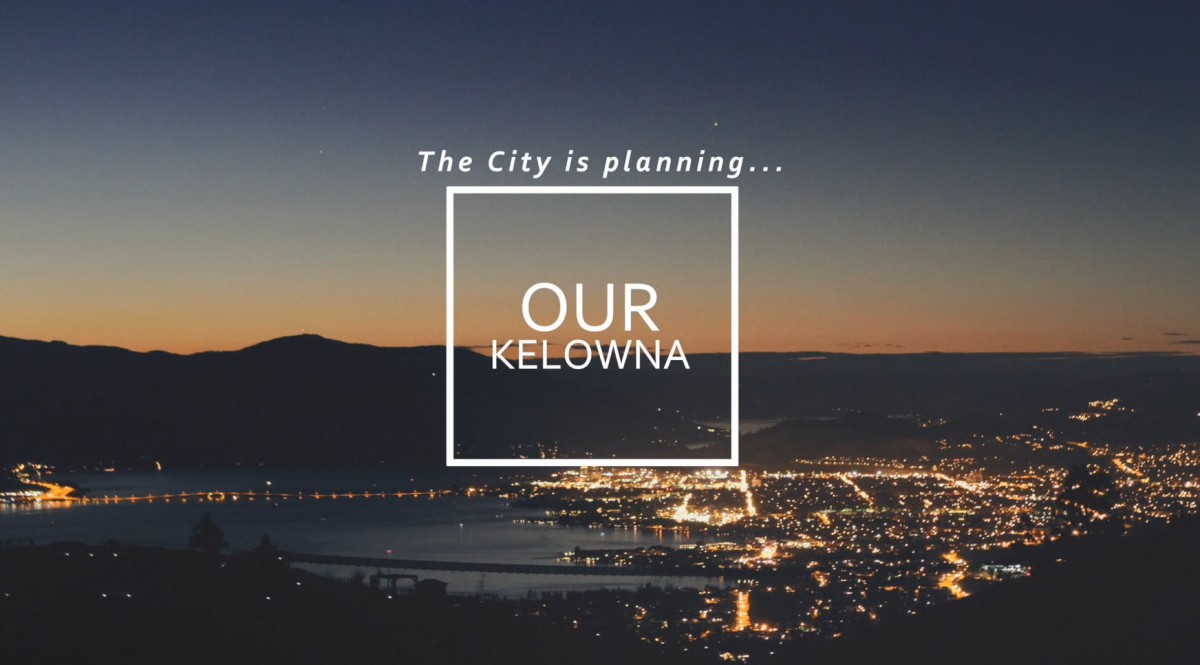 Watch the introductory video as we plan for the future. 
Facts in Focus - reports and online summaries
The Facts in Focus papers are designed to be an education series for Council, the community, and interested stakeholders to learn about the breadth of topics that are covered by an OCP update process.
What is an Official Community Plan?  Interactive, online summary
Population and Housing in Kelowna. Interactive, online summary
Compact, Complete Communities. Interactive, online summary
Transportation. Interactive, online summary
Agriculture and Rural Areas. Interactive, online summary
Natural Environment. Interactive, online summary
A Changing Climate. Interactive, online summary
Kelowna 2030: Greening our Future
The Kelowna 2030 Official Community Plan (Bylaw 10500) was adopted by City Council on May 30, 2011. View the Official Community Plan (OCP) chapters.
Official Community Plan Indicators Report 2016
The fifth consecutive Official Community Plan (OCP) Indicators Report is now available. The report is the City's principal effort in monitoring the effectiveness of the OCP on the ground. As progress is measured and trends emerge, the City is able to make adjustments or alterations where needed to ensure that the OCP remains an relevant and effective guiding document.This year's report suggests an overall positive performance, with 76 per cent of the indicators performing in a positive or neutral direction. 
Frequently asked questions
How does an Official Community Plan (OCP) help us reach community goals?
All municipal policies, plans and regulations must be in alignment with the OCP Bylaw, so it is a powerful guide to City decision-making. An effective OCP provides clear direction but does not preclude change to the plan based on evolving circumstances or interpretation of policies by Council and staff. In this way, an OCP is often considered a "living document". This OCP Review seeks to integrate or 'hardwire' sustainability into all decisions and create greater alignment of City policies, programs, and projects.
What is an Official Community Plan (OCP)?
An Official Community Plan (OCP) is a City bylaw that defines policies for land use and development. An OCP takes a long range view, in this case through to 2030, to ensure that the needs of current and new residents can be accommodated in that period. For instance, based on population projections (how many people will be born or move here), we learn about how many new homes will be needed. The OCP details what types of homes (apartment, townhouses, single family homes, etc.) are needed and provides policy direction on how, when and where those new homes will be located. The OCP, in addition to housing, addresses many other aspects of the City including environmental protection, economic development, transportation, infrastructure and land use.
Who uses an Official Community Plan (OCP)? Who does it affect?
City Council, city staff, developers and professionals (architects, engineers, planners, landscape architects, etc.) use the OCP to understand what the community wants as it relates to the delivery of housing and other land uses (types, character), transportation services, infrastructure and amenities. They also use the OCP to understand which areas are suitable for development and which are not (environmentally sensitive areas, steep slopes, hazardous areas, etc.). The public can use the OCP to gain a better understanding of local issues and how they are planned to be addressed or what changes may happen in their neighbourhood.
Why is there such a focus on land use and development policy?
Provincial legislation (Local Government Act) outlines the purpose, required content and discretionary content of an Official Community Plan (OCP). The purpose of an OCP, under this legislation, is a "statement of objectives and policies to guide decisions on planning and land use management". Kelowna has a number of plans or guidelines in place that have a very detailed focus on specific issues in the community that may or may not be land use oriented. This is not uncommon for a City of our size. However, inclusion of all those other issues in an OCP creates an unwieldy document that is not necessarily focused on land use and development as intended in the legislation. In the case of Kelowna, there is enough Council and community support for these other plans in place today to stand on their own as separate policy documents and to create an OCP focused exclusively on land use planning and development.
Why is public input needed?
An Official Community Plan (OCP) Review involves significant public involvement from the beginning to the end so that goals and policies reflect community concerns and hopes for the future. During an OCP updae, the review process is open, transparent, and requires broad input from residents, elected officials, staff, and stakeholders. It is the City's goal to engage residents of all ages and walks of life to participate in a wide number of activities over the life of the review.
What is the difference between the Zoning Bylaw and the Official Community Plan (OCP)?
The Zoning Bylaw is a regulatory tool that is very specific about land use, density, building siting (where its located on a lot) and other issues such as landscaping and lot coverage requirement as it relates to a lot or site. The OCP is more strategic and often less prescriptive about specific sites. For instance, the OCP will say "this area will be a future growth area for high density housing" where the Zoning Bylaw will say that the building on that specific lot will be 12 storeys tall and cover 50% of the lot.