Landscape water efficiency
In the average Kelowna home, 55 per cent of total annual water is used for landscape irrigation. On an average summer day, about 72 million litres of water is sprayed onto lawns and gardens.
The first step to ensure a water-efficient landscape is to have good soil. Some of the soils in Kelowna are not ideal for water retention. In sand and gravel type soils, the water just runs through. In clay soils the water sits on top and evaporates. Top-dressing your lawn and putting mulch in gardens will help the soil retain moisture.
The next step is to carefully select plant material. While Cedar hedges grow fast and look nice, they may not be the best choice for our semi-arid climate. More people are choosing plants that are native to the area and have adapted to local conditions.
For more information on landscaping to save water, see the Landscape & Irrigation Guide.
Xeriscape
The word Xeriscape is derived from the Greek word "xeros," which means dry. It's a landscaping method developed especially for arid and semi-arid climates that utilizes water conserving techniques.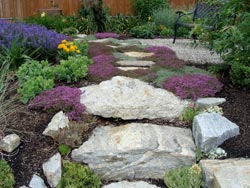 The  Okanagan Xeriscape Association  is an excellent place to learn about this alternative to traditional landscaping.
A research group in Toronto determined that Canadians have a stigmatised idea of Xeriscapes.
Focus groups separated participants into two groups and the first group was asked to draw pictures of a xeriscape garden, while the second group was asked to draw pictures of their ideal landscape.
The xeriscape garden images drawn by the first group were bland, with most gardens featuring rocks, brown plants (or no plants) and weeds. One participant even included a dead raccoon, emphasizing their distaste for xeriscape.
This doesn't mean that xeriscape gardens are colourless, rocky and uninhabitable by wildlife, but it does show that many people think they are.
Ironically, the drawings from the second group, depicting ideal landscapes, were a better representation of what xeriscape gardens actually look like. Images featured reduced turf areas, native and other plantings grouped according to watering needs, mulch, decks, pathways and seating areas. These elements combine to create a landscape that invites birds and butterflies, requires less maintenance, less pesticide, fertilizer and water use.
Ultimately, Canadians have a misconception about what a xeriscape garden is. Based on these observations, we like xeriscaping, we just don't realize it.