Source-to-tap program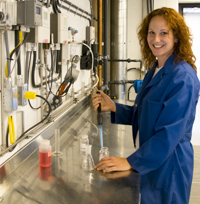 Local health authorities have described our Water Utility's "source to tap" program as one of the best in British Columbia.
The water utility supplies water to more than 65,000 residents and more than 1,700 industrial, commercial and institutional properties in north, central and south Kelowna. The raw water source is Okanagan Lake.
Committed to protecting public, environmental and economic health, the utility's source-to-tap water management approach includes watershed protection, water quality monitoring, treatment, distribution system maintenance, cross-connection control and water-use efficiency.
Water testing
Trained technicians perform more than 1,000 individual water quality tests each month on source water and water in the distribution system. Daily bacteria analysis is completed for Total Coliform and E. Coli. Weekly tests scan for other bacteria.
Water disinfection
Chlorination and Ultra Violet Light
1.5 milligrams of chlorine is used at source per litre of water
Water monitoring
Source water is monitored 24 hours a day using SCADA technology. If there is any significant change in pH or turbidity  a deviation response plan that includes further detailed testing and customer notification.
Water quality at both water distribution and storage facilities is monitored 24 hours per day.
Water technician training
Technicians, who are responsible for water quality sampling and analysis, have all completed a two-year water quality certificate program. All Water System Operators have completed the B.C. Water Association's certificate program.