Phase 1 - Kelowna Integrated Water
Kelowna Integrated Water Phase 1 has separated agricultural and domestic water systems in Southeast Kelowna and delivers a sustainable water supply to agriculture in the South Mission. The project brought clean drinking water to about 2,000 households and met Interior Health's 2025 clean drinking water mandate almost 10 years earlier than planned in Southeast Kelowna. This is the first phase of the City's vision to see a city-wide integrated water system through the 2017 Kelowna Integrated Water Supply plan. 
To see where the potable water system was added and where the non-potable system converted to potable water only, please see the Southeast Kelowna water supply map below. The map also shows which properties have Local Area Service (LAS) status. 
Financing for South Kelowna ratepayers
Southeast Kelowna Irrigation District's (SEKID) portion of the project shortfall is $15.3 million. On May 14, City Council approved a budget amendment to provide City financing to SEKID ratepayers.
SEKID will start repaying this financing through a project fee of $32 per month to all domestic ratepayers, starting July 2018. In 2021, when Southeast Kelowna ratepayers will move to lower City Domestic water fees and rates, the re-payment will increase to about $40 per month until the shortfall cost is recovered. 
To reduce the impact on SEKID ratepayers, the City altered project scope and deferred some long-range components to reduce the financial impact to SEKID ratepayers.
Read details about the projects costs, funding model and typical domestic cost comparison in the newsletter to SEKID ratepayers or browse the display panels from the open house held May 17, 2018.
This project was made possible due to an unprecedented senior government grant of $43.9 million in March 2017. The balance of project costs will be paid for by both the City of Kelowna and the South East Kelowna Irrigation District. Portions and costs for the project are allocated based on percentage of benefit received.
In early 2018, construction cost increases and increased demand requirements saw the project budget rise from $63.5 million to $86 million. Our $6 million portion of the project shortfall will be funded through utility reserves. 
What's included in Phase 1?
The project includes major upgrades to the City's core south-end water infrastructure - including the two main pump stations - expansion of reservoir capacity and large diameter transmission main. It also includes a new separated water system to serve existing South East Kelowna Irrigation District (SEKID) domestic customers with year-round clean water that includes water distribution main, two new pumping stations and expanded reservoir storage.
Why have costs increased?
This project budget increase is partly a result of updated water demand requirements in some areas of Southeast Kelowna as well as the volume of infrastructure projects currently being built across the province. Of SEKID's $58.2 million budget, $51.4M is dedicated specifically to building the new drinking water distribution system; separation of agriculture and domestic was always part of the plan.
What about the plan to build wells - can we go back to that?
The source of water is a small proportion of the overall project cost. Most of the cost - 88 per cent - is building the new domestic water distribution system in Southeast Kelowna, which was always part of the plan.
The SEKID project is the Province's approved solution to drinking water quality through the 2017 Value planning study of the 2012 Kelowna integrated water supply plan. This was a requirement of senior government funding. The plan will provide all Southeast Kelowna residents clean drinking water 10 years earlier than originally planned though a fully integrated connection to the City's Water Utility.
How are costs proportioned for this project? Why doesn't the City just "pay for it?"
Costs are attributed to either the City or SEKID based on the percentage of benefit received (by SEKID and/or City ratepayers). Ratepayers are expected to pay the costs required to bring their system up to the level of the city's service. Once integrated into one utility, all future benefits and costs will be spread over the entire utility.
We have done everything possible – including re-scoping the project­ and financing –  to reduce cost and risk to both SEKID and current City ratepayers.
What happens if we don't take advantage of the $43.9 million grant?
Despite project cost increases, 80 per cent of the $43.9M grant is applied directly to SEKID portions of the project costs and pay for more than 60 per cent of SEKID overall costs.  
Interior Health has required that all domestic drinking water systems meet Canadian Drinking Water Quality standards by 2025. Based on today's construction costs, demand and rates, SEKID ratepayers would pay an estimated $1,900 annually for 20-years to meet this standard without the grant.
Why did SEKID have to dissolve?
Integration with the City utility is a requirement by the Province to access the $43.9M in grant funding.
Why didn't you tell us about the project cost increase sooner?
Due to confidential negotiations with the project contractor, we were unable to disclose details about the project costs until the project was awarded on April 27. 
We appreciate that this has been frustrating for ratepayers and that there are many questions. City staff are available to assist you with any concerns you may have.
Why is the design/build process used for this project?
As condition of the $43.9M grant, the project has a tight timeline. Design/build processes help condense project length as design and construction occur at the same time. Design/build is used for significant, complex projects to control market driven costs and reduce the risk of budget increase over the length of the project.
Does removal of the KLO Road transmission main affect service delivery of clean water to South East Kelowna?
No, but it does impact resiliency. The water delivery model has been modified and all the drinking water will now come solely from the south Crawford area. The KLO Road trunk and associated increased capacity in Adams and Hayes reservoirs were originally planned to add redundancy for the system and help meet future demand – an important principle in the Kelowna Integrated Water Supply Plan.
The KLO Road transmission main will need to be completed in the future, but is deferred to help save some immediate costs.  
What's the status of the remaining 2017 Kelowna Integrated Water Supply Plan?
Phase 1 of the 2017 Kelowna Integrated Water Supply Plan has been the focus of City staff for over four years now. There is a significant amount of work left to do to ensure the project is successful and the integration goes smoothly. 
We are working on an area-wide water plan with multiple stakeholders. The Plan is looking holistically at water throughout the entire Kelowna Water Basin. We will also do further modelling and detailed planning on the 2017 Plan to prepare for another senior government grant application.
We will re-engage with the Province and other Irrigation Districts to determine if there's interest in working together on the above initiatives.
Water pressure fluctuations
As your home gets connected to clean drinking water and is supplied from a new water source, you may notice a change to your water pressure. While any changes to the system pressure are within normal bylaw ranges, please be advised that as per Water Regulation Bylaw 10480, fluctuations to the system pressure may occur at any time and without notice. As such, we encourage all properties to ensure they have a functioning pressure reducing valve (PRV) to safeguard their plumbing.
While most homes within SEKID already have a PRV as required by SEKID Bylaw #671, failure to have a functioning PRV could result in "knocking" or damage to existing piping or appliances throughout the household at the expense of the homeowner. In addition to protecting your plumbing, PRVs can help with water conservation and increase energy savings, as higher pressures result in wasted water. It has been estimated that a house with a properly installed and functioning PRV can save as much as 30 per cent on domestic water heating costs.
Note that PRVs have varying life expectancies, and most require replacing or servicing around the 10-year mark. If you already have an existing PRV, an annual check of your household water pressure is recommended to ensure your PRV is functioning properly.
A typical PRV is shown in the image below and would usually be installed near the main shut off valve where your water service enters your house. A PRV can be installed by any professional plumbing company.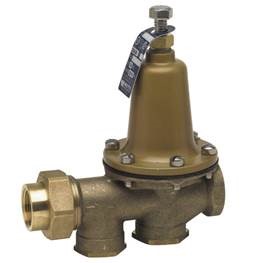 The Phase 1 project provides new benefits for irrigation water users. Once the new domestic system is in place, the existing distribution system will become a dedicated supply of minimally treated water for irrigation and some fire protection.
This model of separated systems supports agriculture interests by reclaiming the capacity used by previous domestic customers, and spreading cost of ongoing maintenance and future infrastructure of this aging system over the entire City utility. For resiliency, the domestic water supply could also be used in an emergency or water shortage.
How the City will work with the agricultural industry
The City of Kelowna recognizes the need and importance of a vibrant agricultural industry. During the SEKID transition and beyond, numerous actions are being considered to support agriculture and ensure a strong transition of the irrigation system.
On May 14, 2018 Council approved:
Maintaining agricultural rates and allocations for water set by SEKID until 2021
Developing a transition advisory committee on agricultural water matters in South East Kelowna
Committing to an inclusive engagement process with the agricultural industry regarding delivery and security of irrigation water
The City and SEKID have been working over the past year on a transition plan that welcomes all SEKID employees to continue their employment with the City of Kelowna. This will ensure continuity of service and valuable knowledge transfer. 
Agricultural/irrigation rates
A new agricultural rate structure is currently being determined based on feedback from the agricultural community this past winter . A proposed rate structure and rates are expected to be presented to Council in 2020, with new rates to take effect in 2021. In the meantime, existing SEKID rates and allocations for both domestic and agricultural rates will remain in place until new rates are adopted for 2021.
2019 consultation update
Residents were invited to attend drop-in open houses on Nov. 26 and Nov. 28 to learn more about the proposed rate design. Those who were unable to attend in person can review the proposed rate structure at getinvolved.kelowna.ca.
Work may occur on your property depending on the Statutory Right of Way Agreement. You will be contacted by the Community Liaison Officer, who will provide you with information on the timing and work to be done. New service connections require some work along your property line. The impact will be minimal, and you will be given prior notice.
Items and existing features adjacent to the road right of way, or on the Statutory Right of Way Agreement, that are permitted to be there will be restored.
Businesses will be open during construction, though you may have to alter your normal route when detours are in place. If you have concerns about construction-related impacts to your business, contact the Community Liaison Officer. For more information about business planning during a construction project, review the Open During Construction guide for businesses. 
Generally, Monday through Friday, 7 a.m. to 5:30 p.m., but at times until 10 p.m. Work may occur outside of these hours to mitigate traffic impacts.
Garbage pick-up & mail delivery
Garbage pick-up and mail delivery should proceed as normal. If you're experiencing delays in mail delivery, please contact your mail provider. Should a Canada Post delivery be delayed, mail will be held at the Canada Post sorting office located at 750 Baillie Ave, open from 10 a.m. to 2 p.m., Monday through Friday.
Utility additions & service disruptions
Advance notice will be provided before planned work that will disrupt water, gas, power and/or communications.
Underground powerlines aren't within the scope of this project
Adding other utilities isn't within the scope of this project
Bike lanes aren't planned.
Sewer isn't a consideration as part of this project. Sewer lines are generally driven by the residents bringing the need to the attention of the City. The areas needing sewer are then prioritized for grant applications and local area service. Neighborhoods generally pay the cost of the sewer project, and grants are typically needed to reduce the cost burden to residents getting the service.
Water timing, quality & service connections
Properties will be connected to the City Water Utility as the project progresses; however, a water quality advisory is in place for the newly installed water system during construction. This water quality advisory is a precaution until the entire system is complete.
Jean Road reservoir & pump station
This new domestic water system will provide Southeast Kelowna Irrigation District customers with higher quality, reliable drinking water. The system's preliminary design requires a reservoir and pump station at a very specific elevation in order to meet water pressure, flow and emergency storage requirements.
The elevation of the property at 4075 Jean Road makes it ideally suited for this facility, and the property was acquired by the City specifically as a location for a future water storage facility. This property is not designated as a park and, as it's already owned by the City, it's available at no extra expense to the project or system users.
Recreational use during construction
Recreational uses such as hiking or horseback riding will continue to be permitted on the majority of this forested site. The total land area of the City's parcel is 46.4 acres and about 1.4 acres will be used for the water facility, leaving approximately 45 acres for recreational use.
The site where this facility will be built was chosen to avoid disturbing environmentally sensitive areas as much as possible. The access road and water main and power connections to the site from Jean Road will be designed to minimize impacts. A second water main also needs to be constructed between the reservoir and Gallagher's Fairway South. A route will be selected that minimizes the need to remove trees, and the area will be restored with natural surface cover.
The reservoir will be partially buried in a forested area in order to minimize its visual impact. The site will be fenced, and additional trees and native shrubs will be planted to further screen the site. An environmental impact assessment for this project was conducted, and best practices for work in sensitive areas will be strictly followed for both construction and operation of the facility. The facility will be operated by highly trained and experienced City staff. Re-chlorination for water quality may be conducted here, but presents no risk to residents or the environment. Periodic reservoir cleaning and flushing will also be conducted in strict compliance with environmental regulations.
The current zoning requires a minimum distance of three metres between a structure and the property line. This reservoir will be located 40 metres from the property line to provide an additional 37 metres of buffer between the facility and neighbouring properties. The pump station attached to the reservoir will not create noise issues. Noise that may be heard near the station from time to time is from the backup generator during a power outage or testing. Noise from the pumps themselves will be dampened within the concrete building, and the generator will meet noise dampening requirements.
Every effort will be made to minimize disturbances during construction. There is unfortunately no simple way to complete the work without some disruption. This inconvenience is required to provide residents of Southeast Kelowna with clean, reliable drinking water.