Police Services / RCMP
Kelowna RCMP
Policing services for the City of Kelowna are provided by the  Royal Canadian Mounted Police (RCMP) and guided by the crime reduction strategy. The RCMP have proudly served Canadian communities for more than 130 years, establishing a reputation as one of the most respected police forces in the world. Check out the  Kelowna RCMP webpage  for more information.
Online Crime Reporting Tool
Click on the button below to report a non-emergency crime that has already been committed. 
Public Safety & Crime Survey
The City of Kelowna and commissioned NRG Research Group to conduct a telephone survey to 300 randomly selected residents in Kelowna in early 2019. The objectives of the survey were to:
Determine Kelowna residents' perceptions of their own neighbourhoods
Assess Kelowna residents' perceptions of crime and feelings of safety in regions and citywide
Assess changes in perceived levels of property crime within the last 12 months
Determine which crime-related problems cause worry
Assess the role of potential crime and victimization and craime in general plays in residents' daily lives
Determine the prevalence of criminal victimization of residents and the extent to which crimes are reported to the police
Results are generally positive and nearly all residents feel very safe or somewhat safe in their neighbourhood during the daytime (99%) and in their residence during the daytime (98%). Open-ended responses from respondents mentions low crime rates as the primary reason for why they feel their neighbourhood is safe relative to others in the city. See the full report for details.
Investment in safety
We take crime prevention seriously, investing one-quarter of tax dollars in Police Services and fostering a good reporting relationship with the RCMP.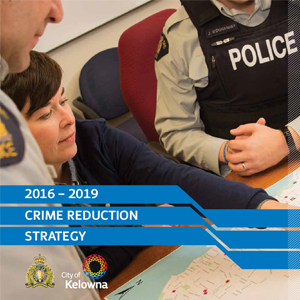 Council recently endorsed the 2016-2019 Crime Reduction Strategy, which will guide RCMP efforts through 2016 to 2019. The new strategy will replace the RCMP's 2012-2015 Strategic Plan with new goals including:  
to prevent crime before it occurs through a proactive approach;
to work with partner agencies for more effective policing;
to maximize the efficiencies of resources through an intelligence-led model; and
to effectively communicate public safety.
Our 2018 Citizen Survey ranked concerns about crime relatively low, while noting Police Services as one of the primary strengths. Eighty-seven per cent of survey respondents said they felt the city was safe.