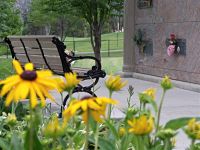 Kelowna Memorial Park Cemetery is an independent, community owned cemetery. The Cemetery is not owned by or affiliated with any funeral service provider, other cemetery or memorial dealers.
Kelowna Memorial Park Cemetery follows a strict policy of not making any recommendation or referral to any specific funeral service provider or memorial dealer. We provide the following listings for information purposes only.  
Funeral Service (and Monument) Providers
Graco Granite
15818 Industrial Avenue
Summerland, BC
1-800-665-4143
Great West Monuments Inc.         
2020 KLO Road
Kelowna, BC
250-979-0087
Mortimer's Monumental Works 
709 Kings Road
Victoria, BC  V8T 1W4
1-800-788-0188
Valley Monuments
4316 - 29th Street
Vernon, BC
1-877-511-8585, 250-542-6411
West Coast Monuments
106-3375 Whittier Avenue
Victoria, BC
1-888-478-2099
Professional Associations & Provincial Legislation Regulators
Funeral Service Association of BC – www.bcfunerals.com 
A professional association representing funeral service providers throughout B.C.
Business Practices and Consumer Protection Authority – www.bpcpa.ca 
The BPCPA administers and enforces the Cremation, Interment and Funeral Services Act to support a fair marketplace for B.C. consumers and businesses.