Restoration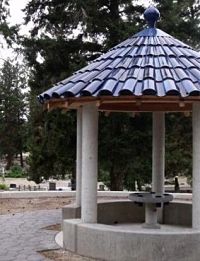 In 2000 and 2001 the City of Kelowna partnered with the Kelowna Association of Japanese Canadians, the Chinese Cultural Association and the Kelowna Buddhist Temple to restore and enhance a historically significant portion of the Cemetery known as Section A. Approximately 400 of the interments in this area are Asian though the graves of many others who made important contributions to the city, including veterans of both World Wars, are also found here.
The restoration project included the replacement of broken headstones and markers, installation of rock footpaths, removal of unwanted vegetation, grave site rehabilitation and construction of a Reminiscing Gazebo of oriental architecture known as the Pavilion of Eternal Rest.
The City contributed $105,000 towards the $205,000 project. Provincial and federal funding of $80,000 was secured through the British Columbia 2000 Community Spirit Grant Program and the Canada Millennium Partnership Program. The remaining $20,000 was provided by the Asian community through fund raising initiatives. 
Marking Our Past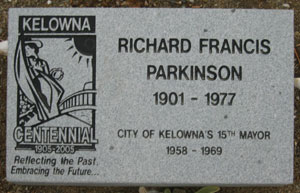 Marking Our Past was a Centennial partnership between the "Friends of the Pioneer Cemetery" and the City which aimed to place grave markers on 100 unmarked graves in the Pioneer Section of the Cemetery. The City contributed $15,000 and the Friends raised over $17,000 in donations which meant 135 markers were placed on the nearly 700 unmarked graves.