Action Plan 2021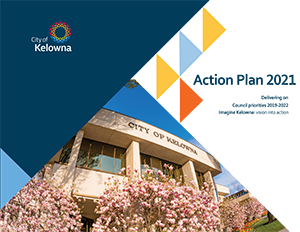 Action Plan 2021 identifies our most notable strategic and operational work to deliver results in 2021 in response to Council priorities 2019–2022. The action plan captures over 120 notable operational and infrastructure improvements and initiatives to provide a clear path forward. The plan was developed collaboratively by all our divisions and our organization as a whole is responsible for actioning and delivering on these items. Action Plan 2021 is not an exhaustive list of all the essential work performed by the organization to serve residents.   
The action plan is an important part of our overall integrated strategy and corporate performance management process, which outlines how we set priorities, align the organization, execute the work, measure outcomes, and evaluate opportunities for improvement. 
Summary of projects and initiatives
The projects and initiatives included in Action Plan 2021 represent work that is currently underway (multi-year, or not completed in the previous year) or planned to start sometime during the year. Many projects and initiatives will advance more than one priority area and/or result. A primary alignment was chosen to avoid replication. Learn more about our projects planned for 2021 in the text below. 
Council priorities 2019-2022
Vibrant neighbourhoods: 40%
Transportation & mobility: 20%
Community safety: 9%
Economic resiliency: 8%
Environmental protection: 13%
Social & inclusive: 10% 
| | |
| --- | --- |
| CCTV camera database registry, pilot program | Begin implementation of Community Safety Plan |
| Data analytics: expand community safety data model | Safety positions approved in 2020 (25 total: 11 RCMP and 14 support staff) |
| Complete the development of a Community Safety Plan | Support community court approval and implementation |
| | |
| --- | --- |
| Affordable Housing Land Acquisition Strategy | Central Okanagan Journey Home Society Memorandum of Understanding Implementation |
| Built for Zero-Data Collection & Analysis System (added during 2020) | Central Okanagan Poverty Reduction Strategy (added during 2020) |
| Business case development: Housing for those with complex needs | Upstream Youth Services Plan |
| Business case development: Provision of shelter services |   |
Transportation & mobility
| | |
| --- | --- |
| Abbott Protected Bike Route (Rose -West), Active Transportation Corridor (ATC | Neighbourhood Bikeway Program |
| Casorso (Raymer -KLO), ATC | Okanagan Rail Trail - Connection to Waterfront Park Pathway |
| Central Green Pedestrian Overpass | Parking strategy: Capri-Landmark Area Plan development |
| Houghton 1 (Nickel -OkanaganRail Trail), Active Transportation Corridor | Regional Goods Movement Study |
| Ethel 3C (Rose -Raymer), Active Transportation Corridor | Transit Operations and Maintenance Centre (added during 2020) |
| Employer Commute Trip Reduction -Pilot Program | Transportation annual performance monitoring program |
| Incorporating LiDAR into planning and mapping | Transportation Master Plan plus engagement |
| | |
| --- | --- |
| 350 Doyle Ave. Strategic Disposition (via long-term lease) | Knox Mountain Park - Improvements |
| 2040 Official Community Plan completion | Mission Recreational Park artificial turf replacement |
| Art Walk/Civic Plaza: Civic precinct/downtown planning | Mission Recreation - softball Diamonds |
| Artist in Residence pilot program | Neighbourhood Association review |
| Ballou Park | Pandosy Waterfront Park : Phase 1 |
| Bernard Avenue 'Green Street' Program | Parkinson Recreation Centre -Alternative Approval Process to borrow funds |
| Buildings Master Plan | Parkinson Recreation Centre: conceptual facility design |
| Capital Opportunities and Partnership – field lighting | Parks Master Plan |
| Capri-Landmark Urban Centre Plan implementation | Performing Arts Centre feasibility & partnerships |
| City Park -Improvements, Waterfront Promenade Phase 3 | Public Art Masterplan |
| City Park Promenade design and construction:Phase 2 | Rutland Centennial Park: Phase 4 |
| Community Signature Event | Secondary Suites BC Building Code Updates |
| Data Analytics -Model City Geodesign (3D) Phase1 | Strategic redevelopment of key sites, Harvey: Abbott to Richter (Southern Gateway) |
| Healthy Housing Implementation | Temporary sports bubble policy |
| Investigation of Future Role in Father Pandosy Mission Site (added during 2020) | Zoning Bylaw review and modernization |
| | |
| --- | --- |
| 5G network development initiative: Phase 1 | Soaring Beyond 2.5 M Passengers: Air Terminal Building, Phase 1 |
| Data Analytics -Model City Infrastructure– cost and impacts on deficit | Start-up and entrepreneur's partnership program (tech community) |
| Development of East Lands (Airport) | Unsolicited Proposal Program |
| | |
| --- | --- |
| Accelerated Climate Action Initiatives –Implementation | Implementation of Energy Step Code Strategy for residential buildings (Part 9) |
| Community Energy Retrofit Strategy | Kelowna Area Based Water Management Plan |
| Community Electric Vehicle Strategy | Knox Mountain geotechnical engineering |
| Energy Step Code Implementation Strategy for large/complex buildings (Part 3) | Mill Creek flood protection project |
| Energy Step Code Implementation Strategy for Part 3 Buildings -Implementation |   |
Clear direction: 39%
People: 43%
Financial management: 18%
| | |
| --- | --- |
| Chat bot scale up(added during 2020) | Grants Management System Implementation |
| Exploration of alternative models for Recreation and Culture user fees | Review, validate and update current budgeting best practice tools for corporation |
| Facility reserve fund review (Active Living & Culture) |   |
| | |
| --- | --- |
| Financial Planning & Analytics system | Online application system upgrade |
| Corporate performance management & reporting -business unit level (added during 2020) | Replace legacy Community Planning & Development business systems |
| Corporate Asset Management System | Service request system replacement |
| Development application procedures bylaw update | SharePoint Online migration & records management (EDRMS Phase 3) |
| Geographic Information System (GIS) Strategy (added during 2020) | Strategy management software: Discovery & pilot |
| Investigate implementation of an internal box office and review of Front of House Services (added during 2020) | Web platform update to Drupal 8: Phase 2 implementation |
| Migrate websites to the cloud (added during 2020) |   |
| | |
| --- | --- |
| City of Kelowna corporate certification program | Major Systems Projects - Data Warehouse - analytics; online services |
| Collaboration with UBC Okanagan (added during 2020) | Staff capacity building in user research methods |
| Collaborative workshop: solution testing (Phase 2 - Community safety) | Strategy Management Software Solution - Corporate implementation |
| Digital literacy program | Systems leaders table |
| Diversity & Inclusion Strategic Plan Project | Update the Engage Program (added during 2020) |
| Improved customer facing chat functionality | Web - Common Identity Portal - Phase 2 build |
| Learning Management Software Implementation Project (added during 2020) | WR Bennett bridge green space re-purpose feasibility |
Maintain and improve base business (operations)
| | |
| --- | --- |
| Accessible Parking Permit Program Review & Update (added during2020) | Integrated risk management |
| City Hall -Renovations, Phase IV | Intranet redevelopment |
| City Hall renovations: Phase V | Lakeshore 1 bridge at Bellevue Creek |
| Data Analytics -Model City Infrastructure -launch (added during 2020) | Preliminary plan design program: new projects |
| Data Analytics -Model City Upgrade 2021 | Transition of South East Kelowna Irrigation District integration with City Water Utility |
| Data Strategy – Data Management; Data Architecture Phase 1 & 2 | Unit 4 approval workflow: Phase 3 |
| Email and mobile marketing platform: Phase 2 | Update 20 Year Servicing Plan and Development Cost Charges Bylaw in conjunction with Official Community Plan (OCP) |
| Event Strategy | Water meter replacement program |
| Heritage Conservation Area Review |   |